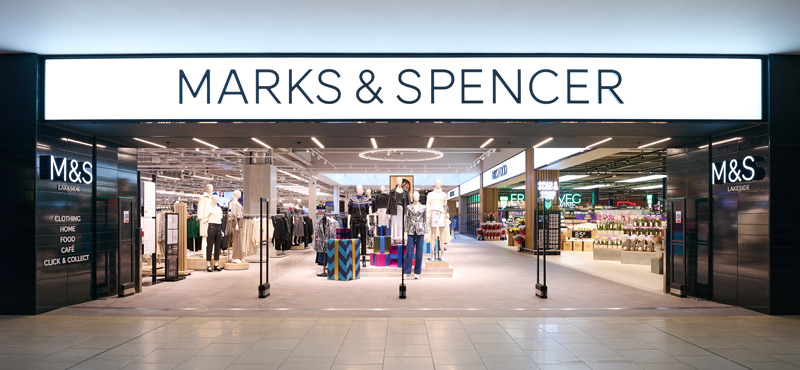 New, relocated unit increases visibility in mall 
Store opens with a reconfigured layout – with the creation of a new, enlarged portal entrance, as part of £20 million investment by the centre
Includes new Foodhall – which is now easily accessed from car park
Marks & Spencer has officially opened its new store in Lakeside – one of the UK's most popular retail and leisure destinations, owned by property company SGS and asset managed by Global Mutual.
The new 97,000 sq ft store offers local shoppers a fresh market-style Foodhall, as well as spacious new Clothing, Home & Beauty departments, alongside a 140-seat M&S Café.
The Lakeside store is one of nine new M&S openings throughout November – the biggest ever month for M&S store openings – and represents a significant investment in the region's local economy. The nine November openings total an £80 million investment in bricks and mortar retail and will support over 2,200 local jobs across the UK.
Inside the brand-new 97,000 sq ft store, the spacious Clothing department offers shoppers the latest collections across womenswear, kidswear and menswear – with dedicated, neon-lit areas to spotlight M&S customer favourites including Per Una, Autograph, Goodmove and Jaegar. A transformed M&S Beauty department showcases popular brands, including the Apothecary collection and the new M&S Fresh Elements skincare range.
Inside the brand-new M&S Foodhall, customers will find a new fresh-market feel, with displays brimming with produce from M&S Select Farms, a bakery offering fresh daily-baked bread and pastries, as well as a dedicated M&S Wine Shop.
The relocation increases the visibility of M&S in the centre, as well as from the surrounding road network. It includes the creation of a new, enlarged portal entrance from an upgraded car park, granting direct and improved access to the Foodhall and wider store, as part of a £20 million investment by Lakeside.
Steve Gray, Head of European Retail Asset Management at Global Mutual, comments: "Lakeside's new M&S store has been long-awaited by our guests and we are delighted to see the doors open today – just in time for the festive shopping period.
Significant investment has gone into the new space – reflected in increased prominence in the mall, better accessibility, as well as an enhanced customer experience – all of which will act as footfall drivers.
M&S is a long-standing partner, having enjoyed many successful years at the centre –  and we're excited to support them on this next chapter with us."
Store Manager Dior Hudson, who has worked at M&S for 10 years, said, "We are thrilled to officially open our brand-new store today in Lakeside. The last few weeks have been so exciting for us all as we've seen the store take shape, and I'd like to thank everyone in the team for all their hard work to make sure everything is ready for our loyal customers today.
The store is an exciting investment in the future of M&S in Essex, and I can't wait for our customers to explore all the new features that the store has to offer. Along with our existing Lakeside team of over 290 colleagues, we're really pleased to introduce over 90 new recruits to M&S Lakeside who can't wait to meet everyone. With an amazing fresh market feel Foodhall, stylish new Clothing, Home & Beauty departments  – which is the perfect place to shop your M&S favourites –  and a new 140-seat M&S Café, we really do have the best of M&S here for everyone to enjoy!"
Share this story