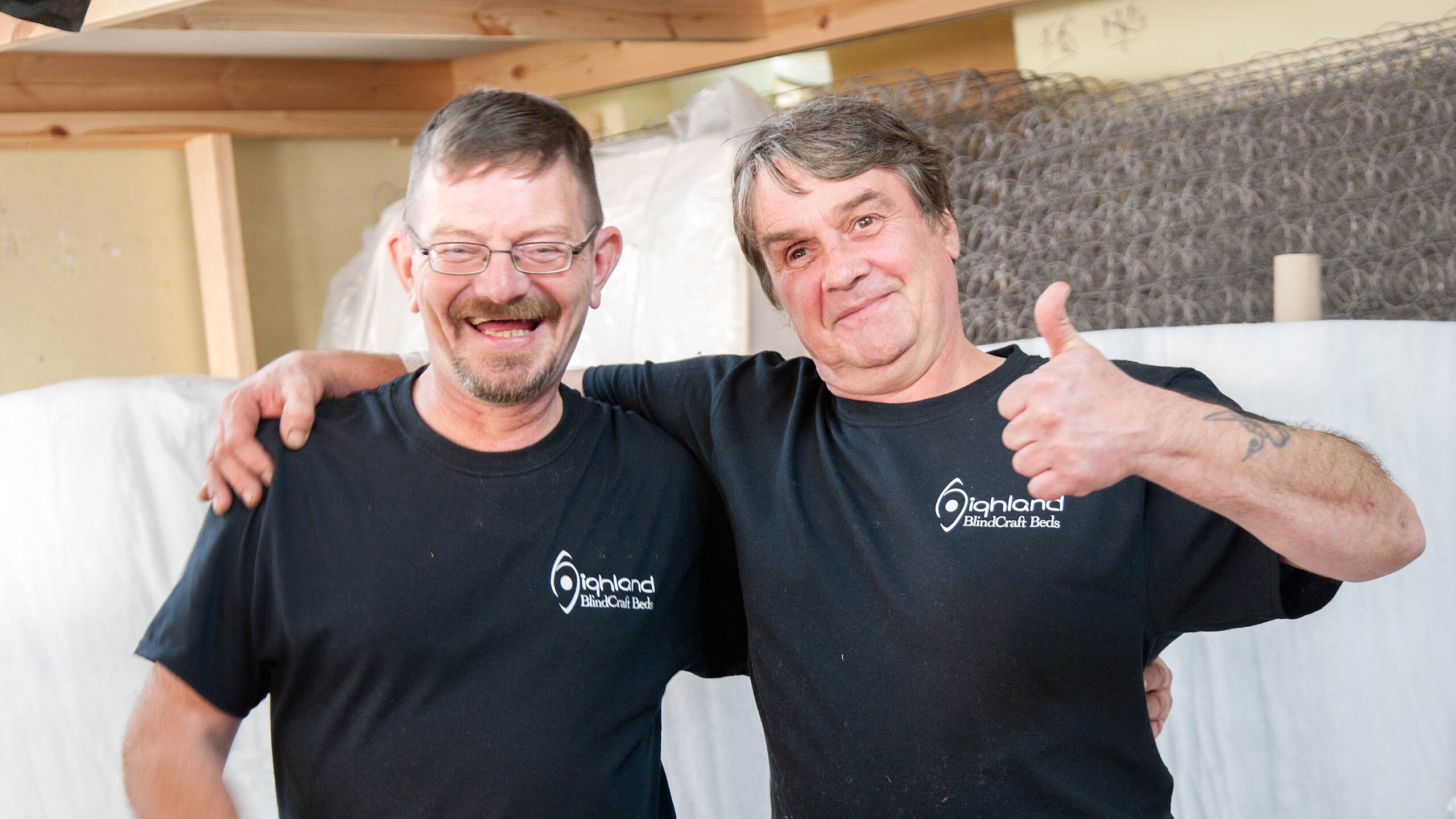 An inclusive mattress and bed manufacturer in the Scottish Highlands is celebrating a trio of high profile award nominations.
Highland BlindCraft, a social enterprise and charity headquartered in Inverness, has been recognised for its mission to provide employment, training and education to those living with visual impairments and other disabilities in the Highlands.
Highland BlindCraft has been shortlisted for the Building Diversity, Inclusion, Equity and Justice award at the prestigious Social Enterprise Scotland Awards – which will take the team to the Scottish Parliament in recognition of their achievements.
The social enterprise is also up for two awards at the highly competitive Highland Business Women Awards – Best Third Sector Organisation and Most Enterprising Business.
Highland BlindCraft supports its charitable aims through the manufacture of handcrafted and bespoke mattresses, divans and headboards – all made by skilled craftspeople living with disabilities and delivered to satisfied customers up and down the length of the UK.
Executive manager Heather McDonald said: "We are so proud of the work we do at Highland BlindCraft, so to be recognised for our commitment to supporting those living with disabilities in our community is a real honour.
"These nominations are a testament to the hard work and dedication of all our team – from those working on the factory floor or liaising with customers in our showroom, to the back office team and trainers that keep us moving forward.
"When people hear that our mattresses, beds and headboards are handmade – or that they can be made in bespoke sizes or coverings – they often believe there will be a high price tag. But our mission for inclusivity runs through everything we do, not just in providing for our team but also in providing for our customers through fair pricing.
"Picking up a mattress or bed from Highland BlindCraft not only guarantees a good night's sleep, but also the continued support for people living with disabilities in the Highlands."
Founded in 1881, Highland BlindCraft is a manufacturer and retailer of high-quality mattresses, divans and headboards, with all items handmade in its factory in Inverness. As the only organisation of its kind in the Scottish Highlands, the company provides training and employment to individuals living with visual impairments and other disabilities.
Highland BlindCraft's mattresses, divans and headboards are fully customisable, with shoppers able to choose from a range of sizes, fabrics, fillings and firmnesses. Available at a range of price points, the mattresses can be ordered online or by phone for delivery across the UK, or in person at the showroom on Inverness' Ardconnel Street.
Share this story