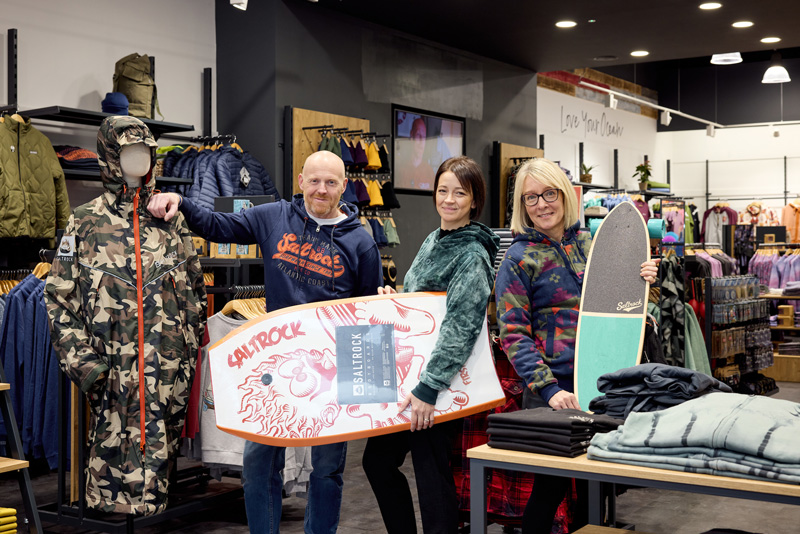 Saltrock has officially opened the doors to its new store at Lakeside Village in Doncaster.
The addition of the established fashion and surfwear brand at the leading shopping outlet comes hot on the heels of a raft of new stores opening at the centre. The centre is now completely full.
Abby Chandler, Placemaking, Marketing & Communications Manager at Lakeside Village, said:  "We are thrilled to welcome Saltrock to Lakeside Village which means the centre is now full. We are really bucking the trends for retail which is fantastic news not just for us but also Doncaster's wider economy.
All our new stores are proving to be a real hit with existing customers but are also attracting new shoppers to the centre. The run up to Christmas is one of our busiest periods and we are so pleased to be offering so much more choice to shoppers this year."
Since its inception in 1988, Saltrock has embarked on an extraordinary journey. Two brothers, united by their deep love for surfing, set out to create what would eventually become an iconic brand. With a loyal following of both surfers and fashion enthusiasts, Saltrock has established itself as a beloved and reputable name in the surf scene of Devon and Cornwall and now across the UK.
Louise Rees, Head of Retail & Wholesale at Saltrock said: "Our new store in Doncaster boosts Saltrock's presence in Yorkshire and showcases our amazing products to a wider audience as we look to increase our reach to surf and outdoor enthusiasts living in Yorkshire and the Humber. We know our Doncaster customers will love what we have on offer!"
The new Doncaster store offers a wide range of its surf-inspired clothing, accessories, and outerwear with options for men, women, and children, catering to the entire family's needs.
Share this story