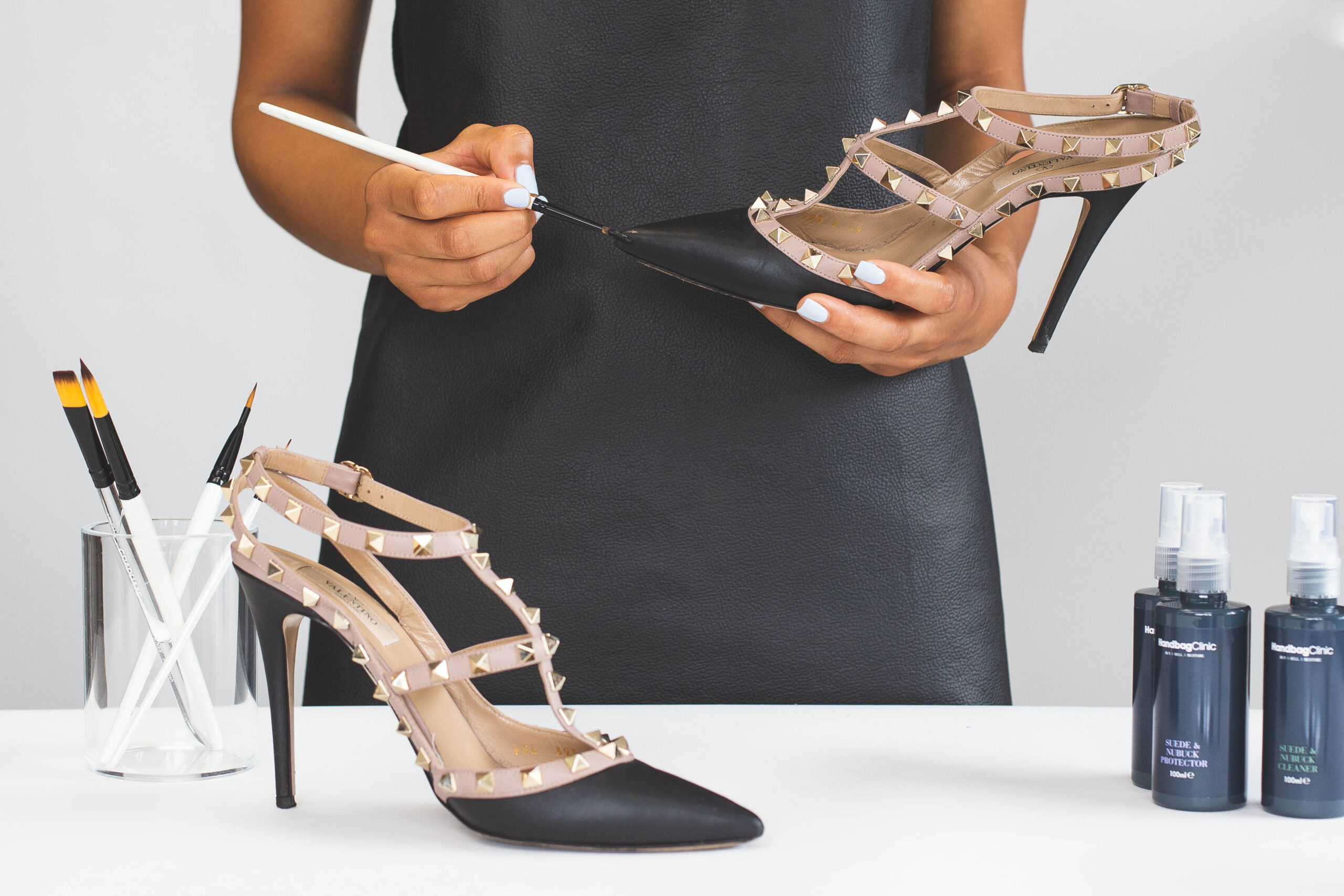 Luxury handbag restoration and preowned designer resale retailer, The Handbag Clinic has partnered with Harrods to launch an in-store concession from Friday 1st September. Recognised as the leading innovators within luxury aftercare and sustainability, The Handbag Clinic will seamlessly integrate its full range of repair and restoration services as part of Harrods' in-store experience, enabling its clientele to enjoy luxury more consciously by prolonging the life of their luxury leather goods. The partnership underpins Harrods' commitment to choosing partners whose strategies align with their own sustainability strategy; Harrods Path, dedicated to driving initiatives that empower more conscious buying and aftercare behaviours.
Located on the fifth floor within the 'Shoe Heaven', The Handbag Clinic's in-store concession will elevate the post-purchase experience, enabling luxury investors to shop with increased confidence knowing there is an aftercare programme in place that far exceeds standard warranties.  The arrival of The Handbag Clinic in Harrods will replace the existing shoe-repair service, enriching the offering to encompass a wider range of services for the full range of luxury leather goods; from handbags, luggage and SLGs to shoes, trainers and leather clothing. The integration will enable luxury clients to extend the lifespan of a brand-new purchase by booking it in for a protective treatment, or to breathe new life into an over-loved item by bringing it into store for repair and restoration. From cleaning and conditioning treatments, removing stubborn stains, replacing heel tips, repairing scuffs and tears or replacing broken zips, split piping, worn edges and damaged hardware, improving colour loss, reinforcing shape and stretched straps; The Handbag Clinic's dedicated team of artisans combine the finest craftsmanship, technology and innovative techniques to achieve the seemingly impossible.
The service is simple to use. Clients can drop their leather goods in-store at Harrods where an aftercare specialist will assess the requirements and book the item in before sending it securely to The Handbag Clinic's Luxury Clinic where the expert team of artisans will carry out the required work. Clients can opt for direct home delivery or collect their item from Harrods. Prices are bespoke and start from £19.95 for minor stitch work and go right through to £600+ for complex exotic restoration. The most popular treatment is a full restoration at £255, which includes a clean on the exterior and interior, removal of all areas of wear/scuff/staining from the exterior, any minor stitch repairs and a carefully crafted protection treatment to nourish and protect the leather.
Because The Handbag Clinic restore over 700+ bags each month, artisans have an intrinsic understanding of premium luxury brands and their common areas of wear and tear. As a market leader in innovation, it has made unrivalled advancements with Chanel lambskin and exotic leather. It has also developed specialist brand-specific restorations, such as the restoration of Louboutin shoes' signature red sole or hand dyeing the rope-finish for a Balenciaga City. Its research and development team tirelessly pursue the most innovative techniques and bespoke technology to support the Clinic – even working with chemists to create patented new products ensuring the most perfect possible finish.
The Handbag Clinic's CEO and Co-Founder, Charlotte Staerck, said: "We could not be more excited to partner with Harrods. As world-leaders in luxury and service, they understand that luxury is a promise of longevity and should mean lifelong. Through our partnership we hope to deepen the aftercare offering, empowering luxury investors to shop more sustainably and enjoy their purchases for longer, preserving them for generations to come."
Josie Gardner, Head of Accessories and Shoes at Harrods added: "As one of the world's leaders in luxury, at Harrods we are passionate in guaranteeing our customers have access to the highest quality products and specialised services in the industry. The Handbag Clinic are trailblazers in restoration and rejuvenation services and provide the best opportunity to extend the lifecycle of our customers cherished items, ensuring their pieces stay in beautiful condition, for longer. Whether our customers wanting to rejuvenate a vintage hand-me-down or repair their most worn pair of shoes, they can expect the ultimate in quality service from The Handbag Clinic on Harrods' fifth floor."
The Handbag Clinic, which operates through stores and concessions in London, Newcastle, Colchester and York, is the longest-established luxury restoration and preowned retailer in the UK. As the UK's only fully circular business model, The Handbag Clinic's integrated offering of 'Buy, Sell, Restore, Authenticate' uniquely combines restoration with authentication and resale to deliver a seamless service for conscious luxury connoisseurs and collectors. With a mission to preserve the past whilst mindfully reinventing for the future, The Handbag Clinic is a proud gatekeeper of sustainable luxury.
Share this story