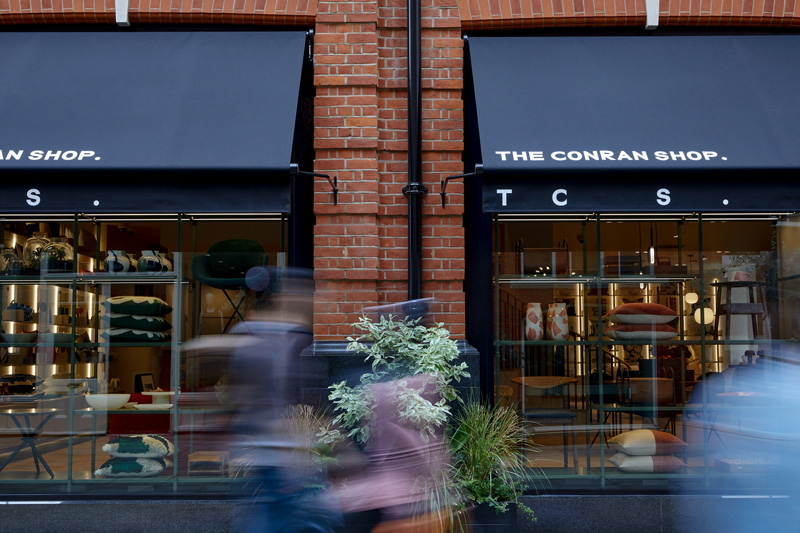 The Conran Shop, the home of considered design and curated living, is opening a new store in London's fashionable Sloane Square, in September 2023. Following the closure of its iconic Michelin House location earlier in the year, the new flagship will open its doors in time for this year's London Design Festival, ready to welcome generations of loyal customers and new followers of the brand.   
Exuding distinctive aesthetics and architectural codes, the store will be located at 16 Sloane Square (SW1 WAQ) and join a vibrant retail neighbourhood with the picturesque Pavilion Road around the corner, Sloane Square station a minute away and Duke of York Square, which is often considered the heart of Chelsea, across the road. Peter Jenkins, CEO, said, "Chelsea is part of our brand DNA. It is where Sir Terence wanted the first Conran Shop to live and where many of our customers know to find us. It has brought us great success and memories over the years, so when sourcing a new location, we never once questioned whether to stay in the neighbourhood. It was the obvious choice and we're incredibly excited to join such a dynamic area. The fact that the new store is on the same road where Sir Terence lived in the late 2000s and early 2010s makes it even more special."     
Hugh Seaborn, Chief Executive of Cadogan, said: "Chelsea has long been associated with art and design – home to so many artistic movements and design icons, such as Sir Terence Conran. We are delighted to welcome such a fitting brand to Sloane Square, continuing this legacy. It is fantastic to see The Conran Shop collaborating with local cultural partners such as the Saatchi Gallery and British Art Fair to strengthen their place in the neighbourhood even further and create a truly unique experience for both locals and visitors."  
Launch of a new era  
The opening of a new flagship store in its 50th year as one of Britian's most reputable design and homeware brands marks a new epoch for The Conran Shop. Not only will the Sloane Square store launch with an updated look and feel, with a new visual brand identity by Sascha Lobe and Kimberly Lloyd at Pentagram. It will also highlight a revived focus on the in-house designed collections, which have grown immensely over recent years through longstanding collaborations between the brand's creative team and established designers such as Matthew Hilton, Daniel Schofield, Samuel Wilkinson and Magnus Long. Recognised with a roaster of industry awards, including a number of Design Guild Marks, Elle Decoration British Design Award and Living Etc Style Award, The Conran Shop brand has become synonymous with innovation, design and excellence while constantly keeping Sir Terence Conran's design philosophy of 'Plain, Simple, Useful' in mind.   
Design and architect icon makes an appearance  
The new store will house a Le Corbusier inspired bathroom, titled 'The Modulor Man',  exclusively designed by Sascha Lobe. After studying Le Corbusier's theories about modules and his use of colour and materials, Sascha Lobe constructed a design that consists of a flexible tile system with 18 different modules. An exciting element of the design is the typographic undercurrent and the way it encourages people – whether interior designers, typophiles, architects, homemakers or décor hobbyists – to see tiles from both an ornamental and systematic perspective.  
Mosaic-inspired mural by Charlie Sheppard    
Throughout his life and career, Sir Terence was passionate about supporting and championing education for young people in the creative industries. He did this through platforms including the Design Museum (which he founded back in 1989) as well as The Conran Shop by introducing up-and-coming designers, such as Daniel Schofield whom he endorsed very early on in Schofield's career and who is a designer The Conran Shop continues to work closely with to this day.  
This mentality of Sir Terence's has always been a big part of The Conran Shop and the way the brand approaches design, which is evident in the roaster of brilliant aspiring talents it has worked with over the years. With the launch of The Conran Shop flagship, the brand continues to honour this legacy. Young creative, London-based artist Charlie Sheppard was commissioned to design a mural for the opening; an injection of colour and playfulness which complements the basement space of the store perfectly.   
The mural design is a lively abstract exploration of cracked mosaic tiles; a series of individual compositions that can be appreciated in isolation but also as a whole. Each composition has its own colour palette, but they all belong to a larger harmonious colour world. Sheppard's inspiration came from physical tile pieces that he cracked, photographed and traced in their raw unedited form, whereafter he assembled them back together in various compositions and scales.    
Art and design come together   
In the light of art, The Conran Shop flagship will open with an array of beautiful art pieces and objects on display throughout the three floors, all made by ambitious UK-based artists. Working with art consultancy, Fine Line Art, the brief was to source a varied mix of artwork which would merry well with the space and product collections, whilst being inspirational and visually entertaining for the customer. The art in the space will change on a seasonal basis, alongside the seasonal product edits.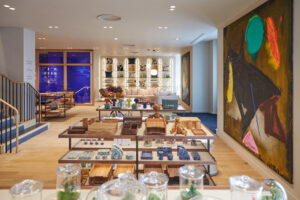 The Conran Shop x British Art Fair   
For the launch of the new store, The Conran Shop has partnered with British Art Fair, featuring impressive works by John Hoyland and Tracey Emin on the ground floor, courtesy of Tanya Baxter Contemporary. The partnership is a strong pairing between two British brands, and presents an opportunity for both The Conran Shop and British Art Fair to engage with a new audience respectively as art and design unite in a way which is accessible to the consumer.  
The British Art Fair will be held at London's Saatchi Gallery, across the road from The Conran Shop flagship, on 28th September – 1st October 2023.  
A fresh brand identity   
The Conran Shop Sloane Square will launch with a new visual identity. Working alongside Sascha Lobe and Kimberly Lloyd, of Pentagram, The Conran Shop unveiled a new brand identity earlier in the year, a global rebrand and modern visual take on The Conran Shop brand which exemplifies its unwavering dedication to progress, design, and excellence. The new identity features a brand architecture logo system and a bespoke typeface family which encapsulate the essence of modernity and sophistication while paying homage to the visionary spirit of the brand's late founder, Sir Terence Conran.    
As the brand continues to expand in existing and new territories, including Japan, Korea, Asia and the Middle East, it was essential that the new brand architecture would accommodate the unique characteristics in each operating market globally, whilst staying true to The Conran Shop's overarching identity. To capture the spirit of these regions and forge a connection between their vibrant cultures and the brand, each logomarque was designed to serve as a visual ambassador in its respective territory.   
A global design statement   
Jenkins said; "Our new Sloane Square store will be the most premium Conran Shop in the world to date as we take the brand to new dimensions, both from a visual and product standpoint. The space will house curated room sets across three floors, which will change with the seasons and showcase a modern Conran Shop way of living. We will introduce an evolved product edit, exclusive pop-ups and curated events as the brand moves into an exciting new chapter. There will be a strong emphasis on design and The Conran Shop collections.  
"From a global standpoint, in addition to expanding in new and existing territories, wholesale remains a strong focus for the brand as we continue to expand our partner portfolio internationally. With proven platforms such as Lane Crawford, Matches and Mr Porter carrying The Conran Shop collections, the brand is reaching and gaining ground with new audiences across the world".  
A nod to Sir Terence Conran    
The brand's late founder, Sir Terence Conran, is a legendary figure in the history of modern design. He held a huge love for sketching and designing furniture, and was known for fearlessly expressing his creativity and love of design and craftmanship. He had an eye and a sense for what people wanted in their homes. As a way of paying tribute to Conran's venerable cultural and aesthetic influence, The Conran Shop Sloane Square will feature a selection of maquettes from his personal collection, won at the auction; 'Sir Terence Conran – The Contents of Barton Court', last year. (the maquettes are for display only).  
Share this story