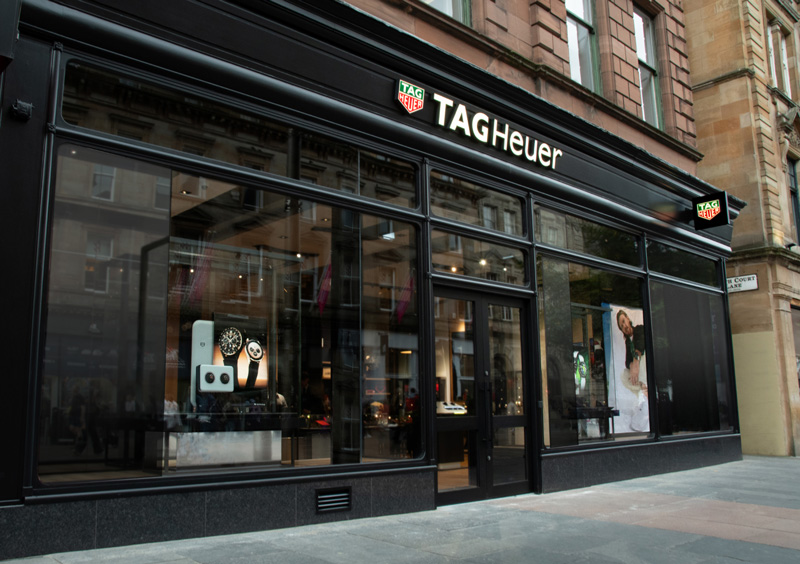 Family-owned luxury jewellers, Laings, has opened a new TAG Heuer boutique on Buchanan Street in the heart of Glasgow's Style Mile.
The opening (Friday 1st September) marked the first boutique for the luxury company in Scotland. It further highlights Laings' continued commitment and investment in a bricks and mortar presence and to cementing partnerships with prestigious global brands such as TAG Heuer.
The showroom, which will sell the much sought after Carrera Collection, which celebrates it's 60thanniversary this year, as well as the Connected Calibre E4 – a luxury smartwatch, includes an interactive display area to showcase and inform clients of the cutting-edge technology used by TAG Heuer. Clients will also be able to shop in the epitome of comfort and style thanks to the boutique's luxurious lounge, where they will receive the highest standards of customer care.
Aileen Coulter, Store Manager of the new TAG Heuer boutique, said: "We are really looking forward to welcoming clients into our new boutique – whether it be their first venture into luxury Swiss watches or extending a growing passion for TAG Heuer. The showroom is the perfect environment for clients to immerse themselves in the TAG Heuer experience, allowing them to witness first-hand, the expertise of world-renowned Swiss watchmaking, underpinned by a passion for precision and utilising the very latest technology."
Rob Diver, Managing Director of TAG Heuer UK and Ireland said: "We are delighted to be opening this new TAG Heuer boutique in Glasgow in partnership with Laings, which marks our first mono-brand boutique together. This new space will enable us to offer our customers a fully immersive, in-store brand experience on Glasgow's famous style mile and is part of a new and exciting collaborative journey with Laings."
In 2024, Laings will further enhance its presence in the Scottish luxury market with the opening of a brand new, multi-floor flagship showroom located in Rowan House on Buchanan Street, following a significant investment. The move is part of Laings' multi-layer growth strategy to build on its legacy as a leading destination for luxury jewellery and watches.
Share this story