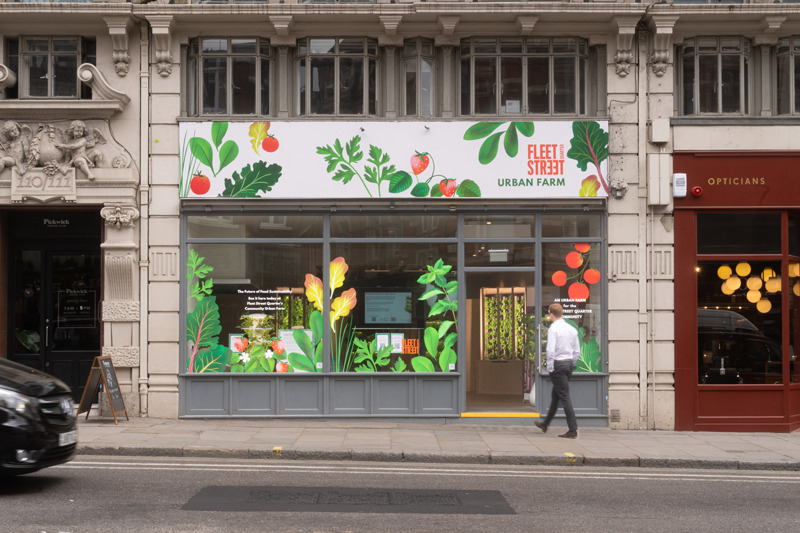 Pop-up at 109 Fleet Street invites community to harvest ultra-fresh, sustainable and local produce between 6 – 30 June 
FSQ's Urban Farm partners with Square Mile Farms  to create an alternative approach to utilising empty retail units 
The Fleet Street Quarter has launched a community-led pop-up Urban Farm at 109 Fleet Street, in partnership with Square Mile Farms. Running until 30th June, the Urban Farm is the first of its kind. The pop-up invites the community to harvest sustainable and local herbaceous produce, fully funded by the Fleet Street Quarter (FSQ) BID.
FSQ's Urban Farm is an innovative new approach to reinvigorating the Fleet Street Quarter's ground-floor offering. Activating a vacant retail unit, the Urban Farm provides an experiential and educational high street hub for the community, with the space also hosting a series of interactive workshops.
A forward-thinking pilot activation, the Fleet Street Quarter intends to encourage occupiers to take-on Urban Farms across the area to utilise empty units through sustainable, community-led and experiential retail.
Partnering with Square Mile Farms, the Urban Farm will use self-watering hydroponic towers and walls, producing over1000 supermarket-sized salad bags of ultra-fresh greens this month. Supporting ambitions for progressive community stewardship in the Fleet Street Quarter, workers, residents and visitors are invited to pick their crop. On 14 June and 21 June, visitors will harvest parsley, kale, sage and basil grown at the pop-up.
The Urban Farm will be the first Square Mile Farm open to the public. Produce grown for green-fingered locals will use 90 percent less water than traditional methods and just 4p of electricity a day, creating zero-mileage herby goodness.
As London hosts the 2023 Ecocity World Summit, FSQ's pilot Urban Farm is at the centre of community-led initiatives in the area that inspire environmental change and boost wellbeing. School and community workshops at the Urban Farm will discuss the importance of sustainability in the City and showcase health-boosting recipes. All events are free and open to everyone with no booking required. Workshops include a low carbon pesto recipe course on 12 June.
Rachael Smith, BID Manager, Fleet Street Quarter, commented: "The BIDs Urban Farm underlines the Fleet Street Quarter's aims to foster environmental and community stewardship.  An innovative solution to developing engaging retail units, the initiative exemplifies how the BID is taking a hands-on approach to promoting sustainability in the Fleet Street Quarter.
Partnering with Square Mile Farms aligns with the BIDs wider goals of engaging with local businesses and creating a connected green community; empowering all those who work, live and visit with an educational hub that promotes health and wellbeing."
Share this story