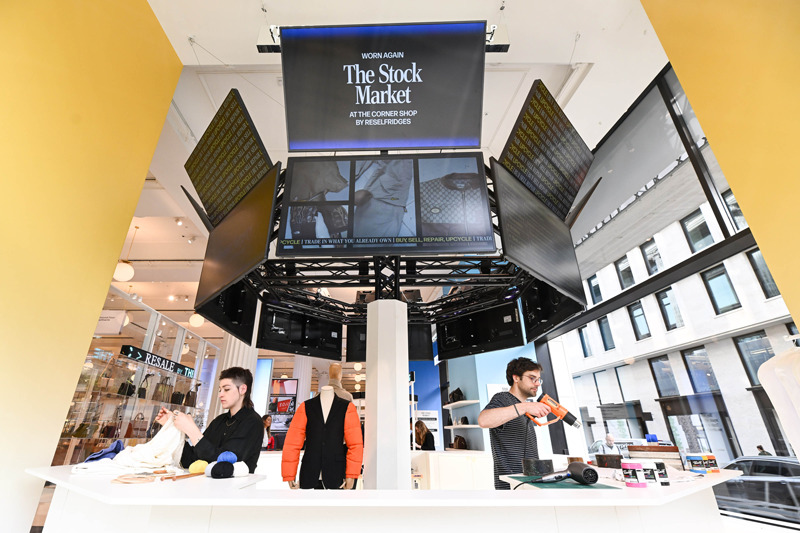 Preowned items can be valued, exchanged and repaired in a space playfully inspired by the London Stock Exchange
Selfridges launches The Stock Market at the Corner Shop, a month-long circular experience where customers can uncover the value of what they already own, exchange items for Selfridges credit and restore or upcycle clothing and accessories.
Drawing inspiration from the towering 360o desks and the rotundas of data-filled screens found at the London Stock Exchange, The Corner Shop has been transformed into a 'trading floor', an immersive hub for buying, selling, repairing and upcycling.
Reselfridges stockbrokers man the 'trading desk', encouraging customers to "go long" and enhance the value of products to keep or resell. The stockbrokers will connect visitors to the very best circular services from SOJO, SneakersER, The Handbag Clinic and Vintage Threads, as well as a series of bookable services from upcyclers in residence, making signs of wear and tear points of pride and interest, like hand beaded moth holes or bespoke customisations including frills and applique.
The launch takes place as part of Worn Again, a season of secondhand and circular shopping experiences at Selfridges. Running until August, Worn Again explores ideas, collaborations and events to keep products in circulation for longer and dial up the pleasure and reciprocity of shopping secondhand, as Selfridges aims 45 percent of transactions to come from circular products and services by 2030.
Services available at The Stock Market includes:
Resell and shop secondhand: Visitors to The Stock Market can have items from their wardrobes such as shoes and accessories valued by a team of expert authenticators, with the option to sell to Selfridges in exchange for store credit. A curation of secondhand clothing and accessories will also be available from partners including Vintage Threads and The Handbag Clinic.
Repair and restore: Extend the life of worn and treasured items with services include bag repainting and repair, restoration of leather items, upcycling and downcycling of clothing and sneaker and shoe restoration. Services available from The Handbag Clinic, Vintage Threads, SneakersER and SOJO.
Tailoring and alterations: A team of expert tailors from SOJO will be available to make alterations to any clothes, such as hemming clothes, altering waists, re-attaching buttons and adding zips.
Upcyclers in Residence: A series of upcyclers in residence at The Corner Shop will help to revive wardrobes. Through daily sessions, upcycling experts will demonstrate different ways to breathe new life into clothes. Sessions include screen printing, appliqué, tassels and ties and mend and reknit. Tickets will cost £10 for a two-hour slot and profits from ticket sales will go to Oxfam.
The Stock Market at the Corner Shop will be open 15th May – 10th June.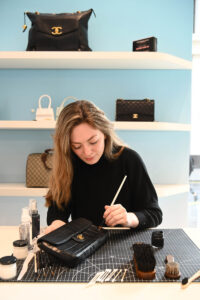 Share this story