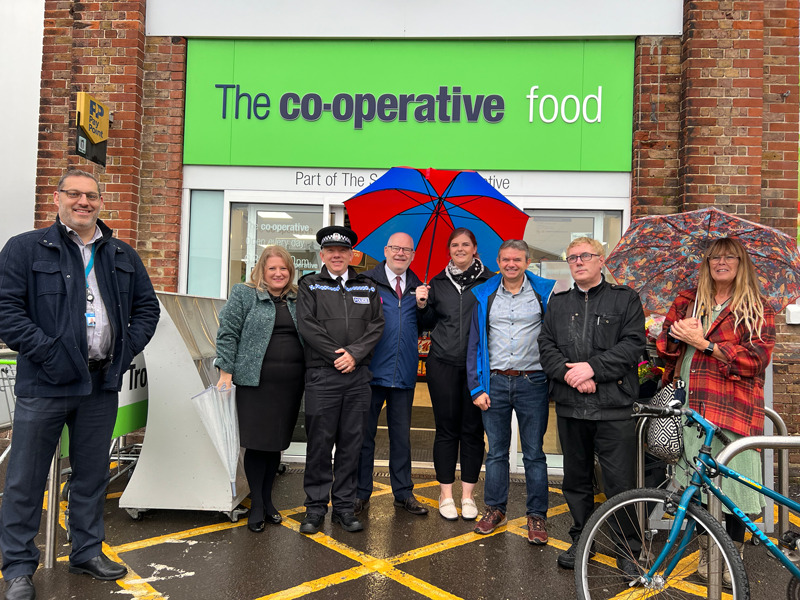 A co-operative colleague, who is a passionate advocate for preventing crime, has been recognised in the Hampshire and Isle of Wight Police and Crime Commissioner's Awards 2023.
Gareth Lewis, Southern Co-op's Loss Prevention & Security Manager, was shortlisted for the Business Crime Prevention Award.
Integral to a range of crime prevention initiatives, last year Gareth spearheaded a new partnership approach in Portsmouth where a new post holder, called a Navigator, is working with police, probation, the council and the prison service to identify the most prolific shoplifters and business crime offenders.
The Navigator has been spending time with those who are at a point in their life where they are receptive to treatment and support to break free from a cycle of offending.
Gareth, who has worked to tackle crime for more than 20 years, said: "For me, the nomination is a recognition of the unique strategic and community approach that Southern Co-op has taken toward dealing with all aspects of business crime and I am grateful for the support that the business has given me, in allowing me to have the time and space to help develop and deliver it. 
"Whilst of course, the work continues apace, such a nomination gives us the opportunity to pause for a moment and thank all those involved in this collaborative approach, from store colleagues through to Police, Police & Crime Commissioners', local authorities, charities and like-minded business partners.
"By working together, we are all helping to make our communities safer."
Gareth has also been working on Southern Co-op's Safer Neighbourhood Fund which has seen £235,000 donated to community organisations tackling the causes of crime.
Police and Crime Commissioner Donna Jones said: "There are thousands of local volunteers and staff supporting others and making a difference who deserve recognition for the positive impact they make.
"Following on from last year's nominations and winners, I am delighted to be able to host another ceremony in 2023 for those who have gone above and beyond to keep people safe. I think their work deserves public recognition through my awards."
Police and Crime Commissioner Donna Jones hosted the awards for the second time recognising the contribution volunteers and partners make to policing, and creating safer local communities.
The Police and Crime Commissioner Awards 2023, held on Friday 31 March, recognised volunteers and staff from across the public, private and voluntary sector.
Share this story