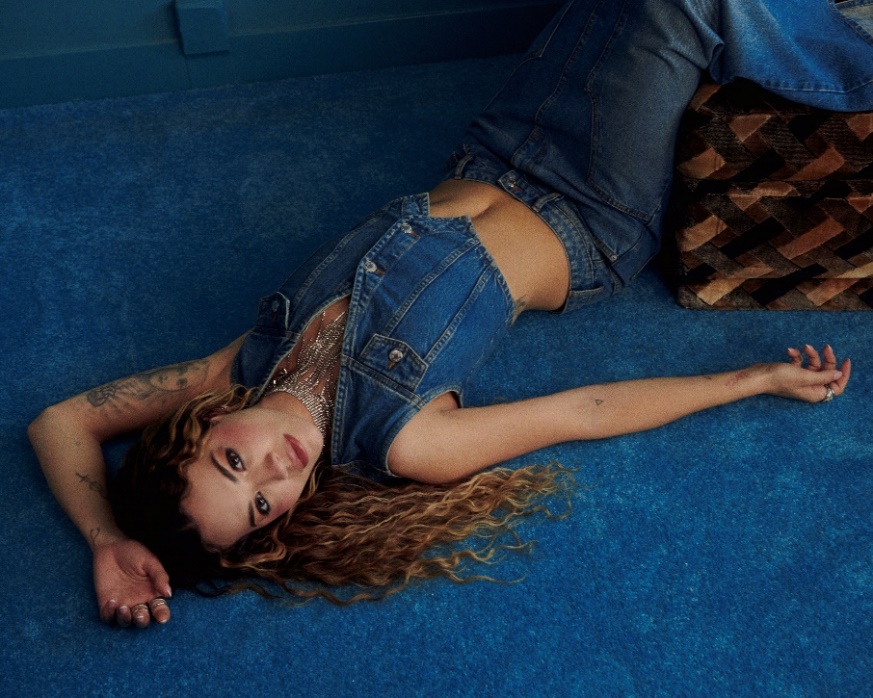 Rita Ora x Primark is a new fashion collection which brings together Rita's creative vision with her long-time love of Primark
Designed around a core vision of versatility, the collection is based on Rita's unique personal style across day and night
This is Primark's first ever truly international collaboration, with the first collection landing in all 430+ of Primark's stores from September 19th
International fashion retailer Primark is teaming up with global superstar and style icon Rita Ora to launch a new multi-season fashion collaboration which will allow Primark customers to shop her famous style for less.
Following a weekend of speculation sparked by Primark's window black-out across its entire store estate, Primark has unveiled Rita Ora x Primark: a versatile new fashion line almost two years in the making. All pieces are designed to become wardrobe staples that can be loved, worn and shared season after season – a theme which will run throughout the partnership. The collaboration fuses Rita's love of fashion with Primark's 50+ year history of providing quality essentials and the latest trends at the very best value on the high street.
The collection was closely co-designed by Primark and Rita alongside emerging London-based designer Jawara Alleyne, and styled by Rita's stylist Pippa Atkinson. Underpinned by a vision of 'versatility for everyone', it offers customers a piece of her unique style across knitwear, denim, tailoring, casualwear and outerwear, plus accessories and shoes. It will span a 'day to night' theme, reflecting many of Rita's favourite looks, with each piece easily styled to reflect a broad range of personalities, trends and styles from casual everyday essentials to statement evening looks. Casualwear items, including hoodies and t-shirts, also feature symbols personal to Rita, with references to her recently released album, You & I.
The multi-talented singer-songwriter is a life-long Primark fan and customer: early family visits as a child through to teenage trips with friends to her local Primark in Hammersmith, West London, have evolved into a long-standing love of the brand and how it enables shoppers to access great quality style on any budget. Over the last two years Rita and Primark have worked closely together and she has been involved at every stage of the process from design through to the making of the collection. Rita also spent time getting to know Primark behind the scenes and visited Primark's Sustainable Cotton Programme in India.
Commenting on the partnership, Rita Ora said, "Throughout my life, I have always wanted to look stylish, and when I was younger, I couldn't have done that without Primark. I could always stretch my budget with so many great pieces from Primark. Honestly, that is really when I learned how to get creative and play with fashion. Creating this collection with Primark has been very nostalgic for me, and I can't wait for the world to see it!"
Jermaine Lapwood, Director of Future Trends and Innovation at Primark, added, "In a world of collaboration overload, it's more important than ever for brand partnerships to be rooted in genuine authenticity and connection. We've known Rita to be a Primark fan for a long time, but it was only when we ran into her almost two years ago and got chatting that we realised the extent of her love for the brand. The instant chemistry between both parties was undeniable, and today, following months of collaboration, I'm so proud to be revealing Rita Ora x Primark. Bringing together the best of Primark and Rita, I hope the collection allows customers to express their true selves and to show their inner Ora."
Modelled by Rita, the campaign shoot took place in Trellick Tower and around Golborne Road, in West London – an area that Rita has called home for the last 15 years. The campaign is intended to represent togetherness and showcases freedom in dressing, a key theme throughout the entire collaboration.
The first Rita Ora x Primark collection will be available in all of Primark's stores across its 16 markets from Tuesday 19th September.
Following the expansion of the retailer's Click + Collect service to now include a selection of womenswear, customers will be able to shop their favourite Rita Ora x Primark styles online before picking it up in one of the retailer's 57 trial stores in Greater London and North West England, North Wales and parts of Yorkshire.
Customers will also be able to browse the full range on the Primark website and check availability of their favourite products using the stock-checker before heading to their preferred store.
Share this story