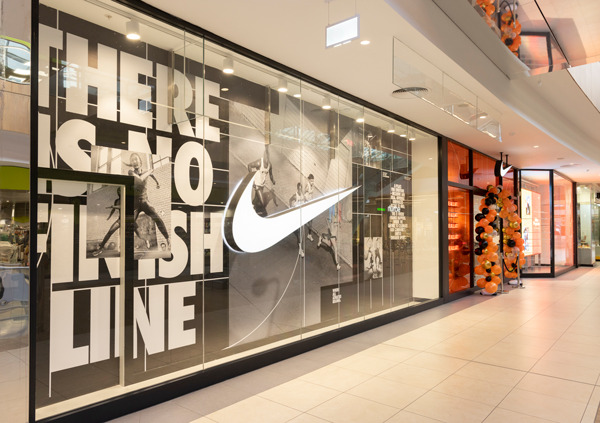 Nike Unite, the latest retail concept from iconic sports brand Nike, has opened its doors at Blanchardstown Centre, Dublin's largest retail and leisure destination.
The first store of its kind in Ireland, Nike Unite puts the community first, aiming to help local people connect with sport. The unit features an in-store community wall, celebrating Dublin athletes and sporting achievement, as well as local landmarks and partnerships.
Signed on a ten-year lease, the store spans 10,000 sq ft in total and caters to all – stocking Nike's latest sports, fashion and footwear ranges for men, women, teens and kids.
Nike Unite will be partnering with Special Olympics Ireland and Foróige. Special Olympics is an internationally renowned organisation whose vision is to drive and support a quality year-round sports programme that is embedded in local communities. Meanwhile Foróige, Ireland's leading youth organsiation, offers a range of services from clubs, cafes and various programmes, to encourage young people to take responsibility for themselves and shape the world around them while developing their talents, skills and abilities.
The store is the latest in a string of recent openings at Blanchardstown, resulting in notably strong footfall – up 8 percent YTD on 2022. April was a particularly busy month at the centre, being the busiest month in terms of footfall over the past five years. The strong flow of deals reflects resilience of the Irish market, as well as the strength of the offer for brands at Blanchardstown centre.
Blanchardstown Centre is Dublin's largest retail and leisure destination, covering over 1.1 million sq ft in total. The centre has benefitted from an extension and extensive refurbishment process over the last two years. This investment has succeeded in attracting a host of new international and local brands, and centre occupancy currently stands at 98 percent.
Blanchardstown is Dublin's third largest urban area, popular with urban professionals and young families, with one of the fastest growing populations in Ireland. Catchment currently totals 1.9m. The town enjoys excellent transport connections – sitting on the M50 ring road and N3 motorway, eight miles from Dublin city centre, 15 minutes from Dublin airport and on a total of 20 bus routes.
Sharon Walsh, Leasing Director at Falcon AM, Asset Managers for Blanchardstown Centre, commented: "We're incredibly excited that Nike has chosen Blanchardstown Centre for the opening of Ireland's first Nike Unite store. A compelling in-store experience is increasingly important to consumers and this new concept speaks directly to that. The community focus and experiential element offers something different – and will act as a real draw.
Alongside a host of other exciting signings over the past 12 months, today's opening attests to the resilience of Ireland's retail market and the 'prime' space the centre offers.
Occupancy remains high and we have seen strong footfall since the beginning of the year – as customers visit the centre to enjoy our diverse mix of retail and leisure brands."
Share this story