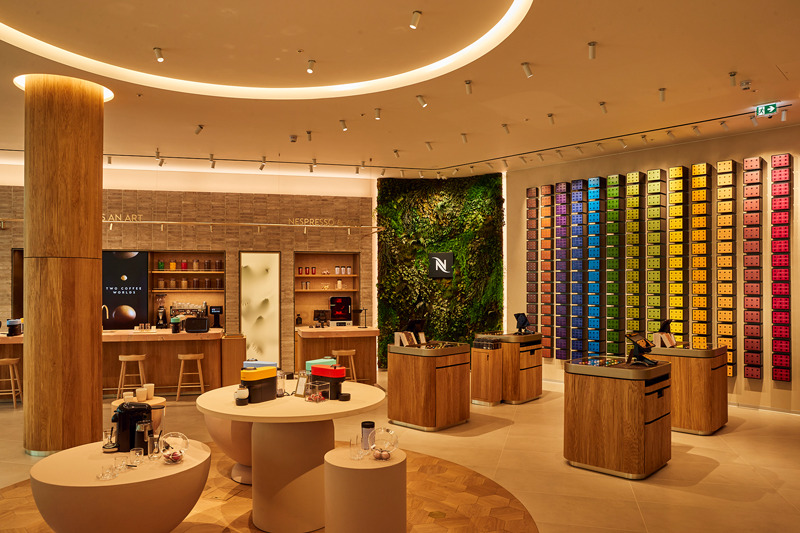 Launch marks continued UK expansion of Nespresso's evolved boutique concept
New concept has been designed to immerse consumers in the world of coffee and the Nespresso brand
Manchester boutique offering exclusive first taste of Nespresso Summer Iced Collection for local shoppers
Nespresso has opened a new experiential boutique at Trafford Centre in Manchester, giving local shoppers an exclusive first look and taste of the brand's highly anticipated Summer Iced Collection. Coffee lovers eager to explore Nespresso's wide range of blends, machines and accessories can now enjoy them at the new boutique – designed to engage existing and new customers through a range of unique and personalised experiences.
At the new boutique, shoppers across Manchester and the Northwest have an opportunity to immerse themselves in the world of Nespresso through a sophisticated 'Coffee as an Art' tasting and masterclass area.
The tasting area also features a state-of-the-art Ripples machine, allowing shoppers to create customised latte art on their favourite blends – with designs that pay tribute to Manchester and the city's iconic bee symbol, among others. A 'Nespresso & You' personalisation area in the boutique also allows coffee lovers to get their Nespresso travel mugs engraved with a personal message or name.
Additionally, customers can take part in an interactive 'Taste & Discover' area, where they can create their own coffee recipes using digital tutorials and Nespresso machines. Coffee specialists are available to assist shoppers in exploring the Nespresso range further, offering one-on-one coffee learning, tasting, and machine demonstrations to better understand their taste preferences.
According to Nespresso research conducted earlier this month, the North West is home to some of the UK's biggest coffee lovers, with 81 percent of consumers drinking coffee regularly – higher than any other UK region.
The boutique celebrates the Manchester bee through unique design features, including beehive floor tiles. The design also reflects Nespresso's long-standing commitment to sustainability and circularity, with features including tabletops made with used coffee grounds, alongside 100 percent Forest Stewardship Council (FSC)-certified wood. The boutique is also operated by 100 percent renewable energy.
Luke Horwath, Head of Retail at Nespresso UK & ROI, said: "Our boutiques are designed to encourage and support coffee exploration, creating an elevated experience for customers. The brand-new opening of our latest boutique at the Trafford Centre creates a new and innovative way for shoppers to enjoy and understand more about their coffee. The digital resources as well as our expertly trained staff will enable customers to learn about Nespresso blends, recipes, brewing methods, and our commitment to sustainability."
Russell Loveland Director of UK Asset Management at Pradera Lateral, asset manager of Trafford Centre said: "Trafford Centre loves to welcome new retailer concepts and we are delighted to see Nespresso investing in this exciting boutique. As this is one of the first Nespresso boutiques in the North of England, we are confident it will be a great success and we look forward to customers enjoying the new services on offer. Trafford Centre consistently supports retailers in expansion and enhancements to create and deliver an ever-more desirable environment for our customers."
The boutique features a 'Circularity' area, offering Augmented Reality (AR) experiences that demonstrate how Nespresso capsules are recycled and given a second life. A dedicated recycling area in the boutique also allows customers to return their used capsules.
Nespresso capsules are made of 80 percent recycled aluminium, which is infinitely recyclable. They are recycled through the UK's first industry-wide coffee capsule recycling scheme, Podback, which was co-founded by Nespresso in 2021. Used capsules can be easily recycled in several different ways, including a nationwide Collect+ drop-off service, kerbside collection in eligible local authority areas, and via any Nespresso boutique.
To mark the opening and start of summer, Trafford Centre is the only boutique in the country where shoppers can enjoy an exclusive first look and taste of Nespresso's new Summer Iced range, ahead of the collection's official boutique release on 30th May.
The introduction of Nespresso's evolved boutique concept at Trafford Centre follows a successful UK launch at the Bluewater shopping centre boutique in Kent (2021), followed by Trinity Leeds (2022). The new Nespresso boutique is located on the Upper Regent Crescent, next to the Trafford Centre's New Orleans entrance.
Share this story