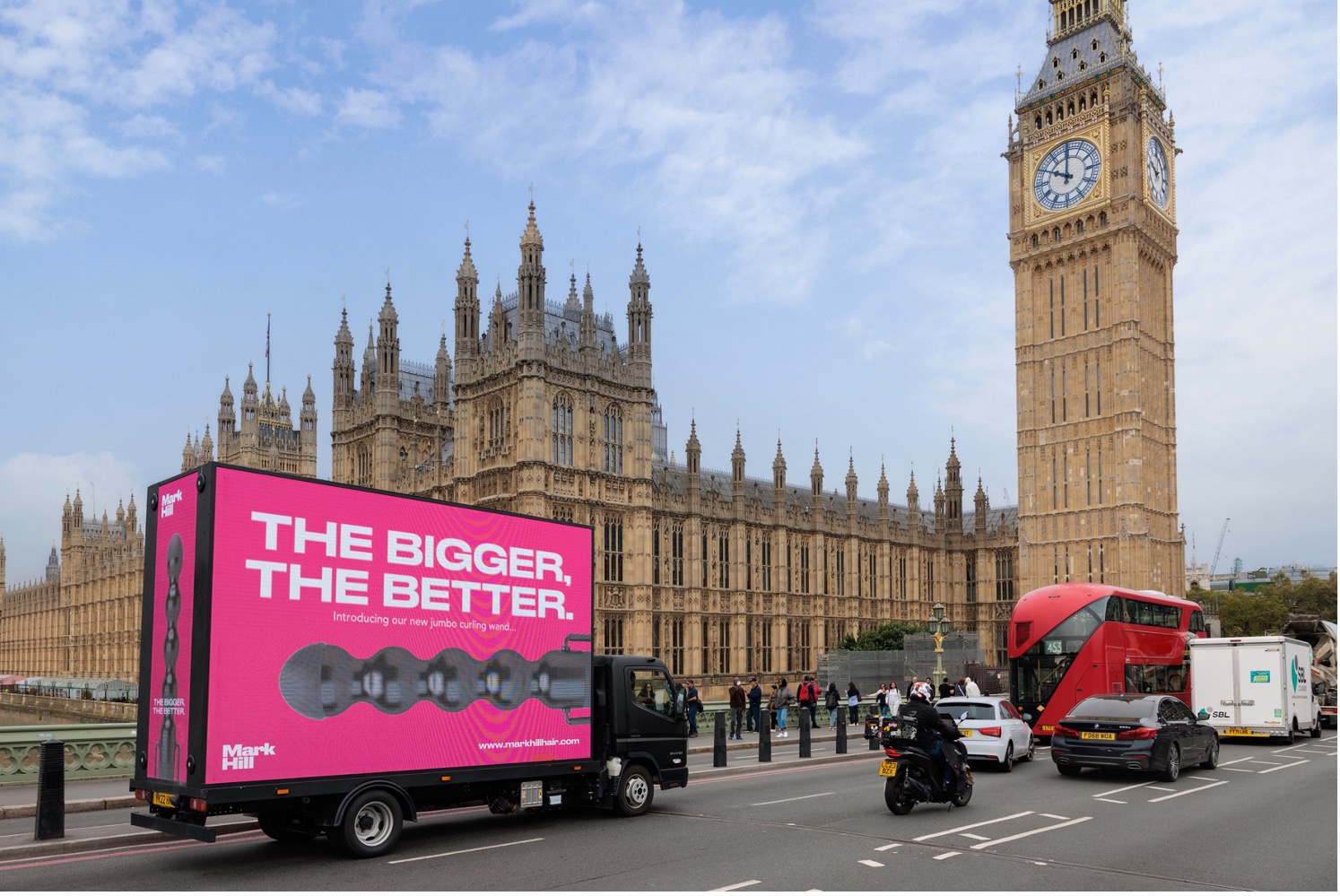 Mark Hill Hair has showcased its new jumbo waver styling tool with a bold ad campaign taking over London and Nottingham.
The brand's debut out-of-home (OOH) campaign features on billboards and buses across Nottingham, the home of the brand's headquarters. It also hit the road, with digital advans touring London landmarks including Big Ben, The London Eye, Oxford Street, Carnaby Street, Covent Garden, and Piccadilly Circus.
Featuring the bubble-shaped, bigger version of Mark Hill Hair's best-selling barrel and signature hot pink branding, the head-turning ads played on the fact that the brand's styling tools are often mistaken as sex toys.
The results of a consumer survey commissioned ahead of the campaign revealed that 64 percent of UK adults thought the jumbo waver was a sex toy when shown an image.
Following the phallic feedback, Mark Hill Hair partnered with Love Island star Chloe Burrows, who took to the streets of London with a megaphone to clarify the nature of the product.
The five-figure marketing campaign aims to raise awareness of the new styling barrel, utilising disruptive messaging to introduce it to consumers. Mark Hill Hair has launched the 32mm jumbo waver in response to customer demand for its original textured waver barrel which enables customers to achieve salon-quality, textured beach waves at home.
While highlighting that the styling tool is not a sex toy, the campaign also challenged the taboo around the purchase and use of these items. With the research finding that 65% of people think there is a stigma around owning a sex toy, Mark Hill Hair wanted to smash preconceptions and help people feel comfortable with how they feel, look and live.
Gemma Montgomery-Dickens, marketing director at Mark Hill Hair said: "We want to establish Mark Hill Hair as a brand that pushes the boundaries, disrupts the industry, and stands out from the crowd, and this campaign does exactly that. Rather than show static images around the city we have teamed up with a reality TV star to tackle the taboos of self-love.
When deciding on the advert design, we wanted to lean into the fact that our styling tools can be mistaken as sex toys, grabbing attention, and also helping to break the taboo. Together we will turn taboos into talking points and create a place for open discussions on what really puts us at the top of our game."
Share this story