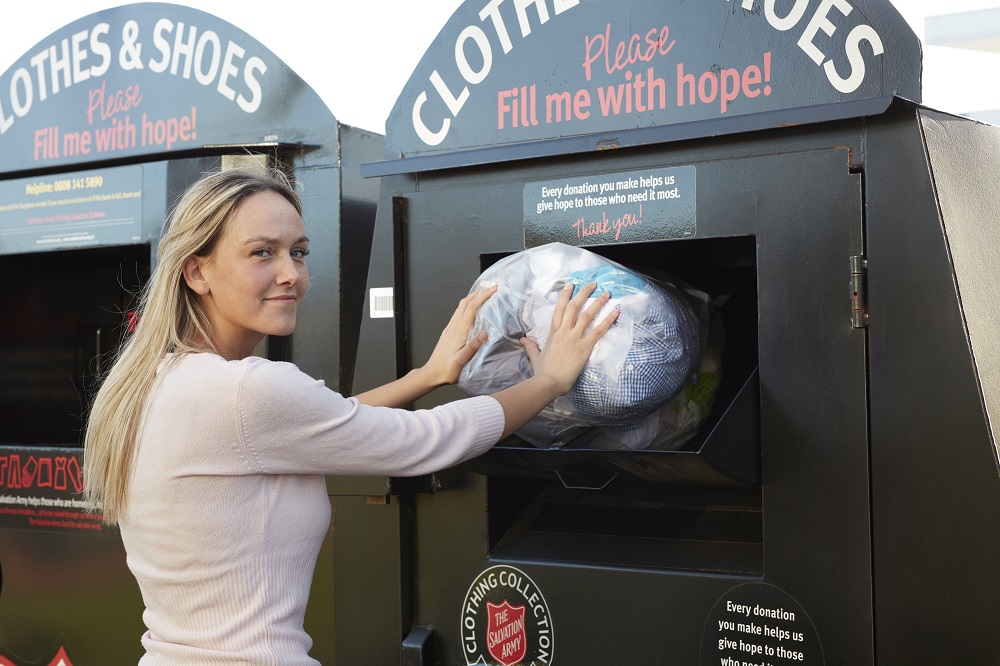 The Salvation Army has launched a new partnership with Landsec to bring new clothing donation banks to retail destinations to encourage more healthy and sustainable consumption.
New clothing donation banks are now open at Landsec's O2 shopping centre in London and Braintree Village, its shopping outlet in Essex, for people to donate their used textiles. A third donation bank will open at its W12 shopping centre in London in August.
As well as providing a safe and efficient place for people to bring their used items, Landsec will look to work with brands in its centres to use the banks to donate any end-of-sale-life pieces, reducing textile waste among its visitors, local community and retailers.
Together, The Salvation Army and Landsec aim for these banks to collect over 100 tonnes of donations in the next year. Donations will be resold and profits received will be given to The Salvation Army to support the great work they do throughout the country. The Salvation Army provides practical help for people in need, such as specialist support for survivors and potential victims of modern slavery, shelter for those experiencing homelessness and so much more.
Kirk Bradley, Head of Corporate Partnerships at SATCoL shared: "Partnerships like this are key to the environmental change we would like to see. SATCoL is working to reduce waste and thanks to Landsec and the community they serve, more donated garments can be repurposed, resold and raise more money for vital charity work."
Anna Hill, Chief Consumer Officer at Landsec commented: "We know our guests want to make more informed choices about how they consume. Whether it be donating used clothing or more access to pre-loved fashion, we want to give people the opportunity to be more conscious with their consumption and contribute to a healthier, more sustainable environment."
SATCoL divert over 250 million items each year to good uses, including over 65,000 tonnes of textiles. With the support of the British public, SATCoL has donated millions of pounds to The Salvation Army to help its work with vulnerable people in the UK (over £80 million has been donated in the last ten years alone).
Share this story