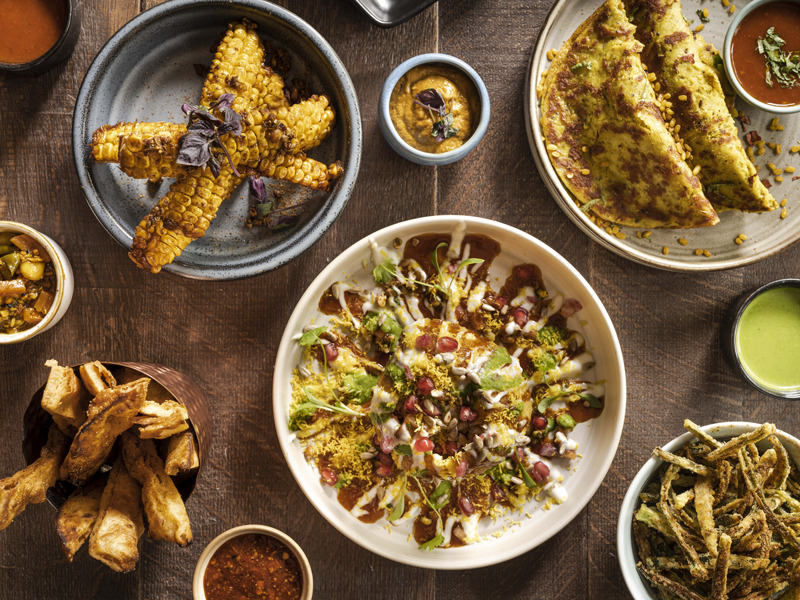 Kachori, a modern all-day dining Indian restaurant, has officially opened on Ash Avenue in Lendlease's Elephant Park neighbourhood and joined the line-up of the diverse cuisines at the destination.
The 2,850sq ft restaurant celebrates Northern Indian cuisine, with Executive Chef Brinder Narula – formerly of Benares and Gymkhana – creating dishes inspired by the cooking of Rajasthan, Uttar Pradesh, Delhi, and Punjab. The concept is headed up by Sorowar Khan, experienced restaurateur and founder of Mango in nearby Borough, with hospitality consultant Humayun Hussain its creator and project manager.
The menu features small plate dishes such as Bikaneri Raj Kachori and Truffle and Matar ki Kachori, as well as larger plate dishes from other parts of India, including Malay Meen Cod Loin and Keralan Beef Chilli Ulathu, alongside a well-assorted collection of drinks including beers, spirits, cocktails, and mocktails.
The space has 132 covers, with indoor and outdoor seating, overlooking the two-acre public park in the centre of Elephant Park. The design features a light and modern interior that complements its all-day dining experience, focused on the ability to transition seamlessly from day to night.
Guy Thomas, Head of Retail & Place Assets at Lendlease, commented: "Kachori brings a flavour of Northern India to Elephant Park, as we continue to offer residents and visitors even more choice in cuisines and concepts. From day one, we've focused on bringing best-in-class local businesses and independents to the neighbourhood, while delivering a huge amount of variety in one place. Elephant Park's dining spans five continents and more than a dozen countries, and Kachori fits right in, as a brand with a community feel from hugely experienced restaurateurs."
Sorowar Khan, Proprietor of Kachori, said: "Elephant Park stands out for its curation of diverse food and drink operators and we are thrilled to open this debut concept at the scheme. We trust that our diners will fully appreciate the experience we have to offer in this new space, introducing a contemporary taste of North India that is rarely found anywhere else."
Share this story