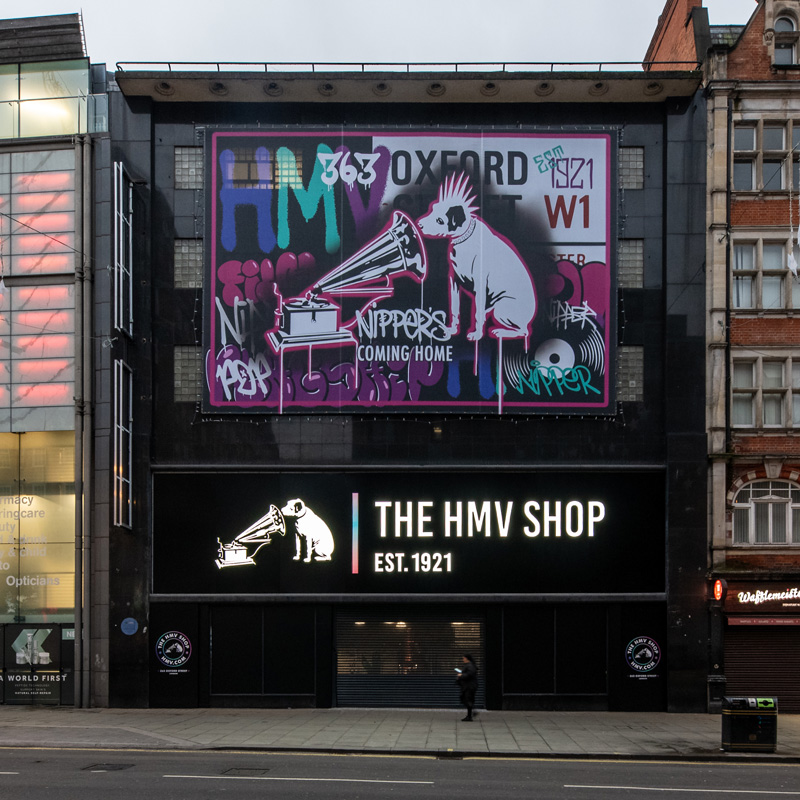 After a four-year absence, hmv returns to 363 Oxford Street, home of the very first hmv store in 1921
New destination for pop-culture in the capital will stock over 4,000 popular culture merchandise lines, over 20,000 vinyl albums and CDs, over 8,000 4kUHD, Blu-ray and DVD, as well as a wide range of music technology products
The doors will be thrown open at hmv's new store on Oxford Street as the brand returns to the iconic shopping destination on 24th November 2023 the retailer has confirmed. The address played host to the very first hmv store in 1921 and the flagship store will create over 70 new jobs.
It will become a hub for entertainment in the capital and the largest entertainment outlet in London offering an unparalleled range of music, film, merchandise and technology products as well as performance spaces.
Over the decades hmv Oxford Street became renowned as a community hub for music fans with performances and signings from global artists such as The Weeknd, Kylie Minogue, The Spice Girls, Blur and more, with the latter performing an iconic rooftop gig at the shop in 1995. With a purpose-built performance floor in-store, the new shop is expected to draw performances and signings from similarly renowned artists.
Grass roots local bands and artists will also have the opportunity to share the stage graced by global superstars. Those who want to get gig experience can contact staff in-store for details on how to perform through hmv's Live&Local programme. This year, the programme will have seen over 2,000 performances and events in stores by the end of December.
The opening of the Oxford Street location represents another sign of a dramatic turnaround of the hmv business under Canadian owner Doug Putman, who first took the reins in 2019. Under his tenure, the business has evolved its concept to centre on a fan and community-orientated offer.
Doug Putman, owner hmv and Fopp, said: "Our new hmv shop concept and fan-focused offer is really working for us, with hmv once again becoming a mainstay on the UK high street. The return to Oxford Street and re-opening of our flagship is a culmination of the team's hard work over the past four years and as a business we see it as the launchpad for an exciting new era for hmv.
We want our new Oxford Street shop to become a home for like-minded pop-culture fans and music lovers to come together under one roof, as it memorably has been in the past for so many people. We can't wait to open our doors on the 24th with a host of exciting entertainment planned for our customers."
Share this story