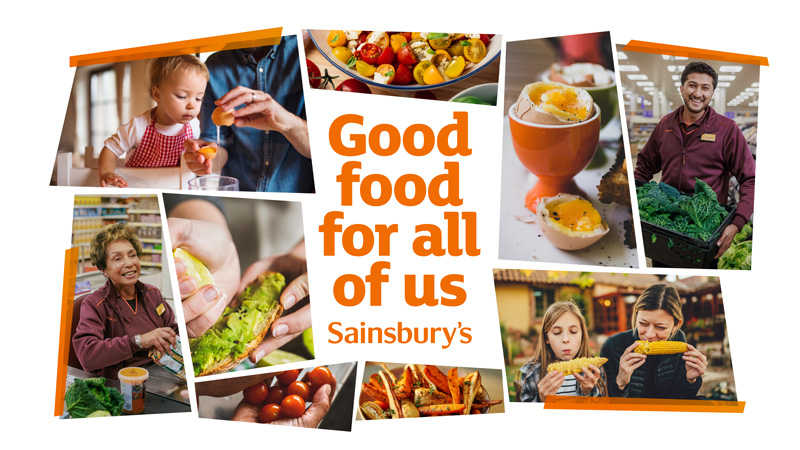 New brand promise aims to provide good food for all by offering access, innovation, great taste and value
Customers will see it for the first time in Sainsbury's upcoming Christmas campaign
Sainsbury's is launching a new brand campaign, promising Good food for all of us, a slogan which will feature in all of its advertising and marketing campaigns from November.
Through the new promise Sainsbury's wants to provide good food for all customers, whatever their budget, tastes or dietary requirements, and however busy their daily lives.
Tasty, well-sourced food brings families and friends together and makes every occasion special and Sainsbury's knows that good food matters to everybody, every day. In its research 85% of adults said they had thought about or discussed with someone else what to have for their next evening meal1; making it one of life's enduring and essential questions.
But good food is not easy for everyone. Many people struggle to find the time, energy and inspiration to plan, shop for and prepare the food they really want to eat or to feed to their families. 59% of people tend to cook the same dishes every week2. And good food becomes even more challenging when money is tight, with nine million adults experiencing food insecurity3 and 30% of parents skipping meals at least once a week to ensure their children eat4.
Sainsbury's aims to bring back the spark to mealtimes with Good food for all of us. By providing the widest choice of quality food and pricing its food accessibly and competitively, it is determined to help everyone make the most of their mealtimes.
Radha Davies, Director of Brands, Planning and Creative at Sainsbury's, said:"Everyone at Sainsbury's is passionate about the food we sell, and this includes not only our 152,000 colleagues up and down the country, but our suppliers, farmers and fishing partners too. Yet we recognise that it can sometimes be difficult for customers to have the time, money or inspiration to access the joy that good food can bring.  So, we want to go further by actively helping to put good food – in all of its senses, from quality and taste, to value and accessibility – at the heart of customers' lives.  Sainsburys has always been a warm, human brand and we seek to build even stronger connections with our customers than ever before."
Over the past twelve months, Sainsbury's has been working hard to make sure that all customers have access to affordable, great value food. The ongoing Aldi Price Match is now bigger than ever with over 400 products, and since the launch of Nectar Prices in April, there are over 5,000 lower prices available in supermarkets and online when shopping with Nectar, saving customers over £371m.
Sainsbury's Nourish the Nation community programme aims to ensure an even wider pool of people have access to balanced, nutritional and sustainable food sources, as well as helping to prevent people and communities from falling further into food poverty. The retailer has also donated over 15 million meals worth of surplus food through its partnership with Neighbourly, as well as customer food donations redistributed via Fareshare.
Through innovation, Sainsbury's aims to continue to bring exciting and different new products to customers.  This month it launched the largest lower carbon* beef range ever produced in the UK through its Taste the Difference Aberdeen Angus products. Its on-the-go Flourish range was developed earlier this year directly in response to customers' wants and needs, in this case those who may be time poor and unable to sit and eat.
The new marketing campaign was developed in conjunction with New Commercial Arts and will run across TV, Press, Radio, OOH and Cinema, as well as digital advertising on social media from November onwards.
[1] Focal Data survey of 1000 adults, March 2023
[2] Kitchen Aid survey of 2000 adults, Jan 2021
[3] The Food Foundation research, Jan 2023
[4] Save The Children research amongst 1000 parents of children in full-time education, Aug 2023
*Compared to industry standard, June 2023. A life cycle assessment for the beef was carried out by an independent agriculture consulting group.
Share this story