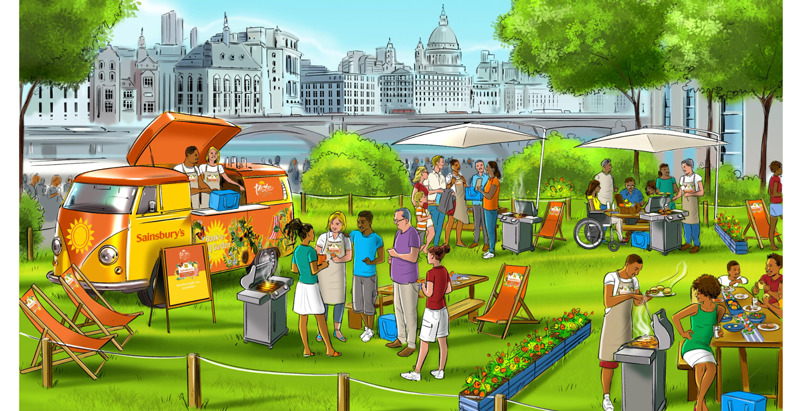 Sainsbury's is launching its FREE Book-a-BBQ Garden on London's South Bank on Thursday 1st – Saturday 3rd June, with slots available for pre-booking via Design My Night
From Taste the Difference Smoked Honey, Orange and Chilli Chicken Kebabs to Greek Inspired Whipped Feta Salad, Sainsbury's new summer range offers a range of seasonal flavours to set tastebuds alight
This comes as nearly 15 million Brits don't have the space to host a BBQ this summer
Declaring summer officially open, London's first of its kind free BBQ space will be opening on the South Bank later this month, as nearly 15 million Brits do not have the space to host one.
Opening on London's South Bank, during National BBQ Week on Thursday 1st – Saturday 3rdJune, the FREE Sainsbury's Book-a-BBQ Garden will give summer loving Brits the chance to enjoy a flippin' amazing BBQ lunch or dinner, featuring bold flavours from the supermarket's new summer range. The garden will be open from 12:00-20:00 daily, with 90 minutes of sizzling heat, seasonal dishes and summer vibes per booking.
Guests will be welcomed with a smokin' Sainsbury's summer food hamper and a hot Weber Spirit gas barbecue that's ready to go – all without a price tag. Igniting taste buds, the delicious menu includes a host of summer products from Sainsbury's new seasonal range. With all tools also supplied by barbecue experts Weber, groups of up to six will have the chance to cook like a pro on the ultimate barbecues, alongside expert advice from Weber's Grill Masters who will be there on the day.
From mighty meats like the Taste the Difference Signature Beef Rib & Brisket Burgers to irresistible plant-based alternatives such as the Taste the Difference Middle Eastern-Style Koftas, guests can pick between three mouth-watering bundles worth at least £50. Transporting customers to Mediterranean heat, Taste the Difference Summer Edition Greek Inspired Whipped Feta Salad and Patatas Bravas Potato Salad will also be included as part of the offering. The feast doesn't stop there, with a selection of delicious summery desserts and mouth-watering mocktails the free bundles are filled with everything needed to create a sizzling feast.
The garden opens as it's revealed that Londoners in particular are missing out when it comes to BBQs this year, with nearly a third (32 percent) not having the space at home to host a BBQ, even though 36 percent wish they did. As a result, a quarter (26 percent) of those in the capital feel like they're missing out on summer essentials.
With temperatures set to soar this season, the garden will give Brits the chance to spend quality time with friends or family and provide a safe and enjoyable way to bring the Great British BBQ back.
Claire Hughes, Director of Product & Innovation at Sainsbury's commented: "Summer is a time for celebration and getting together with friends and family to enjoy delicious food. But for those who don't have access to outside space at home, that doesn't mean they should miss out. That's why we've launched the Sainsbury's Book-a-BBQ Garden, keeping food at the heart of it, as we make it our mission to ensure even those without their own outdoor area can still enjoy the season's smoky, BBQ flavours."
Sainsbury's BBQ Garden Details:
Opening Days: Thursday 1st – Saturday 3rd June 2023
Address: Riverside Slice, South Bank, London, SE1 9PP
Opening Times: 12:00 – 20:00
Cost: FREE – a £5 booking deposit will be taken, which will be refunded providing the booking is fulfilled
Booking: Via Design my Night 
Sainsbury's new Summer range is available in store and online now, with over 150 brand new products from just £1.15.
Share this story