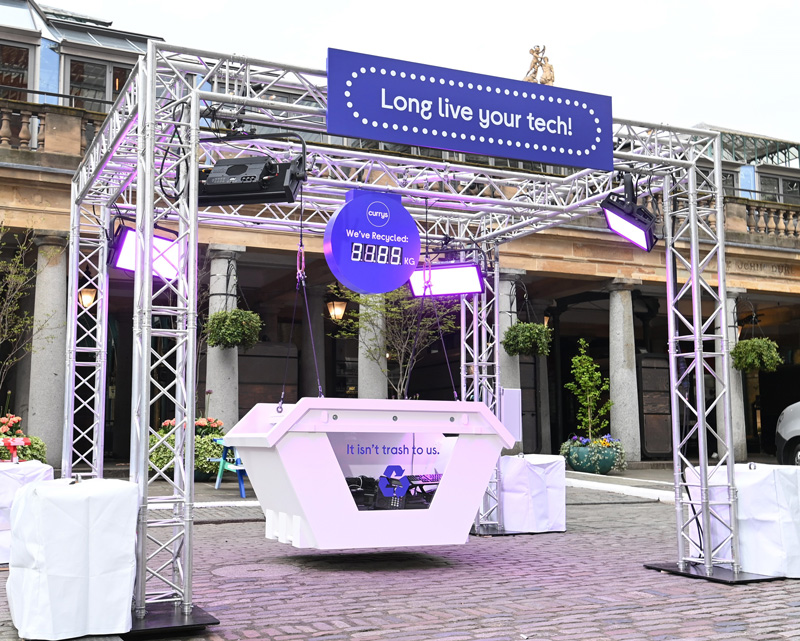 Brands come together to offer customers at least 10 percent off Samsung products when they trade-in any old tech with Currys
Collaboration supports both brands' sustainability goals by tapping into Currys' 'Long Live Your Tech' initiative
Currys and Samsung UK have teamed up to offer customers unique discounts on selected Samsung products when they trade-in any unwanted tech with the retailer.
The promotional event means Currys customers can get between 10-15 percent off on over 390 Samsung products when they trade-in old electrical items this July.
The event encompasses great savings across 17 different product categories – from Smartphones to American Fridge Freezers – available in Currys' 285 UK stores, online at currys.co.uk, as well as other Currys-owned sites such as mobiles.co.uk and carphonewarehouse.com.1
To unlock these savings, all customers have to do is take any unwanted electrical items that are powered by a battery or a mains electricity supply – regardless of their age, condition or value – to their nearest Currys store, where they will be exchanged for a Samsung discount code (in addition to, where appropriate, the item's trade-in value).2
As well as supporting customers with access to great deals on amazing technology, the initiative also underscores both Currys' and Samsung's commitment to a more circular technology industry.
The initiative builds on Currys' – one of the UK's leading technology recyclers, which collected over 1.6 million electrical items for recycling in the last year – existing 'Cash for Trash' scheme, which guarantees customers a £5 voucher (minimum spend £25 to redeem) when they bring in any old tech to a Currys store. As a key element of Currys' Long Live Your Tech initiative, these items are then either harvested for parts (which contribute to the repairs of other items), refurbished and re-sold as pre-loved, or broken down and recycled – all of which helps give tech a longer life, keeping it out of landfill.
This commitment to reducing e-waste is equally shared by Samsung, a brand that last year announced targets to achieve carbon neutrality across its Device eXperience division by 2030.
In addition to this partnership, which will have an immediate impact on e-waste collection, Samsung also has longer-term goals to help limit wasted technology. Samsung already operates e-waste collection systems in more than 50 countries around the world and has the aim to increase that to 180 countries and to collect 10 million tonnes of e-waste by 20303.
Ed Connolly, Chief Commercial Officer, Currys plc said: "By working together with Samsung, we have been able to pass on great savings to customers, whilst also encouraging more sustainable behaviours. At Currys we help everyone enjoy amazing technology, and we are uniquely positioned to help do this in an environmentally responsible way. By working with Samsung on a campaign that provides a further financial incentive for customers to take their e-waste into stores, we're doing just that, and can't wait to see the results."
James Kitto, Vice President – Mobile eXperience Division at Samsung UK & Ireland said: "We believe in the power of collaboration and are proud to offer this initiative to customers. Many of us have pre-loved tech that often accumulates at home. Through this scheme we are helping households take steps to recycle responsibly, whilst offering great savings across our industry-leading product portfolio." 
1  Discounts on pay monthly Samsung handsets across carphonewarehouse.com and mobiles.co.ukare reflected in monthly prices.
2 Bring in any electrical item powered by a battery or mains supply via a plug, in working or non-working condition, into a Currys store between 05.07.23 and 25.07.23. Discount is eligible in store on the same day you bring in your old product for recycling, or online with code SAMSUNGTRADEIN. 1 discount code per customer only. Excludes pay monthly handset purchases. 
3 Cumulative from 2009.  
Share this story