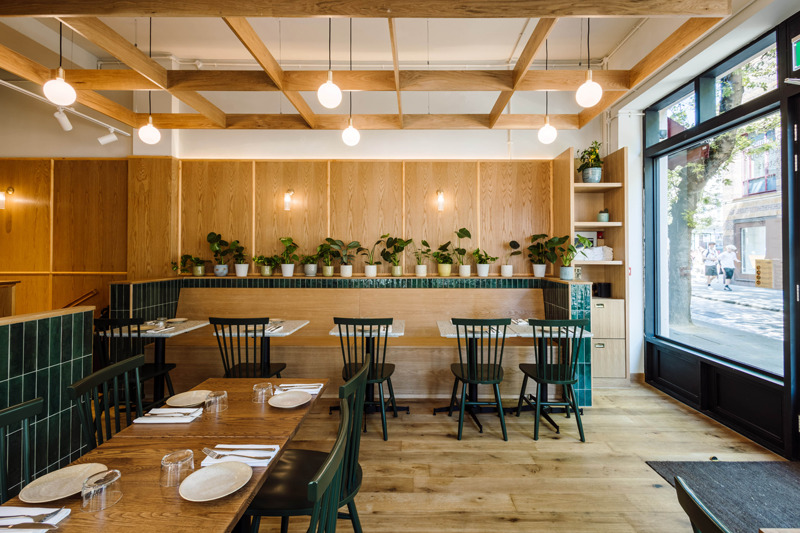 Shaftesbury Capital has announced that Crudo Cevicheria, London's first build-your-own cevicheria, has opened its latest site in Covent Garden's Seven Dials neighbourhood, at 36 Monmouth Street. The 362 sq ft space marks the restaurant's fourth location in London, and most extensive menu offering to date, with a combination of both signature dishes, and a selection of exclusive menu items.
With space for over 20 guests, the intimate restaurant adapts seamlessly from a day to night establishment, catering to the diverse needs of the Covent Garden diner. Featuring a bespoke takeaway counter from which to serve its grab-and-go, customisable ceviche bowls, the space is welcoming to those who opt to dine-in too, fitted out in a pared-back, contemporary style with design accents including green tiling and wooden panelling throughout. 
At lunch, the menu is designed for the 'to-go' audience, offering signature bowls as well as main menu items.
Crudo Cevicheria's menu also includes small plates, which can be enjoyed alongside a selection of South American style cocktails such as their house special, Pisco Sours. A number of signature plates are exclusive to the Covent Garden location, including Scallop Aguachile, Crab Causa and Beetroot Ceviche, as well as the introduction of a new house-special Pisco Sour and Oyster Happy Hour.
Carlos Soccoro and Maria Yanez, Founders of Crudo Cevicheria, added: "We are delighted to be opening our fourth location within Covent Garden: its reputation as a culinary hub for innovatively imagined restaurants is perfectly matched to be the new home of our experimental menu. London's F&B scene has long been missing Peruvian-inspired cuisine, and we are so excited to lead the way in changing this."
Share this story