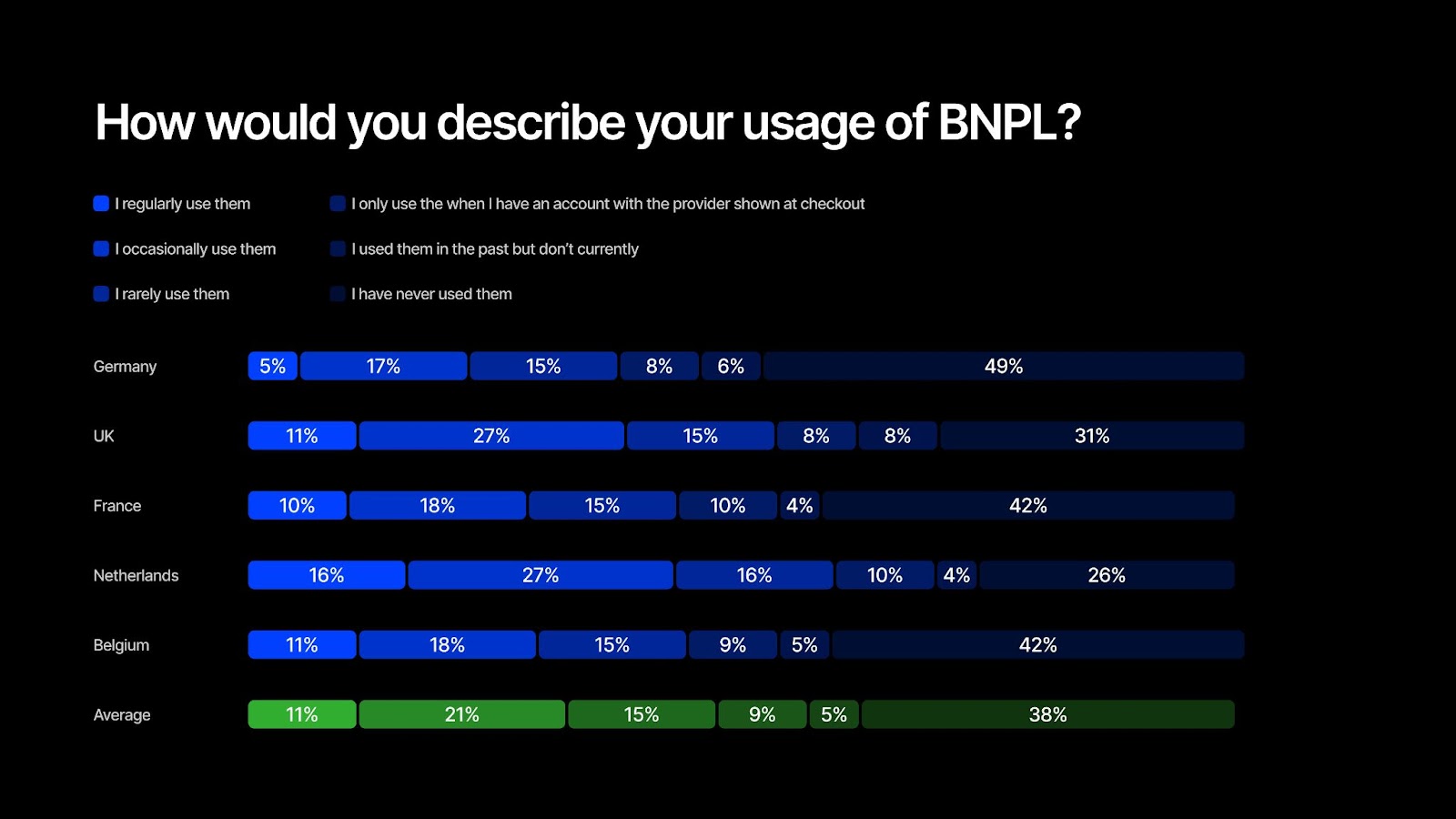 Mollie reveals that economically 'concerned' consumers are relying more on social media, BNPL, and discounts when shopping online but expect to spend more in the next year
Mollie, one of the fastest growing financial service providers in Europe, today unveiled findings from its second annual European Ecommerce Report. The study reveals an upswing in consumer optimism and online spending in the next 6-12 months. However, the past year's economic environment has driven significant changes in buying behaviour that indicate a need for e-commerce merchants to evolve their customer acquisition and retention strategies.
Key findings
Only 2 percent of European e-commerce consumers don't use any social media for product research. YouTube (47 percent) is the most favoured platform followed by Facebook (43 percent) and Instagram (40 percent).
Buy Now, Pay Later (BNPL) is being used more now than in the last 12 months by 56 percent of consumers.
51 percent feel negatively about their country's economy, but 47 percent predict improvements in the next 6-12 months, with nearly half (47 percent) expecting to spend more online in the next year.
99 percent of European online shoppers have changed buying behaviour in the last 12 months.
This report is based on an online survey of 5,000 consumers during July and August 2023, evenly distributed across Belgium, France, Germany, the Netherlands and the United Kingdom. It provides insights and practical advice for European online retailers to help them exceed customer expectations and maximise sales.
All change: E-commerce buying behaviour has evolved
Online over in-store: There is a positive outlook for online merchants with 47 percent of consumers saying they currently shop online more than at physical stores, with 7 percent shopping online exclusively. This trend is most visible in the UK where 51 percent percent of consumers shop online more when compared to Belgian consumers at only 41 percent. Nearly a third (31 percent) of respondents anticipate they'll shop online more in the next 12 months; this is compared to last year when 26 percent of consumers planned to shop online more than in the year previous.
Rise and rise of BNPL: BNPL is growing in popularity with over half (56 percent) of consumers saying they are using BNPL more now than in the last 12 months, with 22 percent using it much more frequently. However, nearly two-fifths (38 percent) of consumers have never used BNPL. In Germany, that number is even higher at 49 percent as German e-commerce consumers generally use other financing options, such as purchase on account.
Brand loyalty to address price sensitivity: Shoppers are becoming more price-conscious, with 54 percent of e-commerce consumers buying at the lowest possible price and doing more research before buying products (47 percent) than 12 months ago. But, once they find a preferred brand, they stay loyal and are more likely to buy from it again. Almost one-third of all consumers (31 percent) say they're more likely to buy from a trusted brand, and 27 percent are more loyal to brands that treat them well.
Going social: the primary research channel for European shoppers
Social product research is ubiquitous: 98 percent of European e-commerce consumers are using social media for product research. E-commerce merchants should take note of this and leverage social media for demand generation.
YouTube is the leading research platform: Nearly half (47 percent) of consumers visit YouTube for product research, with the platform ranking first for inspiration.
TikTok ranks #7 for research: Only 15 percent of consumers report using TikTok for product research. In the UK this number climbs to 22 percent and is consistent across all age ranges.
Increasing optimism: the economic outlook and spending expectations
Economic uncertainty: Over half (51 percent) of respondents are negative about their country's current economic situation, with 17 percent feeling very negative. UK opinions appear worse than the European average, with 61 percent being overall negative versus the Netherlands where only 40 percent of consumers feel negative.
Confidence returning: Nearly half (47 percent) of European shoppers anticipate an economic improvement in the next 12 months, with 1 in 5 (20 percent) believing it will improve significantly. More than half (52 percent) of Dutch consumers believe the economic situation will improve over the next 12 months, whereas only 43 percent of French consumers feel the same.
Confidence drives spending: 4 percent of consumers expect they'll spend more online in the next year, while only 1 in 5 (20 percent) believe they'll spend less in the next 12 months.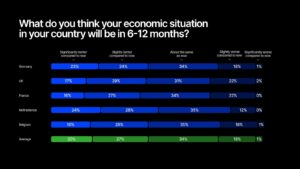 Turning browsers into buyers 
E-commerce businesses must act on what influences European customers to make purchases, what discourages them, and what motivates cart abandonment if they want to maintain growth.
Driving forces for a purchase include:
Preferred payment options: 4 in 5 (80 percent) consumers say access to their preferred payment method is important to them when shopping online, and 42 percent say it's very important.
Efficient checkouts: Retailers also need to consider a quick and efficient checkout process, with 79 percent of consumers saying it's important to them.
Customer support: The third most important merchant capability is great customer service and support (74 percent), highlighting the importance of support throughout the buying journey.
Reasons for cart abandonment include:
High shipping costs or taxes: Free shipping is essential for 83 percent of consumers, with the same amount saying it would factor into their decision to return to a retailer. This is up from last year where 61 percent of consumers stated high shipping fees would deter them from a retailer.
Non-secure payments: Payments security is top of mind for online shoppers, with 48 percent of consumers saying they'll abandon a purchase if they don't feel a payment is secure.
Restrictive payment variety: The third-biggest cart abandonment trigger is retailers not offering consumers their preferred payment method (46 percent).
Paid returns: Not offering free returns could lose merchants almost half (42 percent) of their potential sales. 27 percent of consumers are a lot less likely to buy from a retailer who charges for returns, and 21 percent definitely wouldn't purchase from a retailer that does not offer free returns.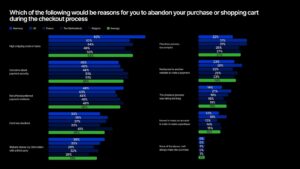 "In our 2022 study we saw a great deal of uncertainty from European consumers as rising inflation and the cost of living crisis followed the Covid-19 pandemic. Although we don't face quite the headwinds we did last year, economies across Europe remain in a precarious position. The good news for online retailers is as economic confidence returns, so is the confidence of consumers who expect to spend more online this year than last year," said Ken Serdons, CCO at Mollie.
"As spending increases, e-commerce businesses need to evolve their customer acquisition and retention strategies. This involves providing diverse payment choices, streamlining the checkout experience, and ensuring their products are discovered and well-reviewed on consumers' preferred social media platforms. It's clear that buying behaviour is changing rapidly, and e-commerce companies need to know how to successfully navigate the ever-evolving economic landscape, convert customers, build loyalty, and supercharge business growth."
Mollie's European Ecommerce Report, which contains a full analysis and further insights, can be downloaded here.
Share this story