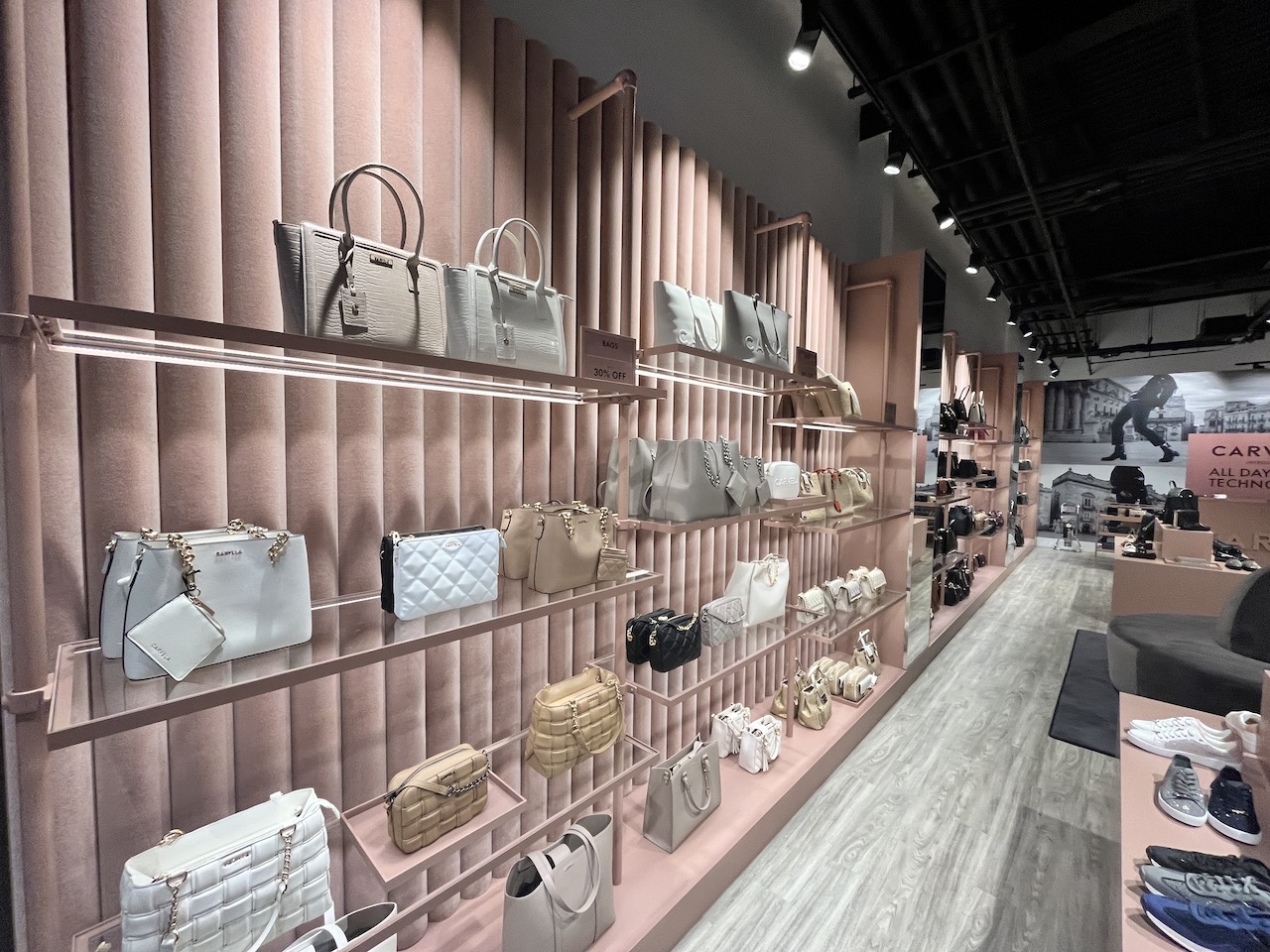 Outlet Shopping at The O2, which is owned and operated by AEG Europe and Crosstree Real Estate, has announced the opening of Carvela, the premium women's specialist footwear and accessories retailer. It marks the first opening since The O2's revision of its outlet shopping brand identity and represents yet another first-rate brand joining Outlet Shopping at The O2, strengthening the already diverse and unique offering at the destination.
Occupying a 2,056 sq ft unit opposite Hobbs, this opening marks Carvela's seventh bricks and mortar outlet store in the UK, reinforcing the consistent appeal of outlets within the retailer's portfolio. Designed by the brand's in-house team, the new store offers a classy yet contemporary interior comprised of white marble flooring and edge-lit display areas in Carvela's trademark black, white and nude colour palette, and stocks the brand's stylish collection of premium female-focused footwear and bags, featuring high-quality materials and encompassing a luxurious Italian feel.
The opening of Carvela represents the further diversification of the retail lineup at Outlet Shopping at The O2 which has seen significant growth in the last year.
Ross Warden, Chief Retail Officer at Carvela, commented on the opening: "Broadening our outlet presence has been part of our ongoing expansion strategy, and with so many complementary brands at The O2 already, it makes the perfect location to add to our portfolio. We're so pleased to have opened at Outlet Shopping at The O2 and be part of a destination that delivers the very best of retail with a broad selection of customers."
Louisa Dalgleish, Leasing Director at Outlet Shopping at The O2, also said: "We're so excited to welcome Carvela to The O2, with this launch once again demonstrating the appeal of our destination to global retailers. This year we've witnessed continuous growth for Outlet Shopping at The O2, with new well-known brands joining, existing retailers upsizing or renewing their commitment, and our pop-up spaces thriving. We are in such a strong position as we move into the final quarter of the year and look forward for what's to come for Outlet Shopping at The O2."
This news follows the recent announcement that The O2 has undergone a revision of its outlet shopping brand identity, simplifying 'Icon Outlet at The O2' to 'Outlet Shopping at The O2'. Joining fellow namesakes, The O2  Arena and Up at The O2, the change in name aligns the outlet shopping brand with the wider destination and simplifies the proposition for customers.
KLM and CBRE represent Outlet Shopping at The O2.
Share this story