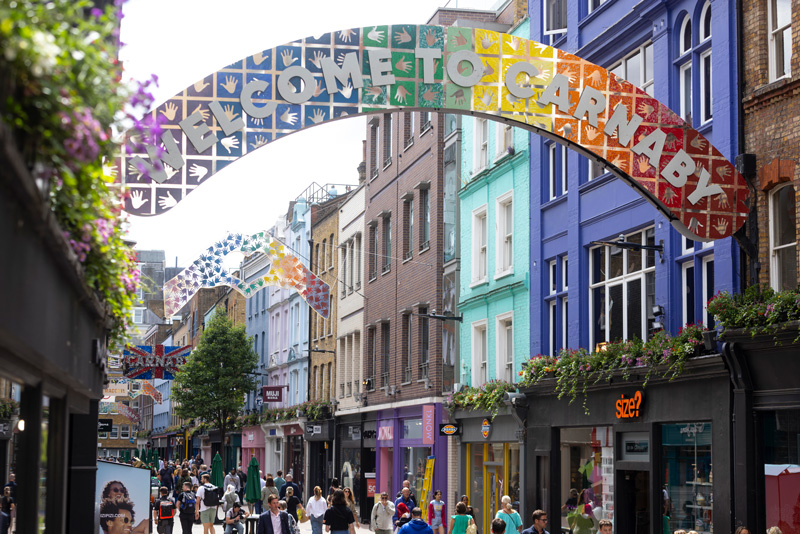 Carnaby welcomes a brand-new installation this summer made from recycled plastic. Working with recycling brand Are You Mad, the installation will provide a vibrant feature in Carnaby Street and Newburgh Street, launching the wider summer campaign 'Carnaby in Colour'.
The temporary art piece, which will be in situ from 6 July until mid-September, comes in the form of three hand/heart shaped arches that will be suspended above Carnaby Street and Newburgh Street. These will sit alongside the existing Welcome To Carnaby Street arches that have also been upcycled with the colourful recycled hand embellishments. The installation has been made using waste plastic sourced from local shops and restaurants and the wider district. The installation took 4 weeks of collecting waste plastic, 16 days of sheet pressing and a team of 13 people to create the finished materials. A total of 684 kg recycled plastic waste was used in the process ranging from bakery crates and buckets to food palettes and unwanted shop decorations.
The project, led by Shaftesbury Capital, highlights the importance of recycling and the innovative approach to recycling from Are You Mad, who reimagine the use of plastic waste. The creative recycling agency collected, processed and cleaned all of the collected materials at their current location at 97 Berwick Street.
Andrew Price, Executive Director at Shaftesbury Capital says "We are excited to have collaborated with Are You Mad to create this landmark public art feature for Carnaby Street. The installation is a creative take on the importance of recycling, made possible through close collaboration with our local businesses and community spirit. We look forward to welcoming visitors to enjoy the colourful pieces throughout summer."
James Suckling, Co-Founder of Are You Mad, says "We are proud to be a part of this project in such an iconic destination. We are grateful to work with Shaftesbury Capital to highlight the work we do for people and the planet. We hope the installation can encourage people to come to our space on nearby Berwick Street and continue to recycle single use plastic."
Image credit: Dave Parry – PA.
Share this story