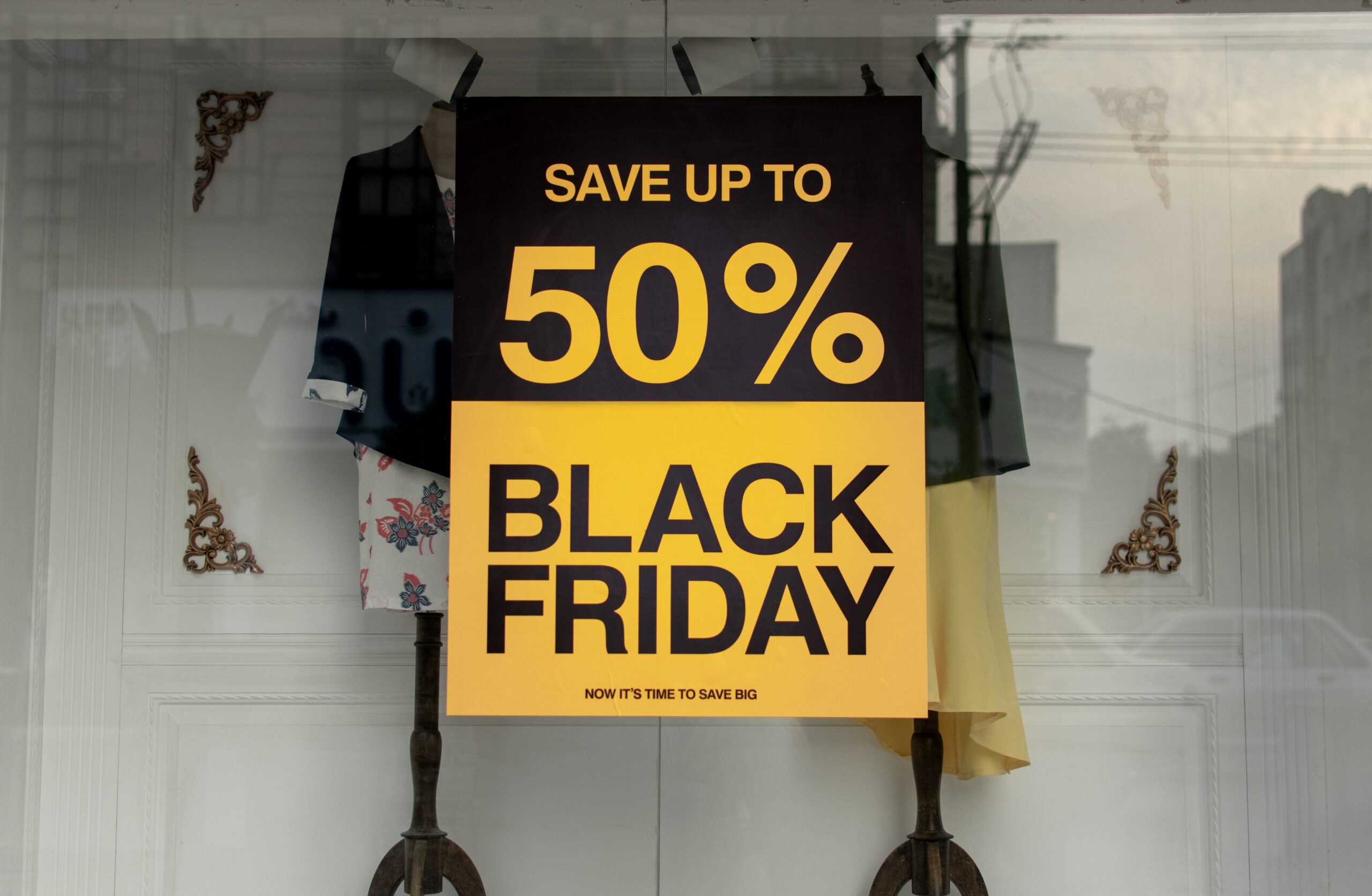 Retailers expected to see total sales hit £8.74bn this Black Friday Weekend (24th – 27th Nov) – up 0.4 percent YoY 
Cyber Monday retail sales up 6 percent YoY reaching a total of £3.34bn 
UK retailers to make £2.63m every minute this Black Friday Weekend 
£22.67bn expected to be spent by consumers over the two-week Black Friday period (20th Nov – 1st Dec), up 0.2 percent YoY 
UK retail sales are predicted to hit £8.74bn across Black Friday Weekend as consumers make the most of the discounts available to them in the run up to Christmas.
The VoucherCodes.co.uk, Shopping for Christmas 2023: Black Friday Weekend report predicts that this year total Black Friday Weekend retail sales will rise by a marginal 0.4 percent from £8.71bn in 2022. Although retail sales will remain steady this year, the data shows that consumers will wait until Cyber Monday to ensure they are getting the best deal available to them.
Retailers are predicted to see the highest spend figures of the Black Friday Weekend on Cyber Monday, with sales predicted to reach £3.34bn, a 6 percent YoY increase compared to the £3.17bn spent in 2022. In comparison, retail spend on Black Friday itself is set to fall 0.2 percent to £3.01bn – down £6m versus 2022.
Total UK Black Friday Weekend sales, 2019-2022 actuals, 2023 forecast
Sales
Growth

(YoY %)

(£bn)
2019
2020
2021
2022
2023 (forecast)
2020
2021
2022
2023 (forecast)
Friday
£2.53
£2.78
£3.20
£3.01
£3.01
10.10%
14.90%
-5.80%
-0.20%
Saturday/Sunday
£3.00
£2.31
£2.29
£2.53
£2.39
-23.20%
-0.70%
10.40%
-5.50%
Monday
£3.04
£2.86
£3.15
£3.17
£3.34
-5.80%
10.20%
0.30%
5.60%
Total
£8.57
£7.95
£8.64
£8.71
£8.74
-7.20%
8.70%
0.80%
0.40%
Despite rising living costs putting pressure on personal finances, two-fifths (40 percent) of consumers say they are likely to make a purchase over the Black Friday Weekend. With this in mind, it is expected that for each minute over the Black Friday Weekend, retailers will generate a staggering £2.63m both online and in-store this year, equating to £157.79m every hour – rising 0.6 percent YoY.
When it comes to the items consumers are snapping up first, nearly half (46 percent) of shoppers plan to pick-up big-ticket items such as electricals, followed closely by discounted clothing and footwear (44 percent), toys (35 percent) and cosmetics (30 percent).
Following the same pattern as 2022, some retailers are set to extend their Black Friday promotions to a two-week period, with this in mind, the report forecasts retails can expect to see a total of £22.67bn in sales – equating to a growth of 0.2 percent YoY.
Michael Brandy, Senior Commercial Director at VoucherCodes.co.uk, commented: "After a tough year of economic uncertainty and with consumers being cautious with their spending, it's good news that UK retailers can expect to see Black Friday Weekend sales remain steady.
It's clear from our data that people will be using the weekend to stock up on presents ahead of Christmas, however, shoppers will be making much more considered purchases this year – with many expected to wait until Cyber Monday to ensure they are getting the best deals. This year more than ever, retailers should think about how they can provide genuine value and make the customer experience as convenient as possible. Offering services such as free shipping, click and collect, and nominated day delivery can help build loyalty with your customers and differentiate you from your competitors."
Image courtesy of Unsplash. Photo credit: Ashkan Forouzani.
Share this story