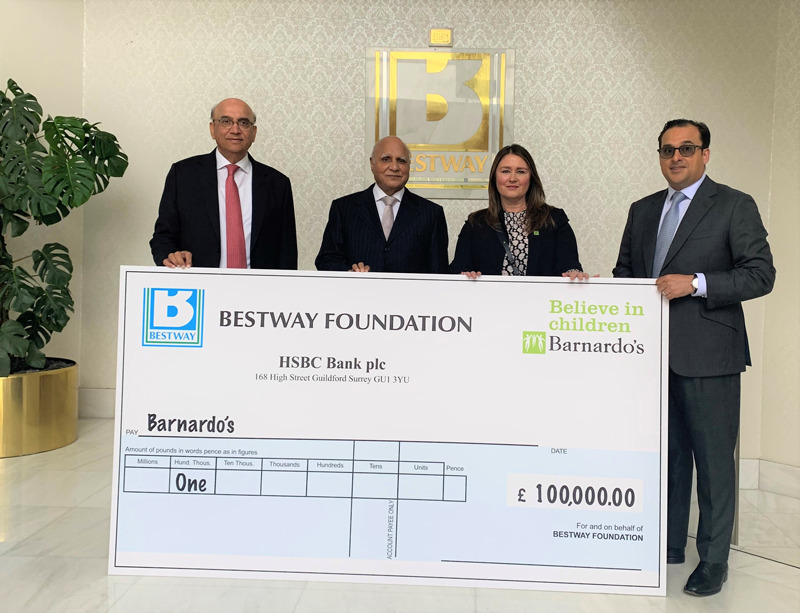 Lord Zameer Choudrey CBE SI Pk, Chief Executive of Bestway Group, and Dawood Pervez, Managing Director of Bestway Wholesale, presented a cheque for £100,000 to the UK's largest children's charity, Barnardo's, at Bestway Group's Head Office in Park Royal, London last week.
The funds were raised through Bestway Wholesale's annual Ascot Charity Race Day held last year, attended by over 800 industry guests including key business influencers, wholesale supplier partners, colleagues, press and Barnardo's.
The Charity Race Day is one of Bestway Wholesale's largest corporate events in the calendar, supported by supplier partners for over 29 years.  Over 25 charities have benefited from funds raised through the event since it began in 1994, including Barnardo's, the largest national children's charity in the UK.
The presentation was attended by Lynn Perry MBE, CEO and Rebecca Mauger, Director of Fundraising and Marketing from Barnardo's, and Bestway Board of Directors, including Sir Anwar Pervez OBE H Pk, Chairman Bestway Group.
Lord Choudrey emphasised the importance of the work that Barnardo's is doing: "We are delighted to support the work of Barnardo's during these very difficult times for children, young people, and families across the UK.
"Understanding that our donation will help thousands of children and young people gain the basics of everyday life such as food, emotional support and practical advice really aligns with the values of The Bestway Foundation. We are very pleased to help Barnardo's continue its amazing work."
Dawood Pervez, Managing Director of Bestway Wholesale, said: "We always receive incredible support from our partners for Ascot, which has become established as a sell-out event every year. It provides us a wonderful opportunity to network and raise funds through sponsorships and our auctions."
Since 1987, Bestway Group has donated more than £15 million to the Bestway Foundation in the UK. Each year the company hosts a charity race day at Ascot to raise funds for charity, an event that will be celebrating 30 years in 2023.
Lynn Perry MBE, CEO of Barnardo's added: "Barnardo's supports thousands of children, young people, and families across the UK, many of whom are living in poverty, struggling to access the very basics, or are struggling with complex issues like sexual abuse or poor mental health.
"We are very grateful that Barnardo's was chosen to receive the incredible donation of £100,000 raised at Bestway's 2022 Royal Ascot Charity Race Day. This money will play a critical role in helping us to reach more children who need support through our vital services."
Lord Choudrey concluded: "The Annual Ascot Charity Race Day is just one of the ways that Bestway Foundation gives back to people in need, and we are incredibly grateful to our supplier partners and colleagues for supporting this annual event and donating generously to ticket purchases, the Charity Auction and other fundraising activities."
Share this story