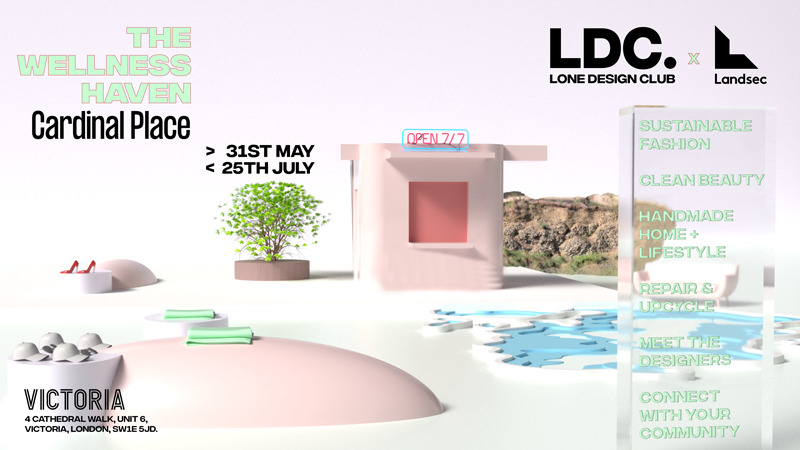 When: 31st May -23th July 2023
Where: 4 Cathedral Walk, Unite 6, Cardinal Place, Victoria, London, SW1E 5JD
Time: 10 am-7.00 pm daily* -Event evening until 8 pm
Lone Design Club (LDC) and Landsec are excited to announce the launch of The Wellness Haven, a pre-summer pop-up store that will offer a unique shopping experience for those on the go. The pop-up store, which is the second collaboration between Landec and LDC, will be at Cardinal Place in Victoria, London, from Wednesday, 31st of May, to Tuesday, 25th of July 2023. The concept is designed to create a serene space amid the busy city, drawing in local office workers, commuting UK tourists, and individuals on the go.
With the theme of self-care, wellness, and connection, The Wellness Haven will be a dynamic space inspired by the zero-impact principles of The Burning Man Festival. The pop-up store will focus on a selection of these principles such as Leave no Trace, Participation, Immediacy, and Radical Self-expression, making it a unique and immersive shopping experience.
The pop-up store will feature 50+ handpicked, innovative, and up-and-coming brands that suit the theme and target demographic. The brands will offer mini-treatments and experiences to promote connection and community, empowering and supporting individuals on their self-care journey.
The Wellness Haven will be presented as a wellness festival-inspired concept store and event series, combining beauty, wellness, fashion, and lifestyle categories under one roof. The event series will feature immersive touchpoints enhancing the brands' stories and driving engagement across physical and digital channels.
The event series will run throughout the eight weeks, focusing on B2B and B2C events such as VIP shopping nights, beauty influencer meet and greets, testing stations, flower pressing workshops, Pride and inclusivity talks, and more.
A press preview morning will showcase the brands joining us through the eight-week pop-up. Guests will be treated to a breakfast buffet, coffee, and a cool and calm tea bar from Forage Botanicals hosted on Cardinal Place's stunning Rooftop terrace. The experience will continue in-store with mini-beauty treatments from Skin Regime and goodie bag treats from a selection of brands. Following the press preview, LDC's signature launch party featuring a live performance and complimentary drinks from the LDC bar. 
Other events will include our Wellness At Work Series, held in-store every Tuesday. Launching with  Executive Business Coach Sabrina Percy, and will go on to explore themes including menopause, CBD for performance and much more. We want to take care of the body and mind, so we will host regular Wellness Workout sessions, with guest hosts helping our guests start their day with morning exercises.  There will be a Personal Shopping Night + Aura Reader (Party), Beauty Influencer Meet & Greets, LDC Designer Community Networking Event (+ Party and so much more)—full event schedule to be announced in the coming weeks.
The Wellness Haven is set to attract and excite all locals and guests to the Victoria area with an exciting event series to delight and engage the local community with unique and immersive experiences. It will also provide space for independent brands to reach new audiences removing some of the barriers to accessing prime retail space traditionally faced by smaller brands.
Lone Design Club and Landsec are excited to bring this pre-summer pop-up to life, creating a space that promotes self-care, wellness, and connection in a busy city. With the immersive shopping experience and event series, The Wellness Haven is set to become the ultimate 'on-the-go' self-care destination for those looking to take a breath, take a minute for themselves, and find serenity amidst the hustle and bustle of 2023.
"We're excited to announce our partnership with Landsec for the second time as we launch The Wellness Haven, a wellness-themed pop-up supporting independent and sustainable brands perfectly in line with both Lone Design Clubs and Landsec's goals to promote sustainability within the retail sector.
We aim to create a community feel within the area, providing a space where people can connect and learn more about these exciting, new sustainable and independent brands, all whilst immersing themselves in a world of self-care, wellness, and connection."
Guests can enjoy mini-treatments and our wellness workout series as we empower and support individuals on their self-care journey. They can also indulge in many more immersive experiences, embracing the themes of self-care and wellness. The Wellness Haven will be a serene haven amidst the bustling city, appealing to local office workers, commuting UK tourists, and those constantly on the go as they make their way through Victoria to their next destination. It celebrates the start of summer and provides the local community with a refreshing new experience," comments, LDC CEO Rebecca Morter.
Nik Porter, Head of Brand Account Management at Landsec, said: "Victoria is a prime central London location which blends office space with retail, restaurants and leisure. We've curated a diverse mix of brands to cater for the varied range of guests who visit Victoria throughout the week, from office workers to tourists and residents.  Working with Lone Design Club allows us to add to the mix of brands on offer in Victoria, giving people another reason to keep visiting time and time again.
This is our second pop-up with Lone Design Club, building on a successful partnership at Trinity Leeds earlier this year. The concept is great for our destinations and for the smaller brands that Lone Design Club support, giving them the opportunity to showcase their products and test local markets whilst helping us to learn more about what resonates with our guests."
Share this story