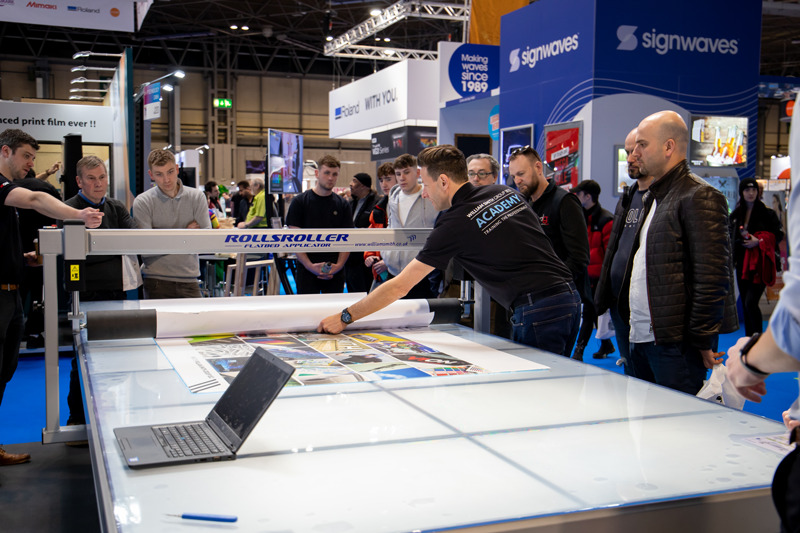 Show returns: 27th – 29th February 2024, Hall 2, NEC, Birmingham
Sign & Digital UK, which ran from 21st – 23rd March, brought thousands back together to share information, network and, most importantly, do business. The positive experience for exhibitors has led to a record number rebooking already for next year's event.
Exhibitors across the hall, large and small, met and exceeded their targets for the event, and many said they took several orders on the stand. Event director, Jenny Matthew, said, "It was really encouraging to hear that so many of our exhibitors took orders during the show. Sign and Digital UK has always been known as a 'selling' show, and this year it certainly earned that label."
The visitor experience continues to improve, with more features and services introduced to help educate, inform and guide sign-makers attending the event. The Explains Lounge, run in conjunction with the ISA UK trade association, saw more than 30 people presenting or being part of expert panels over the three days, with many interesting and informative sessions standing room only. Craig Brown, CEO of ISA UK, said, "We had some really interesting sessions this year and this was reflected in the numbers of people coming to see them and also in the questions they asked. I certainly learned a lot, and the feedback I received suggests many others did too."
Alongside the Explains Lounge was the Sign Surgery, which allowed visitors to spend time with individual members of the panels and the ISA directors to ask questions and receive advice. "As the trade association for the UK sign industry, it was so valuable to be able to spend time with sign-makers from across the country at the show. We had lots of great discussions, and we also did our best to answer questions and explore new ideas and initiatives," adds Craig.
The Sign Studio with Paul Hughes ran eight sessions a day demonstrating vinyl application onto walls and vehicles. This was hugely popular, drawing big crowds and very positive comments.
The Hexis Wrap Battle contest was hugely popular and ran throughout the show. The competition was incredibly stiff, with all the heats and finals drawing big crowds and encouraging their favourites. The final took place on the last day and was won by Chris Hooper of Wrap Worx. Congratulations also to Oli Goodman of Wrap Capital, who came second and Aleksejs Kosarevs of AKtints Ltd, who came third.
Jenny Matthew concludes, "It felt like the industry was well and truly back and looking as healthy as ever. It is so encouraging for us to see how people respond to Sign and Digital UK. It is an important part of the industry's calendar and a great opportunity to get together, reconnect with old friends and do some great business. We spent a lot of time throughout the show talking to visitors and exhibitors about how to keep improving the experience, and we have lots of ideas for 2024. I would like to say a big thank you to all the exhibitors, visitors, partners and media supporters who came to the show, and we look forward to seeing you all again next year."
Feedback from exhibitors at the show reflected how lively the show floor was and the quality of visitors. Some comments include:
Phil McMullin, Head of Sales, Epson UK, "Sign and Digital UK is a pivotal show for us. There's no better way for us as a manufacturer to get our message across to our customers than to be here and have a direct conversation. We need a vibrant trade show for the UK sign and print industry, and I think this is it."
Duncan Jeffries, Head of Marketing, Hybrid Services (exclusive UK and Ireland Mimaki distributor), "It's great to be back at Sign and Digital UK again. It's the perfect opportunity for us to meet customers old and new, launch new products and engage with the industry. It's a great snapshot of our industry, allowing people to come and see products from a broad range of suppliers under one roof. There's nothing like seeing it live at an event, and that's what Sign and Digital gives us."
Brendan Perring, General Manager, Independent Print Industry Association, "The key to Sign and Digital is the importance of human interaction. The sign industry is very busy, and many owners of sign and print companies work IN their business a lot more than they work ON their business. This show is a chance for them once a year to come out and work on their business."
Shahvez Tauqir, Sales Director, Prime India LED, "Coming to a show like this, it is really important that we get to meet people who can make purchasing decisions on the stand. Sign and Digital has been fantastic for this. We made many sales and generated a big number leads, which creates a pipeline for months to come. We didn't have a huge stand like some of the big names, but the way visitors take in the show means we had a lot of traffic around our stand, and we were busy throughout the show."
Rob Goleniowski, Head of Sales UK and Ireland, Roland DG, "SDUK 23 has been great. We we've had a steady flow of customers coming to see us throughout the duration of the show. It's been really good to get back in front of many familiar faces and meet some new ones. Sign and Digital UK is a great place for us to launch machines because it's an audience that is exactly right for our printers."
Sarah Winterbottom, Group Sales Director, Soyang Euope, "We've enjoyed some really good conversations on the stand throughout the show. We signed many orders on the stand generated lots of potential opportunities. It's clear that many people who come to the show are seriously considering their next major investment and it's great to have the opportunity to spend face-to-face time with them."
Bryan Jater, Sales Director, Trotec, "We came to the show with an expectation of a number of leads that we would hopefully generate and we certainly achieved that. It's always great to talk to people about how their business has progressed and while we try and keep in touch with our customers as best we can through the year, SDUK is a great opportunity to see a lot of people in one go."
Sign & Digital UK returns to the NEC, Birmingham from 27th – 29th February 2024 and is free to attend for visitors.
Share this story