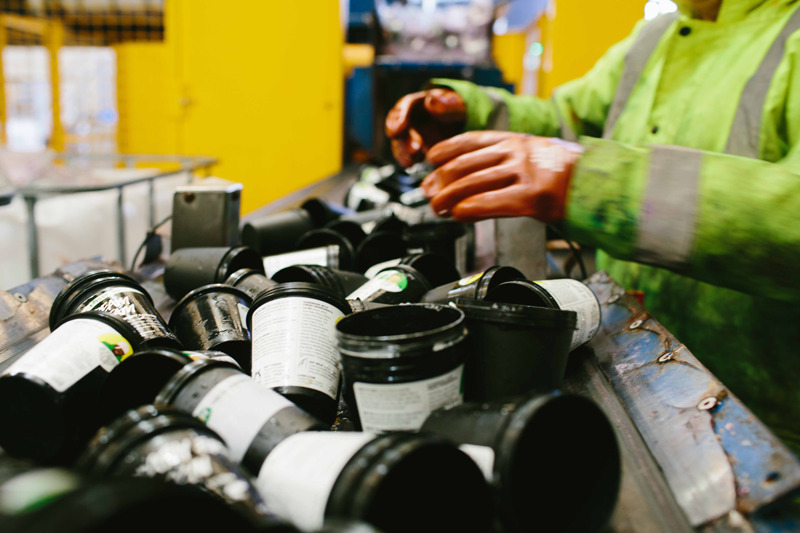 Federated Hermes has announced that Lush, the UK-based cosmetics pioneer, has launched its newest Green Hub at Fleets Corner Business Park in Poole. Lush has invested £2.3m to grow the capabilities of their Green Hub in its commitment to and investment in the circular economy.
Taking responsibility for materials that could be considered 'waste', the Green Hub spans 40,128 sq ft of warehouse space at Fleets Corner's Unit M, playing a crucial role in Lush's commitment to creating a cyclical business model. In 2022 alone, Lush's existing Green Hub scheme recycled 12 tonnes of PP plastic through its 'Bring it Back' scheme, which encourages customers to bring back Lush plastic packaging to any of its stores for 50p credit. They also recycled 15 tonnes of PET product moulds in a closed loop, and recycled 998 tonnes of manufacturing waste, 81% of Lush's total manufacturing waste for the UK.
The Green Hub is also home to wider Lush initiatives which help to contribute to the brand's mission of 'leaving the world Lusher than we found it'. These include its Woodshop where store furnishings are recycled and repurposed, Repairs and Maintenance, which repairs equipment from across the business to prevent the brand buying new, and Donations, which ensure surplus products from manufacturing are distributed to charities nationwide.
Lush has also invested in a Dissolved Air Flotation unit, to process waste water created in the brand's spa laundry and manufacturing processes. Tackling over 500 tonnes of dirty water each year, this unit will bring Lush's waste water process treatment in house, reducing transport emissions and allow Lush's waste water to be reused in a circular economy.
Chase Clark, Lush Manufacturing Director, added: "At Lush, we are designing for zero waste. Our brand-new Green Hub at Fleets Corner allows us to close the loop on our packaging and water as we re-use, repurpose and repair materials, welcoming staff, and the community with open arms into the world of zero waste. Fleets Corner has provided an ideal home for this, joining our warehousing and manufacturing units at the business park, it's wonderful to have all these elements in one brilliantly connected location!"
Stephen Bradley, Director of Investment Management, Federated Hermes, commented: "The launch of Lush's Green Hub is a significant moment for Fleets Corner. The brand's continued expansion, and recommitment to the Business Park is evidence of Fleets Corner's sustained position as not only a key South West industrial hub, but of the business park's dedication to supporting and delivering on the needs of existing occupiers. It is brilliant to see the Green Hub officially launch, and we are proud to be a part of Lush's pioneering sustainability initiatives."
Galena Real Estate, JLL, Goadsby and CBRE acted for Federated Hermes on the deal.
Share this story