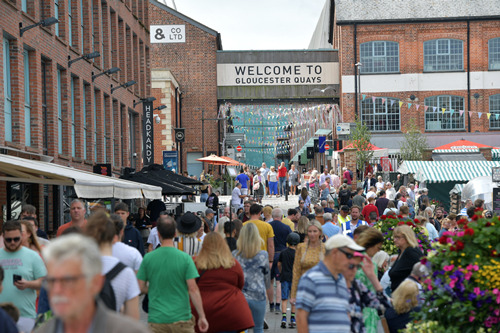 Peel L&P has announced that Gloucester Quays grew its sales across the last financial year by 6 percent, in another show of strength for the premier South West outlet and dining destination.
Covering April 2022 to March 2023, the outlet has benefitted from an 8 percent uptick in retail sales, bolstered by new stores from international lifestyle retailer Timberland, and an upsized Levi's, now their largest flagship outlet in the UK. Mixed fashion outperformed 2021/22 by 15 percent, while footwear-focused tenants saw an 11 percent growth in total, closely followed by beauty and wellbeing, and sports and outdoor clothing, both at 6 percent.
Performance in the F&B sector also continued to improve, following the announcement earlier this year of the 10.5 percent sales growth throughout the 2022 calendar year. Looking at the 2022/23 financial year, Gloucester Quays' café brands experienced an 8 percent revenue increase, as did the bar-led venues, in a clear indication of visitors spending more leisure time at the destination.
Paul Carter, Asset Director at Peel L&P, commented: "Outlets provide a great shopping and leisure experience with a real emphasis on value for money, and the performance at Gloucester Quays over the past year shows that our catchment sees that. We have in this time delivered more options, introducing some of the best-known retailers and diversifying the food offer, all with the aim of increasing Gloucester Quays' appeal for visitors. We are delighted to see this continued growth, and are planning on taking it even further, with new and exciting leasing additions and a bigger events calendar over the course of the next year."
Gloucester Quays' success over the past 12 months has been a significant driver of interest in the destination, for leading brands looking to expand their outlet offer in the South West. In this period FatFace made its return to Gloucester Quays, while renowned British retailer NEXT also re-joined with a 5,509 sq ft store having launched earlier this month. The F&B offer has also been diversified, through the opening of The Real Greek late last year, and the signing of authentic Mexican eatery El Mexicana, which will launch later this year.
Share this story