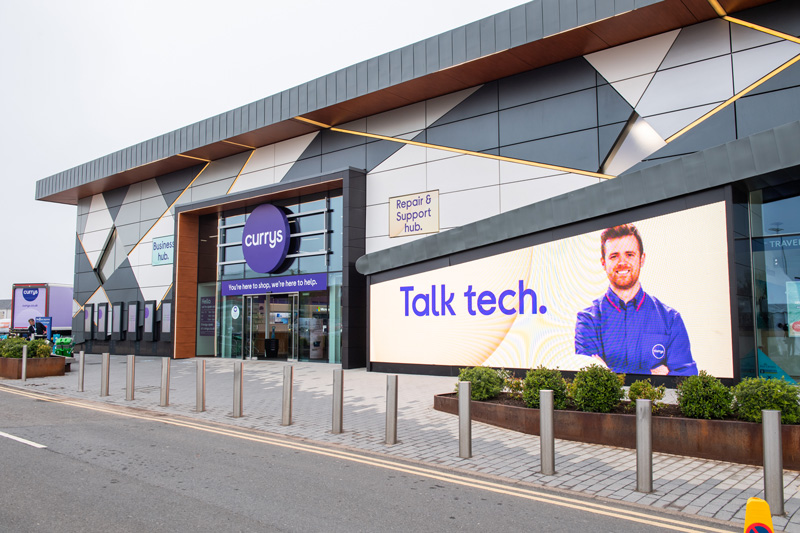 Currys has 720 temporary roles available across 301 UK&I stores 
A further 370 permanent sales colleague roles are listed
Retailer also looking for 120 drivers
Currys plc has announced plans to create over 1,100 new roles during this year's peak trading period.
To support the business through the busiest time of the year – the period leading up to Black Friday through to the January sales – 720 temporary roles have been made available across the retailer's 285 UK and 16 ROI stores, in addition to over 370 permanent positions and 120 7.5t drivers.
The part-time temp roles are largely made up of Sales & Support roles, offering external as well as internal applicants the opportunity to work directly with customers on the shop floor. Currys is looking for committed applicants with solid customer service and people skills to become part of top-class retail teams across the country, ensuring that customers always get the right support and advice when shopping for amazing technology – whether that is in-store or online via ShopLive. Successful applicants will start on an hourly rate of £10.50 (£11.50 in London) after Currys raised store colleague pay for the fourth time in 18 months earlier this year.
Applications are open now at https://curryscareers.co.uk/go/Seasonal-Retail/5509901/for start dates beginning from 15th October.
Additionally, Currys is hiring for a range of 370 permanent store roles across the UK and Republic of Ireland. Successful applicants will start on the same hourly rate, though like temporary colleagues, once the average store colleague bonus is factored in, average hourly pay rises to £11.39 per hour.
In addition to this rate increase, permanent colleagues who pass a six-month onboarding and skills development program and are performing well, will see their minimum hourly rate increase to £10.80p per hour (£11.80 in London). Currys is committed to investing in the future skills of its store colleagues, with a ground-breaking learning program that allows new store colleagues to build confidence and competence through a host of skills that will not only support their time with the retailer, but are also transferable, supporting lifelong employability for the individual and playing an important role in seeding critical skills into the UK economy.
Full-time applications are currently open at: https://curryscareers.co.uk/ before closing during w/c 02.10.23.
Currys is also on the hunt for 120 full-time, permanent 7.5t van drivers. Playing a vital role in the retailer's industry-leading nationwide supply chain, drivers can benefit from one of the most engaging delivery roles going. Currys trains drivers to install all the smart tech they deliver to customers: from washing machines and fridge-freezers to 4K TVs, and more. Applicants will soon be out on the road, meeting new people every day and bringing the potentially life-changing benefits of amazing technology to millions of customers. On top of a competitive salary, drivers can access a wide range of benefits such as a quarterly bonus, competitive pension scheme and fantastic product discounts on the latest tech.
Full-time applications are currently open at: https://curryscareers.co.uk/go/Drivers/5109401/
Paula Coughlan, Director of People, Communications and Sustainability at Currys plc, commented: "We're delighted to be making over a thousand vacancies available ahead of this year's peak trading period.
Our customers know that shopping with Currys means getting access to the best support and advice when buying new tech. That's why we're opening up well over 900 extra roles across our stores, effective immediately.
Currys' colleagues our are magic ingredient, so if you are keen to join an engaged, high-performing team, head to curryscareers.co.uk for the latest vacancies".
Share this story