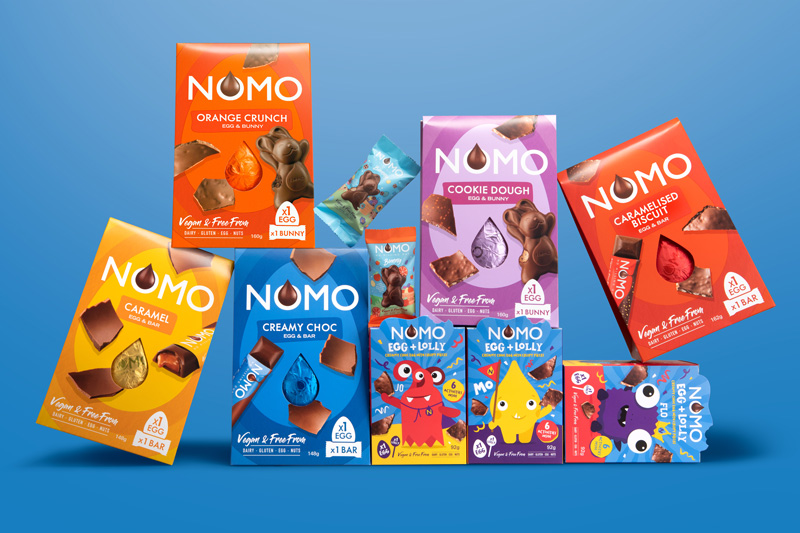 NOMO, the UK's vegan and free from chocolate brand, won four major accolades at the Free From Food Awards on 8th June. The top honours included being named the Large Independent Brand of the Year 2023. 
The Free From Food Awards (FFFAs) are the UK's foremost recognition for free from food and drink products. The annual event has celebrated excellence in the industry since 2008. Its panel of specialist judges include major names in the food and allergy worlds. They test thousands of products to determine the winners, with small producers and major supermarkets competing on a level playing field.  
FFFA winners gain the right to use its yellow logo that assures both excellent taste and full compliance with free from production standards—a trusted mark of safety and quality for consumers. 
In addition to being awarded Large Independent Brand of the Year, NOMO received awards for three products introduced in 2023. The awards were: 
·       Large Independent Brand of the Year 2023 
·       Cookie Dough Block (Gold) 
·       Crispy Mo (Gold) 
·       Caramelised Biscuit Choc Bar (Silver) 
All NOMO products are free from egg, gluten, dairy and nuts to ensure that no one misses out on delicious treats. The Cookie Dough Block Bar, designed to be shared, is the brand's biggest bar yet. It is made with creamy choc, providing a velvety coating around crumbly sweet cookie dough. Crispy Mo is a free from option for kids, ensuring no child needs to miss out because of allergies, and the Caramelised Biscuit Bar is a delicious fusion of creamy choc, biscuit-y crumbs, plus a hint of warming spice. 
The award wins follow an exceptionally strong sales period for NOMO. The brand experienced 45.6 percent value growth during the Easter period, compared to the total market's value growth of 16.7 percent in the free from chocolate Easter category. Nearly half of the Easter free from chocolate products purchased in 2023 were from NOMO, with a 47.5 percent share of all free from Easter products.1 NOMO is double the size of its nearest competitor, accounting for 16 percent of the vegan and free from chocolate category – after growing 1.6 percentage points versus the same time last year.2 
Jac Tyrrell, Brand Manager for NOMO said: "We are thrilled to have received these awards. Our products are developed with rigorous testing and production standards to create the best taste with no compromises made on safety. We're especially excited to have been named Large Independent Brand of the Year, which demonstrates our position as a leader in the free from industry. At NOMO, we strive to creative innovative and great-tasting products which everyone can enjoy, and we're delighted to receive this exceptional recognition for our mission." 
Share this story