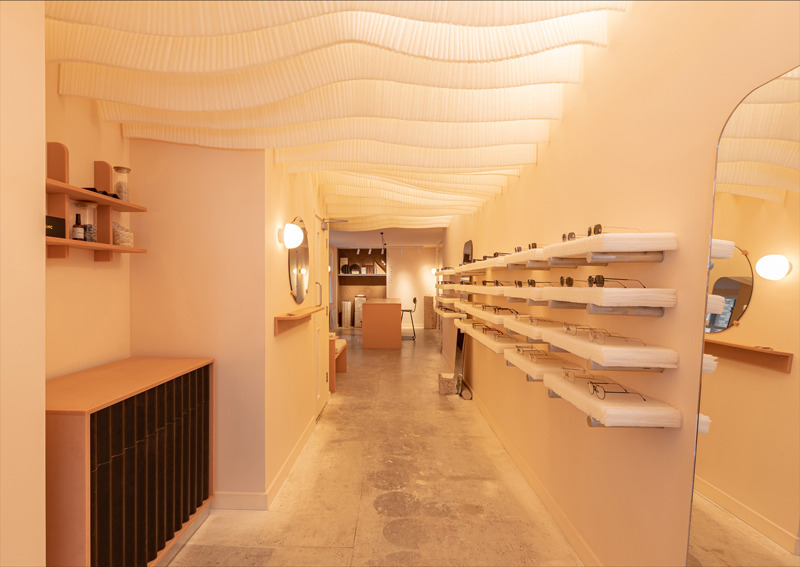 Surface Design Awards once again set a benchmark for global architectural design, receiving well over 130 entries from 12 countries. From the dozens of projects that were entered, a total of forty made the shortlist across the eleven initial categories. The winners of the categories were announced today during a breakfast ceremony on the final day of the 2023 Surface Design Show.
This year the judges were blown away by the quality of this year's entries, which led to a Surface Design Show first with the decision to crown not one but two entries as the Supreme Winners: Glade of Light by BCA Landscape, won the Landscape & Public Realm category and the Winner of the Commercial Building Exterior category was MONC by Nina + Co with Smile Plastics. 
Glade of Light is a living memorial to those who lost their lives in the May 2017 terror attack at Manchester Arena: a space for reflection and remembrance. The abstract design is an emotional response to the ineffability of sorrow and loss. It's a special place where people can briefly pause time, find a place of quiet and stillness in their busy lives, providing a space to reflect and linger a while.
MONC is a retailer selling sustainable eyewear and its debut store in Marylebone, London was designed with circularity in mind. Almost everything brought into the building was entirely bio-based or recycled. The furniture within the store is expertly built to last but can also be disassembled for re-use, recycling or return to the earth as nourishment. 
The differences of the two outstanding projects, a landscaped living memorial and a retail interior proved challenging for the judges, with strong opinions divided.  After a long debate it was decided that the only fair decision that they could make was to award the Supreme Award to both. The judges said of Glade of Light, "It is a special place, which creates a moment and makes you feel safe" whilst MONC was praised by the judges for "its powerful design with all the wow factor and beauty, yet still retaining a fantastic sustainability focus, something that we could all learn from".
Andy Thomson and Shivani Gunawardana from BCA Landscape were at the breakfast presentation to accept the award for Glade of Light, Andy said "It was a sensitive journey for everyone who worked on the project." Whilst Shivani explained "The materials played a really important part, from the Carrara marble to reusing the existing paving."
Amongst the team to collect MONC's award was Nina Woodcroft from Nina + Co who said about the project "Both the client and I were like-minded when it came to circularity. It was important that sustainable design decisions were made when it came to the materials and the way they were applied."
Other winners of the categories all had a strong sustainability message and stood out within their respective categories. The Commercial Building Exterior category was awarded to Design District Building D2 by Mole Architects, a two-toned compact and angular building which contributes to the vibrancy of the Design District in Greenwich. Knitted Eaves by Studio AVT Architects Pvt, was highly commended within this category.
One of the Supreme Winners, MONC by Nina + Co with Smile Plastics, also took the award in the Commercial Building Interior category. This project not only prioritised the reuse of regenerative materials, but they also created products with multiple lifecycles in mind, making disassembly easy by limiting the use of adhesives. This is a fantastic example of circular design.  
Andre Kong Studio's Stepped Loft won the category of Housing Exterior. An extension of a Victorian terraced house in south east London, this project features a series of stepped brick volumes, extruded to create a host of new rooms. The design asserts presence to the new level in a contemporary way, whilst still being sympathetic to the colours and materials of the existing house. 
This year the award for Housing Interior is shared between; Wiltshire Farmhouse, by Emil Eve Architects and Southwark Brick House by Satish Jassal Architects. The Wiltshire Farmhouse scheme demonstrated how a farmhouse kitchen was transformed using terracotta tiles both inside and out, which brings warmth to the new extension. The other winner in this category, Southwark Brick House, by Satish Jassal Architects, is a new-build which impressed the judges with its reuse of existing materials from the garage and the selection of other materials for their longevity.
In the Light & Surface Exterior, The Yards St Martin's Courtyard Terrace by Brimelow McSweeney Architects was highly commended, with the winner named as Knitted Eaves by Studio AVT Architects Pvt. This project uses unique and natural designs to create a pattern which has its own solidarity, yet works together in a combination depicting the process of hand-weaving and textile production.
For the Light & Surface Interior category, Sky Lantern House by Proctor & Shaw Architects took the prize. This whole house refurbishment and extension project looked to the rhythm of traditional dormers on an existing roofscape to inspire the radical transformation of a London home. Expressed externally as an assemblage of stacked luminous boxes, the rear extension evokes the ethereal quality of a floating 'sky lantern' at night. 
The Digi-Tech Factory by Coffey Architects won the Public Building Exterior category. Coffey Architects threw a delicate white mesh over a practical teaching block to give it a light, enigmatic and joyful touch. The external screen of white powder-coated aluminium mesh or corrugated aluminium unifies the building's form and modulates the interior and exterior environments. In short, this is a building of beautiful lightness and air. The Sutton Hoo visitor experience by Nissen Richards Studio was highly commended. 
The Public Building Interior category award was given to JivaSpa and Wellness Centre by Emil Eve Architects. Located in the Victorian cellars of the luxury Taj Hotel, the unique interior of this new wellness centre in London has been designed to complement the philosophy of Jiva's traditional Indian treatments and their local partner Temple Spa. 
Supreme Winner Glade of Light, by BCA Landscape, also won the award for Landscape + Public Realm. A contemporary memorial landscape with an emotional power and honesty, it has become a significant place in the heart of Manchester for the personal and communal process of remembrance, grieving and healing. 
The Temporary Structure category award was also shared between two practices. A Cautionary Bench/Mark by Andre Kong Studio was one of the recipients. This structure was built from reclaimed materials and is sat on two levels. The lower bench invites passers-by to sit and reflect, with the higher-level looming 2.6m above, predicting the water level expected during a severe tidal storm in 2030. Sharing the spoils is the River Book by Atelier YokYok. This a volumetric interpretation of the geography and the history of Jiaxing, a city in the northern Zhejiang province in China. Its design results in dancing swirls, enticing visitors to come closer. 
Introduced last year, The Architectural Photography award was won by Sanaa Aftab for their image of the National Museum of Qatar, 'A Deserts Rose' 
The Surface Design Awards 2023 Winners in full:
Supreme Winners
MONC – Nina + Co with Smile Plastics
Glade of Light – BCA Landscape 
Commercial Building Exterior 
Design District Building D2 – Mole Architects 
Highly commended: 
Knitted Eaves – Studio AVT Architects Pvt
Commercial Building Interior 
MONC – Nina + Co with Smile Plastics
Housing Exterior 
Stepped Loft – Andre Kong Studio 
Housing Interior 
Joint Winner: Wiltshire Farmhouse- Emil Eve Architects 
Joint Winner: Southwark Brick House – Satish Jassal Architects 
Light & Surface Exterior 
Knitted Eaves – Studio AVT Architects Pvt 
Highly Commended: 
The Yards St. Martin's Courtyard Terrace – Brimelow McSweeney Architects
Light & Surface Interior 
Sky Lantern House – Proctor & Shaw Architects
Public Building Exterior 
The Digi-Tech Factory – Coffey Architects
Highly Commended:
Sutton Hoo – Nissen Richards Studio
Public Building Interior 
Jiva Spa and Wellness Centre – Emil Eve Architects 
Landscape + Public Realm 
Glade of Light – BCA Landscape 
Temporary Structure 
Joint Winner: A Cautionary Bench/Mark – Andre Kong Studio 
Joint Winner: The River Book – Atelier YokYok 
Architectural Photography
A Deserts Rose – Sanaa Aftab 
For more information visit www.surfacedesignshow.com.
Share this story