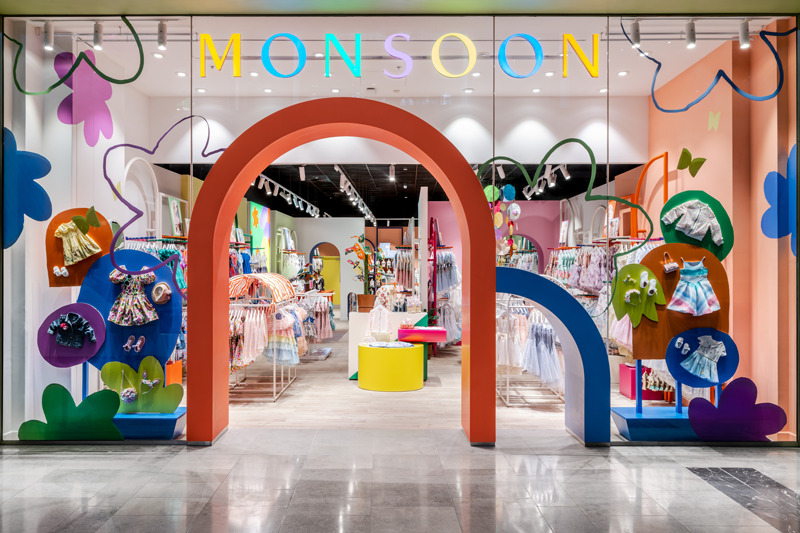 Monsoon is excited to announce the opening of its inaugural childrenswear boutique, in Westfield, Stratford City. Opening on March 1st, the new store is located on the Ground floor, in the heart of the childrenswear part of the centre. ​ 
The boutique is the latest in a series of new bricks and mortar openings for Monsoon, ​with the autumn 2022 openings of Bath and Edinburgh, the opening of Cambridge in January 2023, and many more new stores planned for key locations across the U.K. and Ireland this year. ​  
Opening in time for Monsoon customers to shop for Ramadan and Easter gifts, the boutique will be exclusively dedicated to Monsoon Children, selling the complete children's range, including partywear, outerwear and casual pieces, plus jewellery, shoes and accessories. ​​It will also stock key pieces from the premium magic-inspired party collection 'Land of Wonder' which launches today (Friday). 
Decorated in a bright neon palette, the design is derived from Monsoon's wider boutique design and shares the same visual narrative of craft and authenticity; reinvented through a child's eyes. Its playful yet practical features are designed to appeal to parent and child shoppers alike. From the eye-catching arched doorways (the large one is for the adult and the smaller one is just for children) to the spacious display areas and bright wall-hangings – this is a modern and appealing retail environment. ​ 
"It's a thrilling milestone for Monsoon Children to be opening a new concept store in Westfield, Stratford City," says Sara Maton, Head of Buying at Monsoon Children. "We are so excited to meet our customers in a new, bold and design-led environment." ​ 
Nick Stowe, CEO, said: "Monsoon Children has been thriving both in terms of its own evolution but also in terms of customer demand. The launch of its inaugural dedicated boutique is the natural next step in its progression, and I am really excited to see it continue to expand from here." 
The children's boutique forms part of a year of pivotal moments for Monsoon Children, including the lively rebrand of the website and digital channels and today's release of Land of Wonder. In autumn the brand is also set to release Monsoon Mini, a special casualwear collection in bold, contemporary prints which complement the new brand direction. 
Share this story