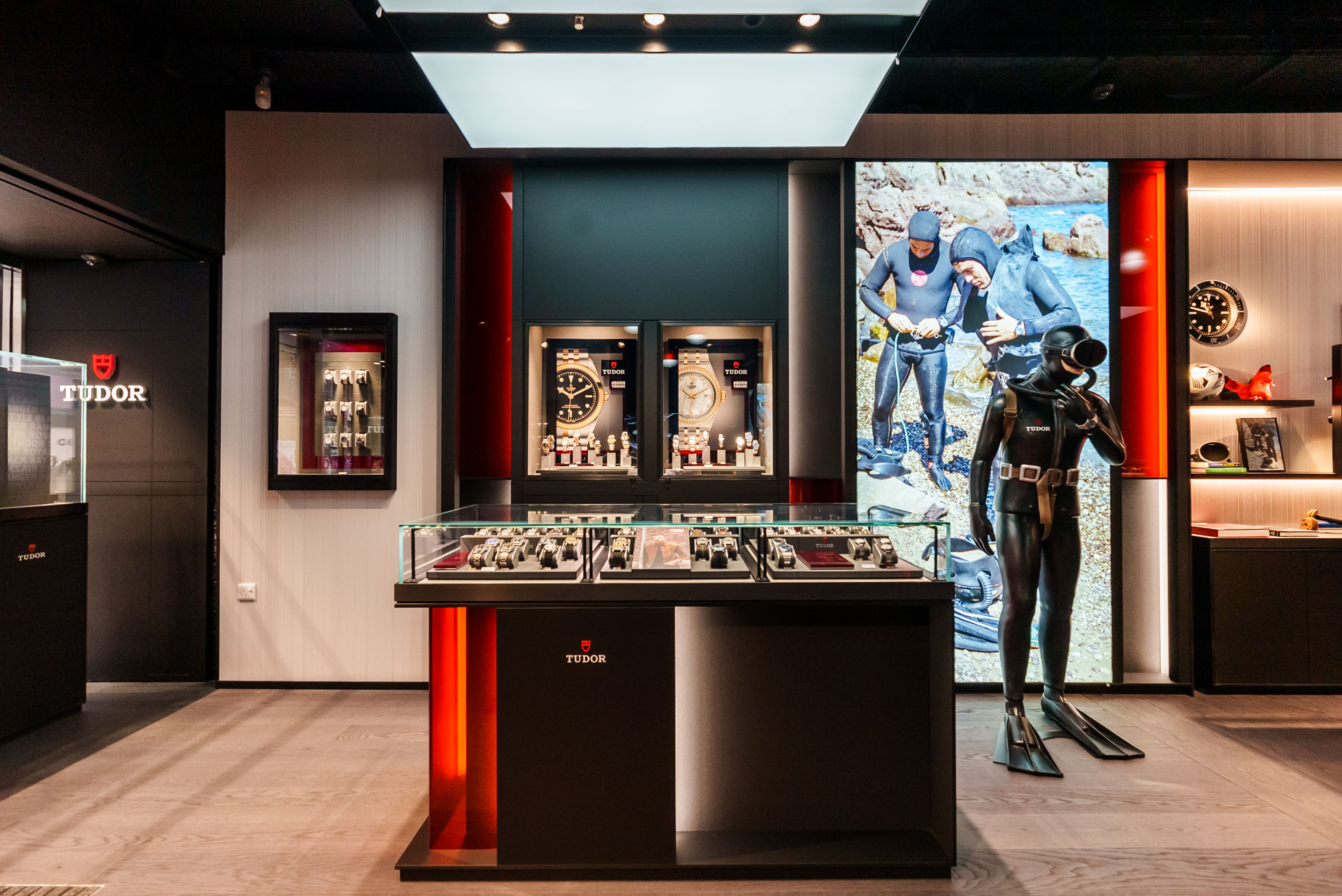 David M Robinson (DMR) is pleased to announce its partnership with TUDOR watches, opening TUDOR's first mono-brand boutique in Manchester.
The DMR TUDOR boutique opened its doors within the well-established St Ann's Square area of Manchester on Saturday 18th February. Identified as the real heart of the city, St Ann's Square is one of the most exclusive retail quarters in Manchester, where for years city residents gather to celebrate significant occasions. This opening marks the first TUDOR boutique to open in partnership with an independent retailer in the UK and celebrates the next chapter of the relationship between TUDOR and DMR, which began in 2014 when DMR became an authorised stockist of the brand.
John Robinson, Managing Director at DMR commented, "We are so proud to see this latest opening in the DMR portfolio, alongside our good friends at TUDOR.  We are the first independent retailer in the UK to enjoy this privilege and Manchester is the perfect choice for this fantastic boutique as a dynamic city that reflects the bold values of the TUDOR brand. Our helpful experts are excited to welcome in the city's shoppers to this amazing addition to St Ann's Square"
A TUDOR spokesperson stated, "Collaborating  with our long standing independent retailer, David M Robinson, to open the first monobrand TUDOR boutique in Manchester heightens TUDOR's presence in this lively and dynamic metropolitan city. Offering interactive in-store features, customers are encouraged to immerse themselves in the product which is reflective of the brand's ethos."
The DMR TUDOR boutique occupies 56m² of space across one floor making it the UK's second largest TUDOR boutique. The brand's identity is reflected throughout with red, black and grey colour accents combined with a mixture of high-quality finishes. These materials are used in a clean, streamlined and uncompromising manner. Satin-finish or brushed black, transparent red and structured white to create a vibrant and distinctive interior.
The TUDOR boutique will offer an exceptional range of men's and women's timepieces, including a range of classic, sport, diving and heritage inspired watches, as well as the exclusive Black Bay Fifty-Eight Bronze Boutique Edition which is available only at TUDOR mono-brand boutiques.
This boutique also features an interactive module highlighting the steps taken to produce the bronze case of the exclusive Boutique Edition Black Bay Fifty-Eight Bronze watch, as well as the opportunity to take a wrist shot with this model. Additionally, there will be a wall feature with a historical time line documenting the 60 years of TUDOR diving watches accompanied by a life size model of a combat diver.
In addition to uniting TUDOR's signature #BornToDare mentality with expert watchmaking, the new TUDOR boutique also boasts DMR's client-focused approach to luxury retail, greeting shoppers with the warm, friendly Northern welcome, which visitors to their showrooms have enjoyed since 1969.
The DMR TUDOR boutique is now open to clients at 2 St. Anns House, St. Anns Place, Manchester, M2 7LP.
Share this story