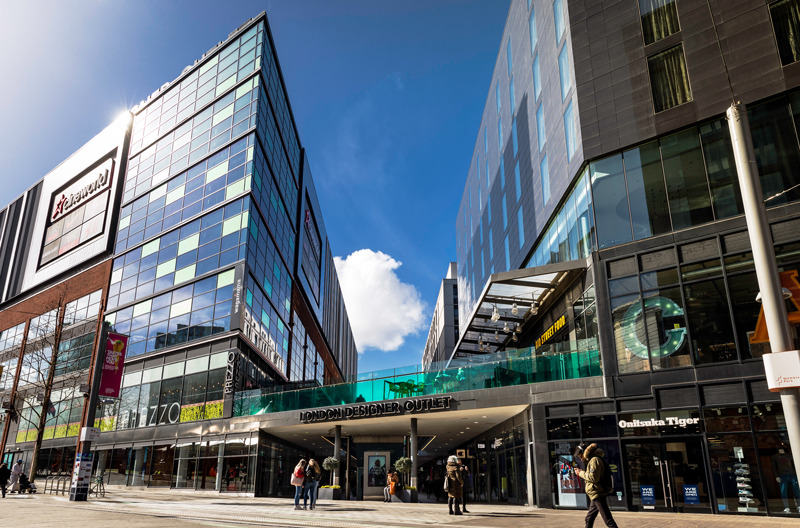 Kurt Geiger-owned shoe brand Carvela will open a 1,673 sq ft space at London Designer Outlet following successful trading at existing Kurt Geiger store at the Outlet
Additionally, The Cosmetics Company Store has taken a 1,387 sq ft space due to open towards the end of the month
The deals come as consumer trends continue to favour accessories and beauty, and build on the expanding premium womenswear offering at the North London retail and leisure destination
London Designer Outlet (LDO) has announced two new high-profile deals, with Carvela and The Cosmetics Company Store taking 1,673 and 1,387 sq ft of space respectively. The new stores will strengthen the womenswear and beauty offer at London's leading fashion and lifestyle outlet destination, an offering that has recently been reinforced through lettings and expansions by world-renowned brands such as Nike, Adidas, Tommy Hilfiger and Calvin Klein.
The Carvela opening follows the success of parent brand's Kurt Geiger store at LDO, which is one of the Wembley Park-based outlet's most successful stores by sales density. With a dedicated Carvela store stocking its own lines previously offered at Kurt Geiger, Kurt Geiger will have space to further expand its accessories offer.
The Cosmetics Company Store, which is part of the Estee Lauder Companies, will open at London Designer Outlet towards the end of the month. Corresponding to market trends favouring beauty and selfcare – the market has continuously grown since the pandemic and is expected to continue growing by 6.27% annually – The Cosmetics Company Store will reinforce the centre's beauty offer, which also includes stores such as The Fragrance Shop, Beaty Outlet and The Body Shop.
The new stores will be located on the upper floor of London Designer Outlet.
Matt Slade, Retail Director at Quintain, said: "Over recent months, we have seen a strong uptick in interest from accessories and beauty brands, as well as brands expanding on their offerings within these categories, such as Tommy Hilfiger and Next. We know that both beauty and accessories tend to perform well in times of economic uncertainty as consumers are drawn to accessible products at a lower price point. At the same time, these categories serve our diverse catchment well, as they can cater to a wide range of people.
"It is particularly exciting to see Kurt Geiger expand on its success by choosing to open a second store with us. Not only is this a testament to how commercially attractive London Designer Outlet is, but this particular letting will allow Kurt Geiger to utilise its existing space in the best way possible, with more of their latest lines and prime stock coming in already.
"This time of year is always the busiest period for us and as we approach the height of the Golden Quarter, we are pleased to welcome these two new brands."
Ross Warden, Chief Retail Officer at Kurt Geiger, said: "Opening a dedicated Carvela store at LDO is a great step forward for the brand, with this being our first Carvela outlet store in London.
"LDO offers consumers a unique shopping and leisure experience and we have already seen this translate into fantastic trading results in our Kurt Geiger store. By opening a second, stand-alone store for Carvela, we'll be able to optimise Kurt Geiger further, whilst giving Carvela the space it deserves to expand on the offer and provide customers more of our latest stock at fantastic discounts."
Share this story