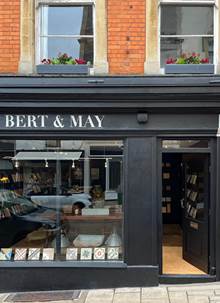 Specialist tile maker Bert & May is delighted to announce the opening of its new showroom in Bristol.
Bert & May designs and manufactures colourful and unique tiles using exceptional materials and fine craftsmanship. In opening a new showroom in Bristol, it hopes to better serve its clients in southwest England, and grow its customer base by complementing the current showrooms in London and York.
Bristol was selected as the latest location for the tile brand as the city and surrounding area is known for being a creative hub, championing design-led brands and eclectic independent shops. The city features attractive period properties, beautiful outdoor spaces and a thriving community. Bert & May is already working with many customers including interior designers and architects in the area and wanted to enable them to see the products in person and experience everything the brand has to offer first hand.
Bert & May's new showroom is located in Clifton Village, situated amongst its Georgian townhouses, independent shops and lively bars and restaurants. The showroom covers 550 sq. ft, showcasing the full range of Bert & May's contemporary and reclaimed tiles which are exhibited in a large, light-filled and colourful room. Bert & May experts will be on hand to offer design advice to customers, and there will be space to create mood boards of projects with samples from the collections. Bert & May will host regular events for customers within the space.
To celebrate the opening, Bert & May is also pleased introduce the new Clifton tile. Taking inspiration from the coloured facades of houses in Clifton, the new tile features a small scale chequerboard of squares in a soft palette of blues and warm neutrals.


The Clifton Tile
Founder Lee Thornley says, "We are delighted to be opening our third showroom in the vibrant city of Bristol. We have always loved the city for its creative vibe and abundance of independent retailers, artisan makers and creatives and we are looking forward to joining the community. This is an exciting new chapter for the brand; we look forward to welcoming existing customers and meeting new ones, helping them to update and renovate their homes with handmade tiles."
Share this story