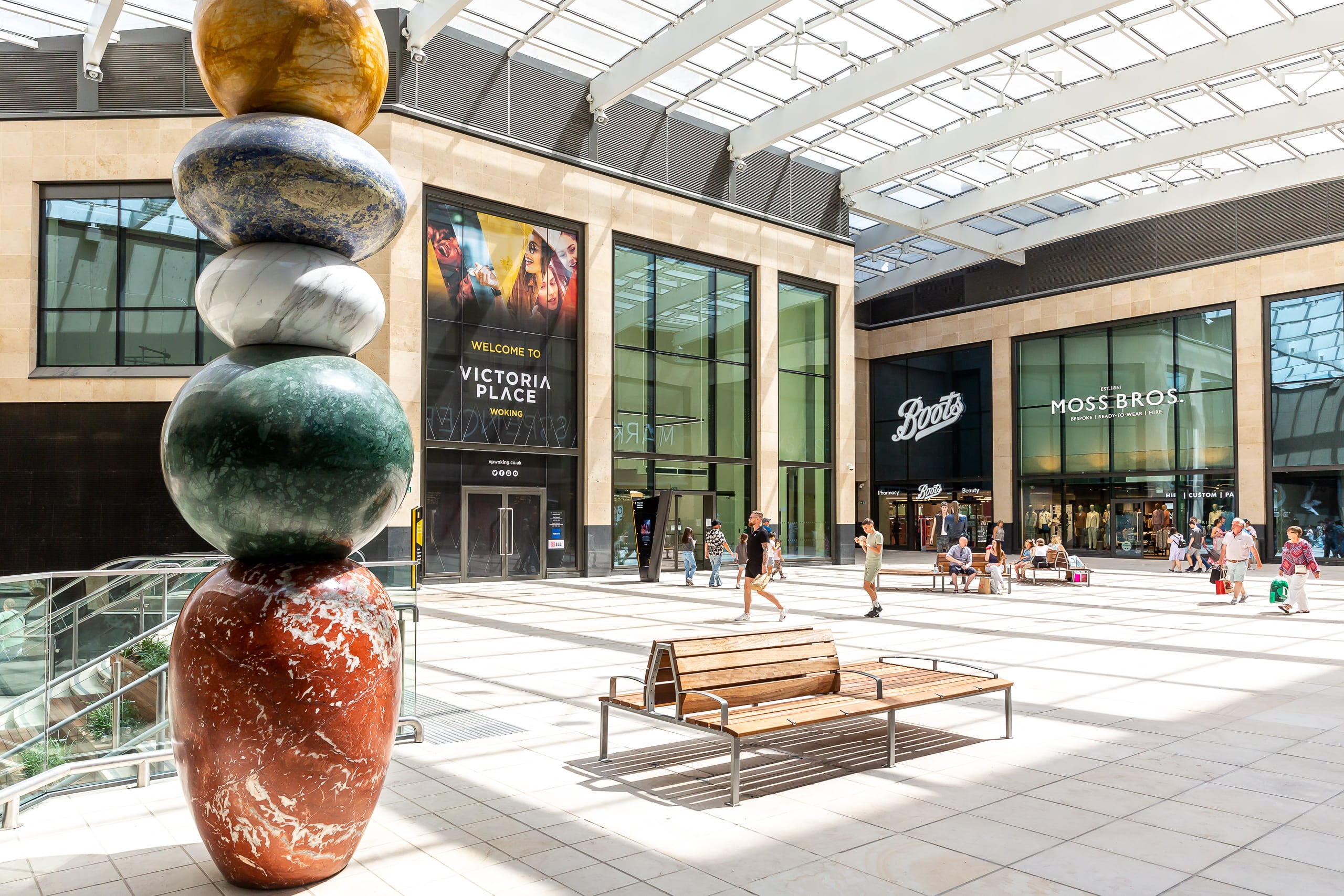 Victoria Place, the most significant regeneration initiative in Woking town centre for a decade, is set to be the home of hmv's newest store.  The British music and entertainment retailer is to make a welcome return to the destination in March in a 3,982 sq ft store at 46-47 Jubilee Mall in Peacocks, which was recently acquired by Arora. The announcement marks an important milestone for Victoria Place as the initiative approaches one year since its official launch, since which it has welcomed a number of leading retail and F&B brands.
hmv, which is owned by parent organisation Sunrise Records and has been trading for over a century, is to open in the former Topshop in the heart of Victoria Place.  With over 12,000 different products on offer, the new store is set to become the perfect place for fans of pop culture to browse and discover new items. Music fans will be able to browse 3,000 different vinyl albums and 2,700 different CDs. The shop will also stock close to 3,000 films and TV shows on 4K Ultra HD, Blu Ray and DVD, as well as over 2,500 pop culture products and 300 different t-shirt designs. The brand's success follows a continued uptick in vinyl sales, with the UK seeing an increase for 15 consecutive years up to 2022.
Phil Halliday, Managing Director at hmv, commented: "hmv has a long history of offering performances from grassroots artists and bands in its stores through the hmv Live & Local programme and we're looking forward to continuing this tradition in Woking at Victoria Place, showcasing some of the best talent the area has to offer."
The news of hmv's return to Victoria Place follows a sustained stream of success at the £700 million regeneration scheme as it celebrates one year since its launch in 2022. The signing of the popular music and entertainment retailer is preceded by the arrival of several key brands, including formalwear specialist Moss Bros., footwear retailer Skechers, and artisan bakery GAIL's. The official opening was anchored by the entrance of leading British retailer, M&S's regional flagship location, taking 50,000 sq ft over two floors.  Victoria Place has also seen strong performance in the leasing of The Marches, the destination's vibrant new build-to-rent community, with 80% of apartments now leased.
Councillor Ann-Marie Barker, Leader of Woking Borough Council, added: "Victoria Place puts the community first, and the addition of hmv is no exception to that. It is important to us to cater to all of a consumer's needs, and the series of leading brands that have committed to the destination since its launch last year is evidence of our dedication to revitalising the town centre. We are proud of Victoria Place's sustained success and look forward to seeing the destination continue to evolve into a diverse and popular retail and leisure destination."
Sanjay Arora, Chief Operating Officer and Head of Property at Arora, said: "We are thrilled to have hmv joining the Peacocks Centre. As the proud new owners of the centre, we look forward to welcoming in many more brands such as hmv to enhance the customer's shopping experience and to make Woking a desirable choice for shoppers."
JLL and Nash Bond acted for Victoria Place.
Share this story