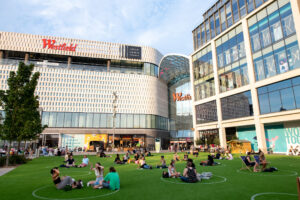 Bar W12 & Film Club to open on the Square at Westfield London.
Bar W12 returns to Westfield Square serving summer drinks to enjoy al fresco

Boat pods and giant bean bags are bookable for all screenings

All films and sporting entertainment is free to view for shoppers
Westfield London is reopening its Bar W12 and Film Club on Westfield Square this summer, screening family favourites and date night classics outdoors in West London. Opening on Monday 21st June with films running Thursday through to Sunday, the Square has bookable boat pods with table services from Bar W12 and giant bean bags to kick back and relax in after a day shopping. In addition to movie schedule, Westfield Square will host screenings of Wimbledon and the Olympics in partnership with official Olympic partner, Ocean Outdoor. 
Bar W12, will serve summer drinks from Westwood for guests to enjoy al fresco on days and evenings out this summer with a hot dog truck and ice cream van on hand for movie snacks. Thursday date nights will screen a selection of romcoms with Saturday and Sunday matinees dedicated to animated classics. To make the most of the sunshine Ichiba, All Star Lanes and Westwood all have extended outdoor seating so everyone can enjoy great dishes of food outside on the longer summer evenings.
The Wimbledon semi-finals and finals will be screened from the 8th – 11th July so grab a deck chair and enjoy the matches. Ocean Outdoor, Team GB's official media partner, will host a takeover of Westfield Square from Friday 23rdJuly for the duration of the Olympics, celebrating incredible medal moments and bringing fans closer to the action.
All film viewings will take place in line with government guidelines for social distancing. Deckchairs are readily available for all guests. To book a boat or family bean bag visit the Westfield London website. Westfield London teams will be monitoring the site at all times to encourage visitors to respect government guidelines and social distancing.   
Bar W12 and the outdoor cinema will welcome visitors until Sunday 12th September.