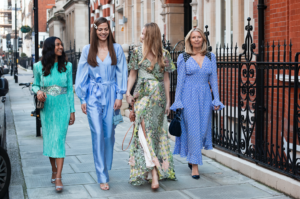 This summer, Westfield London is partnering with the first fashion rental app, By Rotation, to host the brand's first ever physical pop-up store. The platform will welcome its online community in person at the store located in Europe's largest shopping centre, running from 1st – 12th July. As well as showcasing top items from the app, By Rotation will also be hosting panel discussions, workshops and sustainability masterclasses.
 By Rotation, founded by Eshita Kabra-Davies in 2019, allows users to lend and rent their wardrobes with ease. Eshita started the platform determined to transform the way fashion is consumed, enabling consumers to do good for their wardrobes, their wallets and the planet all at the same time. The app, which has been likened to the Instagram of fashion rental, now has over 70,000 users from all over the UK.
The 3,300 sq ft store, located amongst some of Westfield London's most popular fashion retailers, will showcase a full collection of garments and accessories available to rent in an apartment-style space, as well as rentable furniture and homewares from Studio Arva, celebrating the opportunities for the rental market across consumer's homes and lifestyles. Westfield's recent How We Shop: What's Changed report unveiled the appetite for rental continues to grow, with interest in renting furniture up from 19% to 23% year on year and clothing up from 22% to 27% as consumers become more accustomed to a rental mindset. Londoners in particular are jumping at the opportunity of renting, being almost twice as likely to rent vs the rest of the UK (40% vs 25%).
Popular brands including The Vampire's Wife, Rixo and Ganni will be showcased in the pop-up with prices starting from as little as £3 per day. The By Rotation community will come together in the workshop space within the store, where the platform will host masterclasses in leading a more sustainable, stylish lifestyle, including flower crown sessions with My Lady Garden and tablescaping sessions with Vaiselle Boutique.
Harita Shah, Marketing Director UK and Creative, Media, Events, & Brand – Europe, Unibail-Rodamco-Westfield comments: "We're delighted to host By Rotation's first physical pop-up at Westfield London this July. We helped pioneer the fashion rental trend with the first fashion rental store, Style Trial, in the UK back in 2017 followed by The Drop, in 2018 and A Very Rental Christmas in 2020. Our partnership with By Rotation builds on our legacy of the rental retail trend which will continue to grow, with 50% of high income shoppers wanting to rent product rather than buy. We love the concept of keeping your wardrobe fresh and style on point whilst being friendly to the planet so look forward to our shoppers browsing and renting the full By Rotation collection in real life this summer."
Eshita Kabra-Davies, Founder of By Rotation comments: "I'm so excited to bring our By Rotation community together at last in real life at Westfield London. We're building an extremely special network of lenders and renters on the app, and I know the pop up will extend this further, inviting a new audience into our space to see the fantastic opportunities rental fashion can provide, meeting like-minded people through our workshops at the same time!"
Info on the By Rotation events can be found  via the Westfield London website. For more information on the store please visit https://uk.westfield.com/london