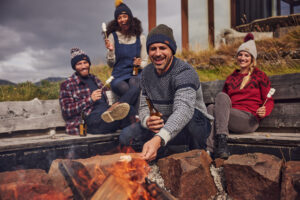 Tewkesbury-based clothing brand Weird Fish has debuted its first-ever TV advert as part of its ongoing digital transformation journey.
The new 30-second advert appears across Sky channels and showcases the brand's new winter collection – 'For Life's Adventure'. The advert is shot all over the south coast of Iceland, in locations including the Solheimajokull glacier and the black sand beach in Vik.
The storyline follows two couples on a weekend escape across Iceland, putting Weird Fish clothing to the test against the elements while embarking on various adventures – from exploring icy glaciers and black sand beaches to enjoying cosy evenings socialising by a campfire.
Ben Mercier, Customer Director at Weird Fish commented: "The decision to launch our first ever TV advert forms part of our commitment to driving a digital-first approach and exploring different ways to reach our target audiences.
"We've seen video consumption skyrocket since the pandemic, with Ofcom recently reporting that Brits spent a third of their waking hours watching TV or online videos in 2020. Last year, we introduced a new YouTube channel alongside dedicated video brand awareness campaigns across our social networks, and the results spoke for themselves – with 192K people viewing our most recent Autumn video. We pride ourselves on creating strong imagery, but video gives our customers something a bit extra as they can see our products 'move' in fun, real-life settings.
"Our new TV advert marks the next step in promoting our collections through this popular medium, helping us reach new customers while staying true to our values of offering well-made, distinctive clothes that instantly become feel-good favourites."
Weird Fish has introduced various new initiatives as part of its significant digital investment over the past year, including a website design overhaul and the introduction of a new customer management platform in 2020. As a result of its investment, Weird Fish saw a +84% ecommerce sales uplift and increase in website traffic from 4 million to 7 million between 2019 and 2020.
The new advert will run for 28 days across Sky channels via its audience targeting product, AdSmart.
For more information about Weird Fish, visit www.weirdfish.co.uk.