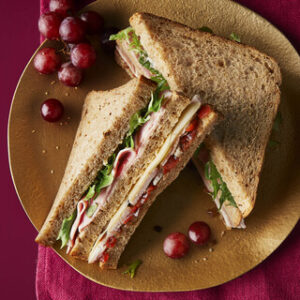 If you're ready to enter into the Christmas spirit, Waitrose are 'spreading' the Christmas cheer with the launch of their festive sandwiches, which are great for on-the-go feasting or if you fancy something a little different while working from home.
The new Vegan No Lobster Marie Rose Roll (£3) is a vegan brioche-style roll filled with roasted king oyster mushrooms, vegan Marie Rose sauce, semi-dried tomato and lovage. For the vegan brioche-style roll we worked with modern bakery techniques and ingredients, with oat milk and vegetable glaze providing the colouring of the roll that is synonymous with this style of Viennoiserie.
The new Smoked Salmon, Egg & Truffle Sandwich (£3.80) is made with Scottish smoked salmon, free-range egg mayonnaise and a mushroom and truffle sauce, packed between two slices of light rye bread. The sauce within the sandwich consists of black summer truffles which create a rich but utterly irresistible flavour making this sandwich a great lunchtime treat as we head into Christmas time.
Last but no means least Waitrose have their take on The Club Sandwich (£3.50). Within the three slices of soft malted bread there is succulent British turkey breast, Wiltshire ham, Emmental cheese and a tangy sherry & onion chutney – this new sandwich offers the perfect combination of flavours for the ultimate festive feeling.
Rebecca Neale, our Christmas Sandwich Developer, said: "This Christmas our customers are looking to get into the spirit early, and we think our sandwiches are the best thing since sliced bread to help us all get into the Christmas mood! Over the last year, with lockdown restrictions preventing us from going anywhere, our food-to-go range hasn't had the love it deserves, however with plans now back in our diaries, our new range of Christmas sandwiches are perfect for everyone wanting to enjoy those festive flavours on the move."
In addition to the sandwiches, and ideal for those looking for a little snack, new for this year they have Scottish Smoked Salmon Pâté with Breadsticks (£2) – Scottish smoked salmon pâté with crème fraîche, soft cheese, lemon and parsley paired with crunchy sea salt and black pepper breadsticks.
For those with a sweet tooth, they now have a dessert in their food-to-go range. New for this Christmas is the Double Chocolate Honeycomb Pot (£1.50). Made with West Country cream and milk, this indulgent dessert has creamy chocolate mousse layered with smooth, glossy chocolate sauce, gooey chocolatey brownie pieces and crunchy chocolate coated honeycomb.