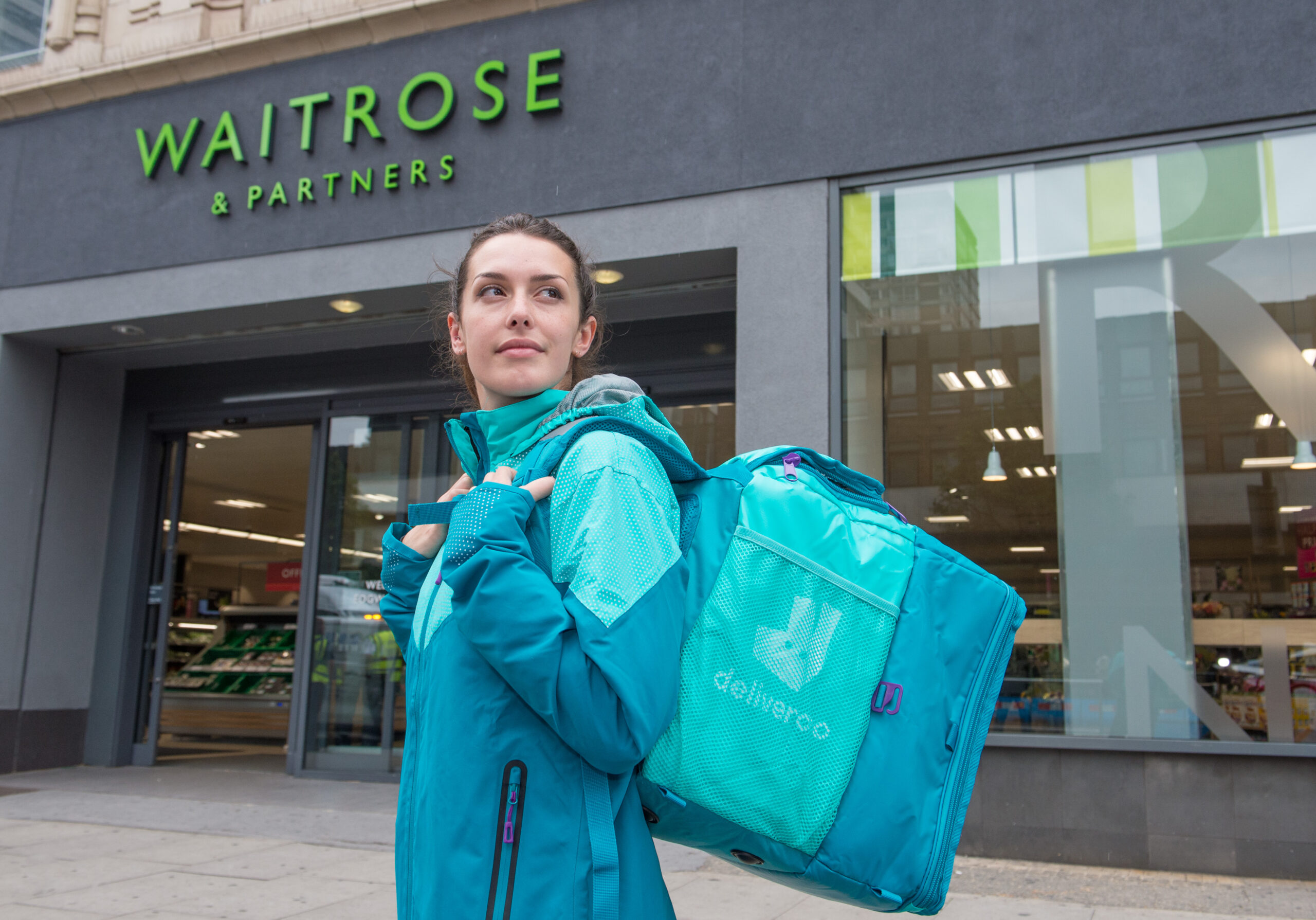 Image © Fiona Hanson 2020.
Waitrose is expanding its partnership with Deliveroo and will be trialling Deliveroo Hop, the rapid delivery service that brings groceries to customers' doors in as little as ten minutes.
Deliveroo launched Deliveroo Hop in September 2021 with the aim to complement the company's existing on-demand grocery service and provide an improved consumer experience, in partnership with major grocery partners.
The first 'Hop' delivery-only store, in partnership with Waitrose, will open in Bermondsey later this month.
The store will give rapid on-demand access from 8am-midnight each day to Waitrose products in as little as ten minutes, which is in line with the current quickest delivery time within the rapid food delivery market.
Shoppers will be able to use the Deliveroo app to choose from more than 1,000 Waitrose lines.
Ready meals, free-from and vegan ranges, prepared fruit and vegetables, meat and fish, snacks and store cupboard staples will all be available, as well as, wine, champagne, flowers and seasonal foods.
The trial builds on Waitrose's existing partnership with Deliveroo, which delivers food from 150 Waitrose shops across the UK in as little as 20 minutes.
James Bailey, Executive Director, Waitrose said:
"It's important that we continue to evolve along with shopping behaviour to give our customers more options for how and when they want to shop with us. Deliveroo has given us more flexibility in meeting customers' needs and expanding our successful partnership to trial 'Hop' gives us an exciting opportunity to introduce more new customers to the excellent food and drink we offer."
Carlo Mocci, Chief Business Officer UK&I, Deliveroo said:
"We are delighted to announce that Waitrose will trial Deliveroo Hop, our new rapid grocery service.. Deliveroo Hop complements our existing on-demand grocery service and will build on our successful partnership with Waitrose, improving the consumer experience and bringing a wide range of groceries and household products to consumers' doors in as little as 10 minutes."
To show its support to the local community, Deliveroo will donate surplus food from the stores to The Felix Project as part of its Full Life campaign. The campaign launched last year with a pledge to deliver one million meals to families in need as part of Deliveroo's commitment to support local communities across the country.