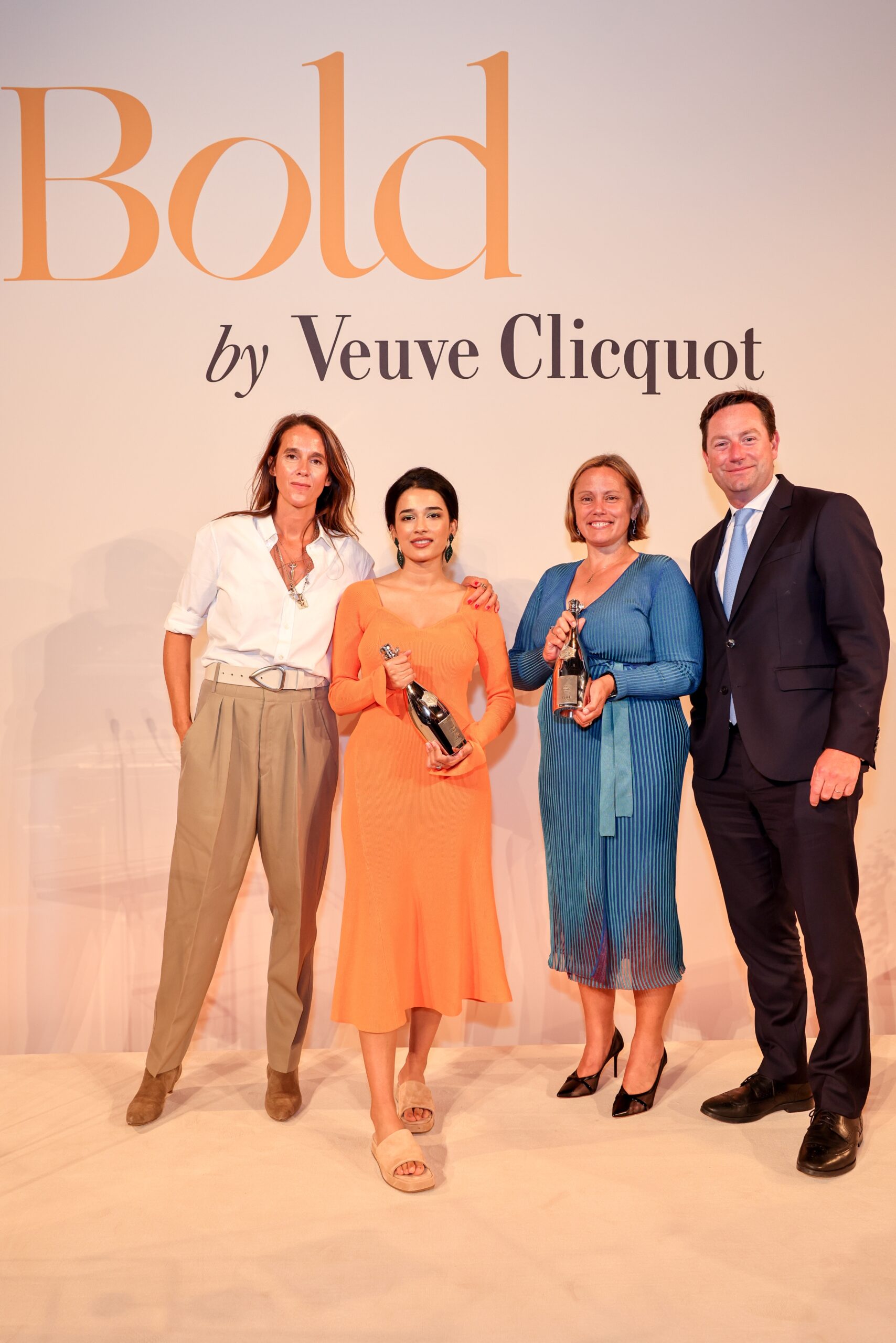 Image L to R: Carole Bildé, Chief Marketing & Communications Officer at Veuve Clicquot, Mursal Hedayat, Co-founder and CEO of Chatterbox, Melanie Smith CBE and Alexei Rosin, MD Moët Hennessy UK. Photo by David M. Benett/Dave Benett/Getty Images for Veuve Clicquot.
     Mel Smith CBE, former CEO of Ocado Retail, named the 50th Bold Award winner by Veuve Clicquot
     Mursal Hedayat MBE, co-founder of tech social enterprise business Chatterbox, wins Bold Future award
Mel Smith CBE has been named winner of the 50th annual Bold Woman Award by Veuve Clicquot, as the former Ocado Retail CEO was recognised for her outstanding leadership over the last three years.
Veuve Clicquot's Bold Woman Awards showcase the achievements of audacious and innovative female entrepreneurs, giving them visibility in a world historically dominated by men. Previous winners include: COVID-19 vaccine developer Professor Dame Sarah Gilbert, renowned architect Dame Zaha Hadid and Selfridges Group Managing Director, Anne Pitcher.
Mursal Hedayat MBE, founder of Chatterbox, has won the Bold Future Award by Veuve Clicquot, which celebrates female entrepreneurship and up and coming leaders. Chatterbox is a corporate language training provider, helping companies like the British Red Cross, BNP Paribas and Unilever provide language learning services to staff. The employees are taught by coaches from marginalised communities such as refugees. Judge's praised Mursal's demonstration of entrepreneurial daring – in just six years, Chatterbox has raised more than £2m in investment and works with the world's leading organisations. Judges were also impressed by Mursal's commitment to championing better representation – a former refugee herself, Mursal came to the UK as a child from Afghanistan and has become a leading proponent of encouraging refugees into skilled work.
Mel Smith impressed the Bold Award judges with her inspired stewardship of Ocado Retail, which under her leadership became the UK's fastest-growing grocery retailer. She recently stepped down as CEO after spending three years at the company's helm, having overseen the initial setup of the joint venture between Ocado and Marks & Spencer. Moving from a partnership with Waitrose to a joint venture with M&S, Mel led the largest change in range of any UK retailer, with Ocado switching out over 10% of its product range overnight. Judges praised her tremendous vision for the firm, which resulted in Ocado increasing its market share by over 40%, as well as her leadership during the COVID-19 crisis, when she personally directed the firm's strategy to keep the UK fed during the early phases of the pandemic.
Veuve Clicquot has a long-standing commitment to female leadership, which began in 1805 with Madame Clicquot, a trailblazer who took over the reigns of the House after her husband's passing, securing its success against all odds. This year marks the 50th year in which Veuve Clicquot has formally celebrated the Bold Woman Awards, honouring the legacy of Madame Clicquot, with alumni past and present reflecting her tenacity across the centuries. The awards have celebrated historic landmarks throughout the past half century, with former winners including Debbie Moore OBE, who was the first woman to float a company on the stock exchange in 1982 and Dame Marjorie Scardino DBE who was the first female boss of a FTSE 100 company when she was appointed at Pearson in 1997.
Jean-Marc Gallot, President of Veuve Clicquot, said: "For the last fifty years, Veuve Clicquot has celebrated trailblazing female leadership and we have shone a spotlight on some of the UK's most inspirational leaders. The winners this year are no exception. Mel Smith and Mursal Hedayat each emulate the entrepreneurial daring of Madame Clicquot herself, but they also represent those characteristics we can expect to see from successful leaders in the coming years, from pushing boundaries and achieving tremendous growth to fostering better representation for women at all levels."
Mel Smith CBE, winner of the BOLD award 2022 said: "I am thrilled to have been awarded the prestigious Bold Woman Award, an achievement I dedicate to the women and men who have provided support, guidance and allyship throughout my career. I believe in the power of curiosity, bringing my best self, and daring greatly. I hope that resonates and inspires the next generation of female and indigenous leaders in retail and beyond."
Mursal Hedayat MBE, co-founder of Chatterbox and winner of the BOLD Future award 2022 said: "I am honoured to have won the BOLD Future award and thrilled to have my name mentioned alongside that of some utterly trailblazing previous winners. The world of entrepreneurship remains unduly hostile to female founders and I am immensely grateful for this honour, and the visibility it brings.
"Platforming mine and Chatterbox's work to integrate refugees and career re-starters into the workforce as language coaches supports our efforts to smash glass ceilings for professionals marginalised for reasons beyond their gender – which means the world to me. Thank you to the BOLD judges for bringing us into the spotlight."
The awards continue to take inspiration from a woman whose innovative thinking and creativity led to entrepreneurial success, Madame Clicquot, with judges considering whether candidates emulate her enterprising spirit and courage, transforming the business landscape and creating opportunities for other women. The judging panel is comprised of a mixture of industry titans and networkers including, Lorraine Copes, founder of Be Inclusive Hospitality, Pip Jamieson, founder and CEO of The Dots and Kristina Blahnik, CEO at Manolo Blahnik.
Share this story