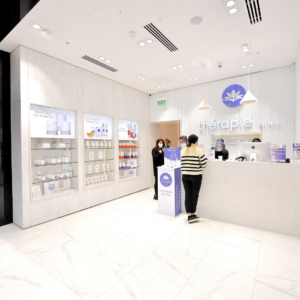 Thérapie Clinic, the provider of laser hair removal and aesthetic treatments, is set to open its doors at the Trafford Centre this October. The multi award-winning Thérapie Clinic have cemented their reputation as Europe's number one medical-grade laser and skincare specialists and are now focusing on expanding their availability nationwide with over 55 clinics and over 200 Doctors.
Located on lower Regent Crescent, this new clinic will be adding to the beauty and wellness offering already available at the centre.
The family-run aesthetic clinic offers a wide range of the most advanced and high-tech, non-surgical treatments for the skin and body at the most competitive prices on the market and have a treatment for all cosmetic needs.
Thérapie Clinic also provide an extensive range of advanced skin treatments to cater to individual skin types and concerns, delivering amazing results. Thérapie Clinic have invested in the very latest FDA-approved technology to deliver measurable results for their clients. Their experienced medical team have delivered more than five million treatments, a volume that has enabled them to offer their services at accessible and affordable prices.
The new clinic will feature 13 private treatment rooms, 3 consultation rooms with 10 practitioners onsite daily for visitors to book in with. The brand will also be offering a range of different introductory offers throughout September.
Rhys Evans, Director of Asset Management at Pradera Lateral said, "Thérapie Clinic is an excellent match for the Trafford Centre and we're certain that our visitors will be excited to hear of its arrival. It's great for the centre to be adding to its roster of wellness and aesthetics offerings and the new treatments that Thérapie Clinic offers will add a point of difference. We look forward to announcing more new and exciting brands arriving at the Trafford Centre soon."
Phillip McGlade, CEO at Thérapie Clinic said, "We're delighted to be opening a clinic at the Trafford Centre; this will be a big year of growth for Thérapie Clinic, and we could not think of a better location for our brand. Being a family run business, we thoroughly research each location in order to ensure our values are aligned and that is certainly clear with the Trafford Centre."