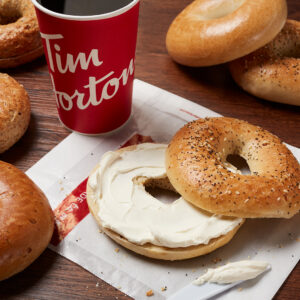 The international chain of fast-food restaurants will occupy the 1,921 sq ft unit in Market Street from April
Manchester Arndale has announced that international fast-food chain Tim Hortons® will be moving into a 1,921 sq ft unit on Market Street in April.
Founded by National Hockey League Legend, Tim Horton, in 1964, the Canadian-based outlet expanded into the UK in 2017 and has grown to 50 restaurants located across the country.
Famed for its Canadian charm, the new Tim Hortons restaurants will be open round the clock from 6am until midnight, seven days a week. The menu will feature best-selling items, including Timbits®, Iced Capps, Freshly Baked Donuts, Tims® Crispy Chicken Sandwich, beef burgers and hot dogs. The Timmies Minis® kids meal range will also be available offering great choices for families in the city centre. Offering a wide menu throughout the day, the restaurant will also cater for those observing a halal or vegetarian diet.
The arrival of Tim Hortons will further add to Manchester Arndale's diverse mix of F&B outlets, which ranges from coffee shops and cafes to international restaurant chains and emerging local operators.
Colin Flinn, spokesperson for Manchester Arndale said: "Our goal is to create a diverse tenant line-up for Manchester Arndale, and this letting to Tim Hortons has helped us to increase the mix of F&B outlets and strengthen our position as a premier destination in the North West.
"We continue to be excited by how many people are returning to Manchester Arndale and have been delighted to announce a series of strong new openings with a range of popular aspirational and innovative brands. We look forward to sharing more positive news over the coming months as we continue to widen our occupier base."
Kevin Hydes, Chief Commercial Offices of Tim Hortons added: "Having first opened our Manchester restaurants over four years ago, we've been very keen to bring our brand in to the heart of the city. Our fans have been equally supportive of this venture! With a strong focus on quality, great value options, we feel our restaurant works perfectly in this buzzling area. We can't wait to welcome our fans, and new guests alike!"
Metis Real Estate and Time Retail Partners are Manchester Arndale's retained letting agents.