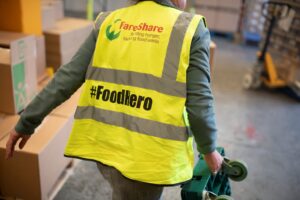 Around 200,000 meals have been donated to families and individuals in need across the South of England thanks to members of a regional co-operative.
Southern Co-op is saying thank you to its members and customers who have used its food or funeral services and enabled funds to be donated to FareShare. The total donated to the charity is currently just under £75,000.
The praise comes during Co-op Fortnight which kicked off on Monday 21 June and will see co-operatives across the country celebrate the impact their members have had on society.
The donations were split between FareShare UK and four of its regional centres; FareShare South West, FareShare Kent, FareShare Southern Central and FareShare Sussex. Together, they reach organisations and families across Bristol, Somerset, Wiltshire, Gloucestershire, Devon, Cornwall, Kent, Surrey, Sussex, Hampshire and Dorset.
Holly Bramble, Southern Co-op's Community and Campaign Co-ordinator, said: "As a co-operative, every time someone buys their groceries from us or gets support from one of our funeral homes, it could be adding to the pot of money which gets donated to charities.
"Over the last year, FareShare has become a name that is instantly recognisable as a charity which has helped so many people struggling during the pandemic. Their networks have made such a difference. Thank you to our customers and members who have enabled this support of such an incredible cause."
International Day of Co-ops falls at the end of Co-op Fortnight on Saturday 3 July.
In Kent, the BeChange community hub operating in Aylesham, Canterbury for over 23 years is being supported by FareShare Kent.
During normal times BeChange runs workshops, clubs, and classes to support people dealing with issues ranging from financial difficulties to health problems. As the pandemic worsened, the charity began operating a thrice-weekly meal delivery service, dropping off five full meals per week to around 120 people across the community.
Angela Doggett, Chief Executive of Bechange, said: "We had to learn a lot very quickly about food hygiene, how to pack a box and transport it safely, and we've been running this while still doing our regular support work remotely.
"Financially, for some people, they didn't know how they'd be able to feed themselves. There are a lot of people who were just managing before and this has pushed them over that edge.
"The food from FareShare has been brilliant. It's allowed us to cook so much more on our budget. We've been able to make our funding stretch so we could keep going with the food deliveries for longer. And it's allowed us to dedicate more time to applying for funding for our other work."
For more information on Southern Co-op's community support, visit www.thesouthernco-operative.co.uk/love-your-neighbourhood/.