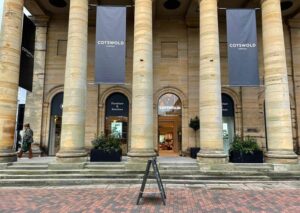 The Cotswold Company, renowned for its high-quality furniture and homewares, has opened its seventh store in Tunbridge Wells and the second to open in just three months. The site is the brand's largest in its new format, designed to provide an inspirational retail destination.
Having launched this in-store format in late 2021 with its Leamington Spa store, the new Tunbridge Wells location embodies The Cotswold Company's brand ethos and retail strategy, which brings a focus on the individual customer and promises that guests are transported to lived-in, homely spaces, imbued with the same charm as the brand's products.
The store itself is 13,000 square ft., with 20 rooms spread across two floors. In this space, a multitude of styles and rooms can be catered for, ensuring a wider variety of Cotswold Company products are showcased.
The space includes all the room set-ups one would expect, including two kitchen areas, four dining spaces, six living rooms and six bedrooms. There is also a mattress testing zone, where shoppers can try out various mattresses from The Cotswold Company's British-made Pure Natural Collection of mattresses and brand-new pillows.
Speaking of the store's opening, Lisa Coppin, Creative Director at The Cotswold Company stated: "We are thrilled to have opened our second store in three months and the new Tunbridge Wells location is simply a stunning retail destination. The site is also testament to The Cotswold Company's commitment to physical retail spaces, which act as the lifeblood of the British high street. As the brand goes from strength to strength and introduces more and more new products, it's important we have these locations in which to create a memorable experience for customers that is warm, inviting and homely – the qualities and values that lie at the heart of the business overall."
The Tunbridge Wells store is open now. For those who cannot make the journey, the stores can be accessed through a one-way video call that allows a virtual tour of the stores, closer inspection of product or to answer any specific questions accessible on The Cotswold Company's website (www.cotswoldco.com).