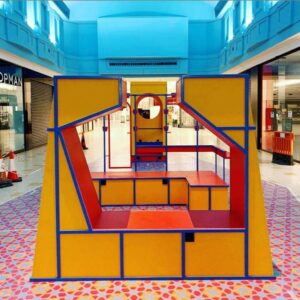 The Beacon in Eastbourne is leading the way in a bold national strategy by owners Legal & General to reinvent and reimagine its retail assets, futureproofing them for the long-term.
A new range of dynamic and innovative initiatives will be introduced to move away from the traditional retail model. The first phase will see the public corridors of The Beacon transformed into four areas representing the hamlets where the modern town of Eastbourne began to emerge in the late 19th century.
The hamlets of Bourne, Southbourne, Meads and Sea Houses, will each have bold custom designed structures, all of which will be linked by a vinyl "stream" that runs through the centre.
This will represent the "burne", or stream, which rose in Old Town and flowed through the town centre, most probably underneath The Beacon as we know it today.
The written narrative at each of the hamlets has been supplied by Eastbourne Borough Council's Heritage Manager, Jo Seaman, to ensure its accuracy.
Included in the story of Eastbourne will be characters from the world classic novel Animal Farm, written by George Orwell who attended school in the town between 1911 and 1916.
As a long-term investor, Legal & General is looking well beyond the next 24 months; its retail programme is already being prepared for roll out across a number of other UK locations. Whilst a blueprint, it's not a 'cookie cutter' approach: each curated offering will depend on the local community's wants and needs.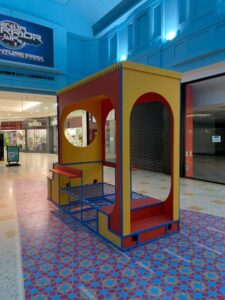 Denz Ibrahim, Head of Retail and Futuring for Legal & General Investment Management, is leading the strategy to reinvent retail.
He said: "Changes in consumer needs mean that the retail sector in the UK has seen a shift in recent years. Covid has exacerbated those challenges that the industry already faced. Customers now want much more from their local shopping centres, beyond just shopping. They want places full of energy and now, more than ever, want better services, more memorable experiences and a wider variety of offers. They want a space curated for them and their community.
"We are super excited to begin these changes in The Beacon, and we're kicking off with the forgotten corridors. We believe these are the forgotten heart of centres that need bringing back. Our brand-new take on the public realm, by re-imagining its form, function and design, will create a new place which flows through the centre for people to play, meet, eat and relax. This public realm will be created with a nod to the heritage of the town and will take our customers on a journey that will enhance their experience in their centre."
Plans for later in the year include the launch of an in-house market giving local businesses and SMEs a platform where they can get in front of local audiences with flexible rents.
Plus, a new initiative "Gather" will introduce an in-house curated events programme, hosting everything from local yoga to chess clubs and book clubs.
Denz added: "Ultimately we want to add value both to our customers and to the businesses within our schemes so that we can remain both relevant and resilient in a post-Covid world."
In addition to more than 50 stores, both high street and independent, The Beacon offers a mix of restaurants and leisure attractions including an eight-screen Cineworld, Ninja Warrior UK, also Boom Battle Bar set to open this summer.