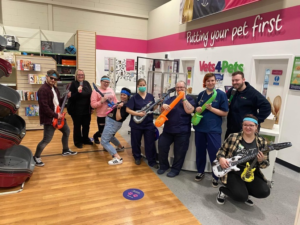 Last call for entries as Critizr competition enters final week
Fun, family spirit and amazing teamwork has given Pets at Home, Rochdale a win in the UK's biggest nationwide competition celebrating frontline retail teams: Proud of My Store.
Store Manager, Nathan Reynolds and his team (pictured) caught the eye of the competition's prestigious judging panel with their dynamic can-do attitude, enthusiasm and the enormous pride they have in being part of their store and community – alongside an ambition to provide world class customer service from the heart of Rochdale.
As Assistant Store Manager Jo Irlam explains:
'There is so much to be proud of in this store but first and foremost, everything we achieve here is done as a team. Where some people might see a particular day or weekend as challenging, we see an opportunity for laughter, incentives and above all else, amazing customer service.
'We view ourselves as a family, and that means we all pull together and live and breathe our company values, with a genuine ambition to be the best pet care centre in the world, thanks to our amazing vet, experienced Groom Room team and pet care colleagues.  We really are here for our community and all their pet care needs. Nothing is too much trouble when it comes to our customers – both the humans and our regular pet customers who are treated like royalty! And we go over and above for them. A good example is our free kids' workshops at the weekends to help youngsters become responsible pet owners, and the work we do to raise money for our charity partner Pennine Pen animal rescue with fundraising weekends, donations and supporting them with information on our community board in store.' 
With over 250 stores entering this year's competition and counting, Pets at Home Rochdale's achievement was rewarded with a £500 charity donation and another £500 to spend on the team – both of which the store team chose to donate to Pennine Pen.
Nerys Lyne, Regional Operations Director at Pets at Home, said: "Nathan, Jo and the whole Rochdale team are truly a credit to the Pets at Home Group. They lead by example, always putting their customers and clients first and going above and beyond for the many pets who visit the store every day. I can't think of a more deserving team and know they will remain just as committed to delivering the very best service for a long time to come. A huge congratulations to them all!"
Proud of My Store was founded in 2021 to recognise the invaluable role local store staff play in retail, and to shine a spotlight on the service and value they bring to communities. The Proud of My Store 2022 online hub opened April taking entries from supermarket branches, boutiques, banks, pharmacies, salons, restaurants and more, inviting them to tell their local store's story – whether it's a big idea or a small but powerful act of kindness.
Organised by customer interaction management specialists Critizr, monthly winners are being selected, with one overall team set to be crowned 'Proudest Store 2022' in July by a panel of retail experts including Adam Leyland, Editor of the Grocer; Anthony Hawman from TheIndustry.fashion; Natalie Berg from the BRC; Paul Barnes, CEO of the Association of International Retail; Steve Collinge from Insight DIY; and last year's Proud of My Store winner Claire Saunders, Manager at the Co-op. As well as scooping luxury hampers to share with the team, and a donation to the store's favourite charity, all winners will be guests of Critizr at a special event later in the year, where their achievements will be celebrated in person.
With just one week to go until the competition closes, Critizr Co-founder and CEO Nicolas Hammer urged stores to get their entries in. He said: 'Pets at Home Rochdale is yet another incredible, inspiring example of a store team bursting with pride and going the extra mile for customers. We're so proud to be able to shine a light on these hardworking teams and share their stories – and there's still time to get last minute entries in at the Proud of My Store hub. So don't miss the chance to win some well-earned recognition for you and your team in this year's competition!
How to enter:
1. Visit ProudOfMyStore.com
2. Enter your story
3. Spread the word using #ProudOfMyStore
https://critizr.com/en/proud-of-my-store/
#ProudOfMyStore
Twitter @Critizr_UK