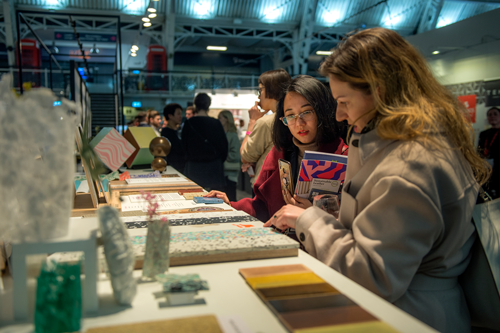 Surface Design Show has announced the theme of its 2023 edition: 'Shaping Communities'; with an ambition to improve the surroundings for all, through collaboration and meaningful design solutions.
Surface Design Show once again takes place at London's Business Design Centre from 7-9 February 2023 allowing architects, designers and specifiers to discover the best in material design for the built environment.
The theme explores an open dialogue amongst industries and brands with the common goal of building stronger relationships between people and places. Where we live and the places in which we spend our time play a huge part in shaping who we are as people. The role our built environment plays within society should inspire new conversations where human experience and a community's identity are paramount.
Says Surface Design Show Director Christopher Newton, "We are seeing rapid change and progress in the design world, with digital platforms showcasing the real power of teamwork. And so, rather than working in isolation we are fully realising the potential of bridging the gap across industries to create long-lasting values that reflect how we want to work, live and communicate within that space."
Surface Design Show will highlight how fundamentally important design decisions truly are, not simply for creating aesthetic pleasing areas, but for understanding how our surroundings hold the ability to evoke emotional responses, uncovering how a space can enhance your productivity and mental wellbeing.
Not only will the Show explore the importance of how buildings can affect our mental wellbeing, but naturally it will also turn a focus to the wellbeing of our planet. As much as places need to have a positive impact on people, how buildings affect the environment must also be considered with sustainable practice being imperative to both design and outcomes.
The Main Stage located on the mezzanine level of the show will play host to over 40 speakers during the 2½ days of the Show. Several sessions including Tuesday evening's Opening Night Debate will focus on the topic of Shaping Communities. The full Programme will be announced in November.
Located at the heart of the show and a recurring highlight of the exhibition Surface Spotlight Live features innovative and tactile material for visitors to touch and feel, providing a hands-on experience for architects and designers. Curated by trend and colour expert Sally Angharad, Surface Spotlight Live explores the narratives underpinning aesthetic choice, material selection and design ethos. The 2023 selection for Surface Spotlight Live highlights the importance of community and will encourage new exchanges between surfaces as well as industry sectors.
The theme of 'Shaping Communities' will unite the various elements of the Show, building on the event's previous successes and making 2023 its most successful edition yet.
Share this story